25) Yung Lean – Poison Ivy

I feel somewhat reticent talking about Yung Lean, let alone his latest, Poison Ivy. Whatever I write drips with ignorance, despite my love for the 22-minute project; and in some sense, that's unavoidable. An air of mystique has always seemed to surround the Swedish rapper – as though those uninitiated were being poked at, and even the most meaningful of lyrics were being delivered with a grin and a wink. That might be the point, though: Jonatan Leandoer's mainstream success seems neither obvious nor miraculous. Likewise, the "point" is one unattainable. Or rather, an "understanding" is useless – condescending and maybe even a little counter-intuitive. Yung Lean makes music – and that music is good – and Poison Ivy is good – and whatever meaning there is to be gleaned is meaning to be gleaned from the music itself. From the dark and distorted overtones of the mixtape's more obvious, hook-driven choruses, and the incoherence of its central figure. I think cultural aesthetic is helpful in hooking one into a scene and its artists; but often – as is the case with Poison Ivy – the music itself speaks volumes. And Poison Ivy speaks in tongues.  –BlushfulHippocrene
24) McCafferty – Yarn

Genre: Pop-Punk  |  Bandcamp
It's easier than it should be to dismiss Ohio's McCafferty. To start, frontman Nick Hartkop's no stranger to controversy. Where the DIY and emo scenes intersect, he's known as someone who slings "faggot" around and intimates for people to kill themselves. In his own music, however – and indeed, on Yarn – he's the kid who "hid in the closet…" (and "when the bullies all found [him], they called [him] a maggot"). This isn't a defence, nor is it an episode of 'American Vandal'. But in a year so concerned with the renewed "art vs artist" debate, I think bands like McCafferty inject some much-needed subtlety into the discussion. When words like "faggot" are censored, as above, and the uglier, less-flattering manifestations of mental illness are demonised, perhaps there's something to be learned. Perhaps there's a comfortable crossroads between understanding and chastisement. And perhaps the new-age adage, "hurt people hurt people" – despite its pompous twang – holds some ground within the realm of redemption. To some extent, Yarn is as apt an encapsulation of this as one could hope. The band blend indie, pop punk and emo with spectacular success, exuding their usual amateurish charm in spite of the album's newfound professional polish. It's a gorgeous listen. It's also a grating depiction of addiction and suicide.  –BlushfulHippocrene
23) DJ Smokey & Ruben Slikk – Goony Toonz

Genre: Hip-Hop  |  Bandcamp
Every time I listen to this, a fog: plumes of smoke, cigar thick, amassing into hazy narcotic clouds, slow-drip opiate humidity dripping from the ceiling, until all I can do is succumb to the contact high. I think my tolerance has, if anything, diminished over the year, but if it's a poison it's the kind of poison I crave. DJ Smokey curbs his excesses, not just of duration but of overt worship of certain scenes (Memphis Rap, Mississippi Rap and LUM-esque playfulness in particular) and makes good on his early promise here, creating sounds simultaneously menacing, convivial and diverting. Ruben Slikk functions as an admirable sidekick in the duo, his Southern-inflected flow and ethos a perfect marriage for the hazy and hard beats alike. The best b-grade horror-sexploitation-drugcomedy film that didn't get released this year; is the feeling in your head afterwards the result of a deliriant or Halloween confectionery overdose? Trick question: it's both.  –Winesburgohio

22) Big Ups – Two Parts Together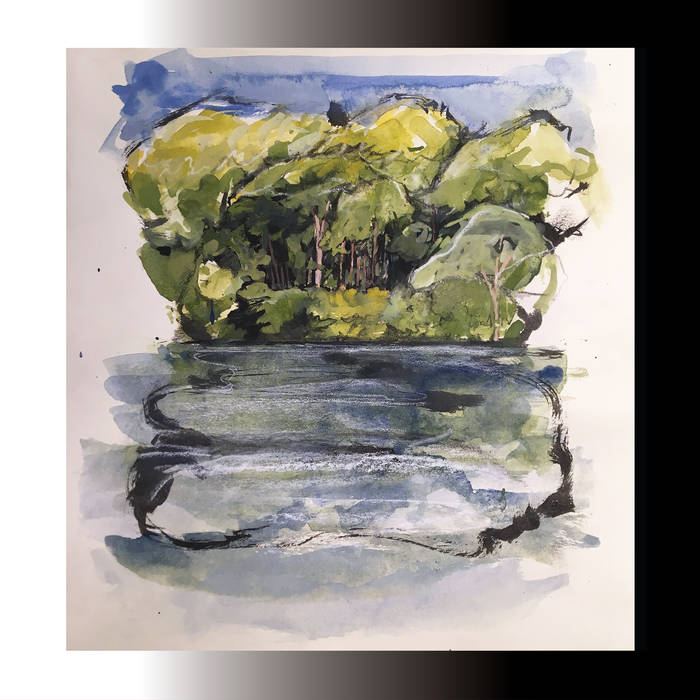 Stylistically, the "two parts" of Two Parts Together are pretty easy to glean. Big Ups spend the album lurching between quiet, deliberate tranquilities clearly inspired by Slint, and propulsive punk passages that draw from 90s hardcore a la Fugazi. Yet despite how obvious Big Ups make their influences, the end result manages to rise far above anything that might be called derivative. Part of the success lies in the boldness of the juxtaposition; combining hardcore with early post-rock isn't exactly a head-scratcher, but it's still a delightful surprise when the stoic first bars of the title track explode into rollicking punk. But the biggest asset Big Ups bring to the table is simple: they're just great songwriters. They can effortlessly combine disparate musical ideas into a single, compelling package, as on "In the Shade" or the aforementioned title track, but they're just as deft at taking a single idea and building it into a glorious five-minute crescendo, as on "Trying to Love" or "Imaginary Dog Walker." These songwriting skills transform Two Parts Together into something much, much greater than the sum of its two parts. –Dean M.
21) Barely Civil – We Could Live Here Forever
Genre: Pop-Punk  |  Bandcamp
The debut full length from Barely Civil kind of shocked me this year. Not only was it one of the better blends of emo and indie rock, it lyrically landed a bit too close to home on multiple occasions throughout the varied tracklist. At first it was the detailing of how people can grow apart if one party grows too close, as seen with the somber power ballad 'Eau Claire? Oh, Claire'. Then it was suddenly the defiant and desperate call for help ("you threw down your pack of cigarettes saying I quit for the sixth time") in the frenzy of distant screams, intimate cleans, and darkly prodding guitars in 'Re: Lungs'. Finally it was the reflection of the aftermath; 'Super 8 / Marathon' is a moment to take a breath before eventually running blindly into the future. It's equal parts derivative twinkly indie and crushing honesty found only within a place of originality that I can't help but make my own.  –Connor S.
20) The Spirit of the Beehive – Hypnic Jerks

Genre: Shoegaze  |  Bandcamp
Hypnic Jerks falls in between that hazy boundary of sleep and reality, obscuring signs of either through a trance-inducing blend of fluffy dreams and self-awareness. On their previous full length, the bizzare concoction of genres aimed to shock and provoke, and while their 2018 attempt is certainly the same blend of folk, indie pop, shoegaze, and emo, the influences gently meld together with such ease. Perhaps the strongest aspect of this album is its mystic nature; the eerie use of (seemingly) home-video audio samples and milky, driving synths make its atmosphere reminiscent of a 3am autumnal walk through thick fog. It's a journey altogether pleasant, blissful, disorienting, and dreamily confusing.  –Connor S.
19) Rico Nasty – Nasty
One part of the 2018 music cycle I've been very happy about is the growing popularity of female rappers, be it Cardi B, Cupcakke, Saweetie, City Girls, Kodie Shane, or the continued relevance of Nicki Minaj and Lil Kim. One of the greatest things about this influx is how female voices have been able to take the negative tropes associated with women in the rap game and flip them on their head, wearing their sexuality on their sleeves. Rico Nasty is in no way an exception to this, embracing her urges and sexual lifestyle, all with a certain authority and bite that many male rappers can't keep up with. Nasty itself also benefits from production from industry greats like Lex Luger and Kenny Beats and soundcloud talents like Ghostrage and Ginseng, as well as great feature work from BlocBoy JB and Lil Gnar. The project, as a whole, is strongly aided by these various tight trap beats that emit a high energy vibe. The project, however, is still named after the rapper herself, who's distinctive and intense flow demands respect and recognition. As blunt as a bat and as bold as fire, Nasty is a release that you shouldn't be sleeping on.  –Bloon
18) Lychgate – The Contagion in Nine Steps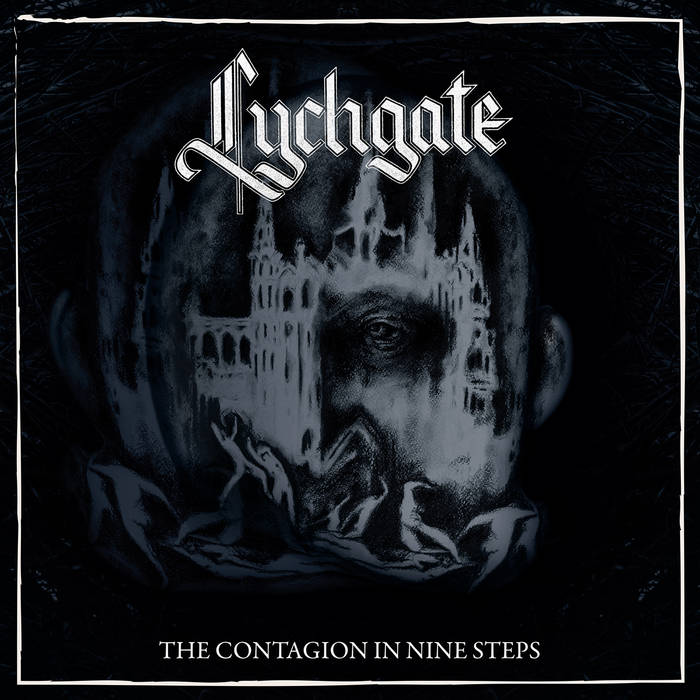 Genre: Black Metal  |  Bandcamp
How many music listeners do you know that have baulked at the very idea of black metal being described as a carnivalesque dream? Indeed, it's one of the many different ways reviewers have used to give an overview of Lychgate's 2016 magnum opus, An Antidote for the Glass Pill. Alas, this was the band showcasing their macabre, unique musical elements, but nothing could have prepared any of us for the wide-eyed, manic vision Greg Chandler had when considering the post-apocalyptic concept for this year's The Contagion in Nine Steps. Even before the music begins, one look at the distorted face on the album's cover art soundly confirms to the listener that this isn't going to sound like anything else in the world.
This time however, the impression is a little different compared to that of Lychgate's previous effort. The immediacy is less obvious, the tone is more dramatic, and the delivery is something that will lead listeners to scratch their head rather than bang it. Sure, those heavier moments "Unity of Opposites" and "Hither Comes the Swarm" create are straightforward and impressionistic enough to let loose the extreme metal fan in us all, but the experience is quickly turned on its head with Chandler's sudden change of tone. The man explores every vocal range he knows and exacerbates the feeling of unrest in us all, closer "Remembrance" for example proving the man has some of the most delightful clean vocals in extreme metal's current avant-garde scene. The final track is something of a call-to-arms, a stab at inviting listeners to begin praying for some inevitable end yet at the same time feeling graceful in the presence of a torrid perception, such is the drama Lychgate encapsulates in their delivery and performance.  –Robert Davis
17) Sinistro – Sangue Cássia

Genre: Doom Metal  |  Bandcamp
Anyone who has witnessed Sinistro's live performance will confidently attest to frontwoman Patricia Andrade's elegant albeit strange stage persona-that is, a seemingly haunted figure surging through emotional extremes and providing disjointed moves, as if the woman was played by a broken puppet. Such is the experience one gets from listening to any of the band's albums, most notably in this year's strangely beautiful Sangue Cássia record. Released within the first two weeks of 2018, the Portugese doom marvels have crafted a collection of some of the most disturbing and unsettling music ever written since day one of the band's formation. Yet, this isn't a record that looks up to its shorter, more immediate predecessor, so much as it is a refinement and extension of ideas worked on and improved over the last seven years.
Indeed, the opening notes of "Cosmos Controle" immediately reminds you of a band performing with confident prowess, albeit still remembering the mystique and thus maintaining its playful presence until all ten minutes of the song are over. Andrade may snake her way through songs such as the mournful "Lótus" and the notably quieter "Vento Sul", but the dreamy impression is quashed at the behest of "Abismo"'s spiralling menace and the closing aural stab of "Cravo Carne". Generally, Sinistro have magnified their je ne sais quoi element, and every song on Sangue Cássia feels as engaging and mesmerising as it does charming and, dare I say it, romantic. A record for those who like to feel their music, not just listen to it.  –Robert Davis
16) Pysclon Nine – Icon Of The Adversary

Genre: Industrial  |  Bandcamp
Skulking out of the woodwork after some pretty serious trials and tribulations, Nero rebuilds his burnt bridges and rises with yet another transformative progression in Psyclon Nine's story. Looking solely at the music here, Nero is an extremely talented and diverse individual who constantly manages to up the creative ante without sacrificing the band's core framework. The industrial-black-metal savagery looms over Icon Of The Adversary like a rain cloud, but it doesn't let loose as often as one might expect from these guys. Its simmering vehemence is subtle and skin crawling; patient and methodical. It's equivalent to a horror soundtrack without the film to base itself on – cinematic, brooding and nuanced. It's not exactly what a Psyclon Nine fan might particularly want, but in terms of moving forward this album shows just how powerfully inventive and captivating this band can be at times.  –DrGonzo1937
15) Arabrot – Who Do You Love

Genre: Noise Rock  |  Bandcamp
Mike Scheidt of Yob fame isn't the only man to have gone through a death-defying phase in his life before soundly springing back into action at the studio and onstage. Frontman of Norwegian noise rockers and experimental enthusiasts Arabrot, Kjetil Nernes, had encountered one of the worst bouts of throat cancer four years ago and had only just finished final treatment for it over a year ago-basically, just before going into the home-owned church of Dalarna, an area which is more prone to woodland than it is the complex of Jehovah's witness trainees.
With that said, one listen to Arabrot's latest effort, Who Do You Love soundly confirms that Nernes is something of a warrior, in the same way as Mike Scheidt. Having crawled back from such personal depths, you'd be forgiven for thinking that the latest Arabrot album would be weak in the vocal department. You'd be wrong, given that every one of the ten tracks here are seemingly supercharged by a cauldron of enigmatic vocal deliveries and weird albeit somehow (dare I say it) poppy melodies for fans of any musical style to sink their teeth into. "Maldoror's Love" professes a frenzied repetition of the album's title whilst "Sinnerman" invokes a more upbeat version of Fields of the Nephilim, such is the uncanny comparison between Carl McCoy and Kjetil Nernes' deeper vocal charm. It's quite easy to fall in love with this album, but it's even easier to appreciate it with the utmost generosity knowing the story of a musicians who went to his own personal hell and back, and came out the other side wanting to do nothing but write music. Essentially, Arabrot never went away, and Who Do You Love proves this well.  –Robert Davis
14) Amigo the Devil – Everything Is Fine
Before this release, it seemed that Amigo the Devil had type-casted himself as a dark-folk musician whose themes began and ended with crude jokes about murder, life, and aggression (think a cross between Harley Poe and Murder By Death, with a tiny amount of Capguns era AJJ). Not that this is a point against songs like "Dahmer Does Hollywood" and "Hell and You," it's just that, barring a song like "The Weight," emotional tact wasn't exactly something someone would go to an Amigo song for. Yet, on his first full-length, Amigo is able to mix tongue and cheek with legitimate sorrow to create a palpable bitterness that strikes the taste buds like black coffee, cigarette ashes, hard liquor, and regret. This tone shift comes alongside the implementations of gothic country, while still retaining a bit of folksy flavor. Wrapped in a taught sense of self-loathing, Everything is Fine is melancholic and downbeat and offers a more personal tale of woe.  –Bloon
13) The Innocence Mission – Sun on the Square
Shoutout to people who substitute "that's just your opinion, dumbass" with "beauty is in the eye of the beholder" because if I'm the one doing the beholding, it is absolutely ravishing having my pearly browns complimented like that! Thank you! And thank you to The Innocence Mission for making something these supposedly beautiful pearly browns find to be gorgeous in Sun on the Square. My parents went on a vacation around Italy earlier this year, and going purely off my own preconceptions of what Italy might be like paired with the glow on their faces as they gleefully communicated their escapades, my guess is it probably felt a lot like this album. Hopefully your mind didn't immediately dart to religious corruption and murderous plumbers and instead to something a little lethargic, a little green, a little familial, and a little warm. Folk stories and lazing lullabies that feel both ancient and wholly present altogether.  –ramon.
12) Novo Amor – Birthplace

To make a somewhat belaboured point, the instruments on Birthplace seem to sing. That's not a particularly clever observation – nor is it technically true – but it's an intuition I also had with Haley Heynderickx's I Need to Start a Garden. Whereas on that record, however, the instrumentation worked subtly to evoke "characters" of sorts – demons for the artist to face – Novo Amor's use of verdant horns and lurid string sections contribute to something more akin to that of an "environment", in the most literal sense of the word. While perhaps counterintuitive, the album's backdrop serves to blanket its protagonist – to at once conceal and encourage him, along the road to epiphany. It's a tad on-the-nose, I suppose, but it's also quite fitting: in an indie-folk climate so bent, for better or worse, on the incorporation of the starkest elements of modern hip-hop and rnb (see: Vancouver Sleep Clinic and forebear Bon Iver), there's some relief in hearing the Welsh songwriter tether himself to the lushness of folk that characterised the infancy of this decade. In some sense, Birthplace is much too obvious. Even so, it's artless in the most artful of manners.  –BlushfulHippocrene
11) Marsh Dweller – Wanderer

Genre: Black Metal  |  Bandcamp
Wanderer is sensible. There's a bridged gap between the worlds of atmospheric black metal and otherworldly post metal. The album itself shows restraint, placation and subtle nuance. It takes its time, taking in the landscape at a steady stroll, occasionally breaking into a brisk jog. The often simplistic doom promotes a natural understanding of the album's internal ability to seamlessly genre-hop. There's a level of controlling chaos explained simply, without losing the very essence that makes Marsh Dweller's sophomore more appealing with repeated listens.  –Robert Garland