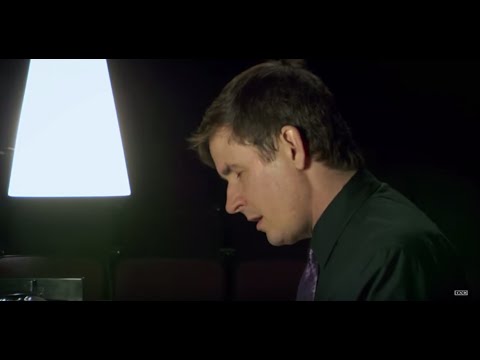 There is a moment right after the first chorus in "Ezekiel 7 and the Permanent Efficacy of Grace" from which the song can go anywhere.  Two piano chords wobble on a tightrope, back and forth, and one can't help but wonder if perhaps the song is just going to end at that point, the soft heartbeat of percussion pulsing more weakly until it goes unheard, succumbing to the implacable fade.  This is the world in flux – lives waxing in and out of their parallels, possible futures vying for dominance.  Think about how rare it is these days to be genuinely surprised by a song, to sit with bated breath as you wonder where the music is going to take you.
Think about how rare it is for a song to imitate life so exquisitely that it hurts.
—
What I am trying to delineate here is why I feel bothered when people say something like, "The Mountain Goats are still great, but nothing compares to Darnielle's output pre-2005."  I can't count the number of posts I've read saying something similar to that.  The phrasings may change a little from person to person, but the general idea is that Darnielle made better music when The Mountain Goats consisted mostly of one or two people.  Of course, any Darnielle – old or new – is good Darnielle, so my annoyance can never be too great.  But his output from 2006-2012 is one of the greatest musical runs ever, and some of the those albums are wrongly given short shrift among Mountain Goats fans.
It is hard for me to understand why anyone would prefer an album like Sweden to Get Lonely or All Eternals Deck. His lo-fi albums are great but they are simply a chore to listen to at times because of the number of songs and the production (Zopilote Machine in particular is one I can't listen to unless I'm in a certain mood).  Additionally, they all suffer from a sameness that, although it was unavoidable due to the nature of the recordings, gives the albums a tendency to blend together.  But, again, the purpose of this is not to denounce earlier Mountain Goats recordings as bad, because they aren't, but to extol the virtues of their later works.
—
[As an interesting side-note before diving too deeply into this, the early Mountain Goats recording I find myself coming back to most often is the unreleased Hail and Farewell Gothenburg, which Darnielle has publicly denounced as wrongly mixed and as something that was never meant to be heard (it was leaked onto the Internet in 2007).  Its unfinished state of only ten tracks makes it much more similar to later Mountain Goats albums, and there is something about the writing and singing on that album that elevates it to more than just another lo-fi, lyrically excellent collection of Darnielle songs.]
—
The thing that always confuses me (in the best way possible) about Get Lonely is how a record so lush and full can also sound so fucking desolate and detached.  The album, honestly, is one of the most shining examples of songwriting I can think of, by which I mean the lyrics and music complement each other so perfectly that it doesn't seem as if the songs could exist in any other form or version.  Covering or re-recording them would be a futile gesture, because it would be impossible to recreate what Darnielle did on that album.  You can hear sounds that aren't actually there – the wind that bends the trees in "Woke Up New" – or you can see things based on what you're hearing.  The strings in "Moon Over Goldsboro" are the push and pull of the tides and moon, a force so strong that it makes known its presence even over the hard-scrabble, dry desert sun of Darnielle's acoustic guitar.  I've never heard anything like it before.  Closing the album is the exquisite "In Corolla," in which Darnielle drowns the album's narrator without ever explicitly saying that he's doing it.  I credit that subtlety to the fifteen years of writing prior to Get Lonely, and it's also why I give the album itself and its descendants more credit.  "In Corolla" is the purest form of the hundreds of songs that came before it.  The song couldn't exist without them, but its existence also gives them more value.
—
[A very short list of symbolism that you would have a hard time finding on anything other than an album made by John Darnielle:  an autoclave, a white-chalk baphomet, a mandolin, grapes in the netherworld, a Marduk t-shirt, a compost-filled hole, mason jars of preserved brains, a cathedral in a dream of the future.]
—
Heretic Pride has always seemed to me like the essential distillation of everything that makes The Mountain Goats so great, which is kind of interesting because of its anomalous standing in their discography.  The lyrics are steeped in modern mythology – in pulp comics and urban legends, in metal music and H.P. Lovecraft.  Some of Darnielle's more typical personal writing is still present in songs like "San Bernardino" and "Autoclave," but the real standouts are when he gives himself over to the gleefully campy imagery that is given a legitimate and somber weight by his writing talent.  A heretic finds triumph in his own stoning, Michael Myers finds heroic redemption in a cleansing fire, the Tianchi Lake monster finds its magnificent beauty in the dark water's reflection.  Darnielle is a writer that can give a credible voice to any imaginable person or object or creature, and never is that more apparent than on Heretic Pride.  The album is also Jon Wurster's first with the band, and his addition signified an era of truly amazing drum work in The Mountain Goats' music.  The biggest thing to take away from the album is that a song such as "Lovecraft in Brooklyn" simply wouldn't have been possible on earlier Mountain Goats albums, with its distorted guitars, highly energetic drums, and the high whining of strings that seems to herald the world's inevitable doom by forces unseen and unknowable.
—
[And now the deaf approach, trailing the dark smoke
Of their infirmity behind them as they leave it
And move toward the prayer that everything
Is praying:  the summer evening a held bubble,
Every gesture riveting the love,
The swaying of waitresses, the eleven television
Sets in a storefront broadcasting a murderer's face—
These things speak the clear promise of Heaven.
– Denis Johnson, "The Confession of St. Jim-Ralph"]
—
I am rapidly approaching the word limit that I set for myself, so I will be blunt here:  The Life of the World to Come is the best Mountain Goats album.  It is more lush than the most desperately imagined desert oasis and more lyrically expressive than most novels.  There has been and always will be a generally pretty nerdy debate about whether or not songs can be considered poetry, and I don't mean to contribute to it, so I'll just say that the best quality of poetry is how it can utterly disregard reality in the most real way possible.  Gods and Man commune in poetry.  Nature speaks.  Objects are personified in ways that only make sense within a poem.  If the poem is good, then one hardly has to suspend any disbelief because it all feels real.  In that respect, songs are similar, and they also have the added benefit of vocal tone.  Listen to "Psalm 40:2."  It's pure menace.  The dissonant acoustic guitar riff after each chorus should be unpleasant but somehow isn't.  But it is Darnielle's voice that makes the song so good, and his snarling basically results in a perversion of the bible verse he's quoting (David's "He" was God, but who is Darnielle talking about?).  I am brought now again to "Ezekiel 7 and the Permanent Efficacy of Grace."  It is the best song Darnielle has ever written, hands down.  It sounds like it was written in constellations across the night sky and given voice by the ringing of the stars.  I will live my whole life without making anything that comes near to the perfection of that song, and I guess I could say that about countless other songs as well, but "Ezekiel 7" is a balm in Gilead, something that stands so far above something I could conceivably achieve that I don't even feel the need to strive toward it.  But it is a song that makes me feel as if I am up to life's simpler challenges, to facing the interminable slouching toward the end.
—
[Overlooking late-period Mountain Goats albums also means missing out on several amazing EPs that contain some of Darnielle's best songs:  Babylon Springs, Black Pear Tree, Satanic Messiah, and Moon Colony Bloodbath.  Black Pear Tree, recorded in collaboration with Kaki King, is probably the best of them.  Its bookends, "Black Pear Tree" and "Thank You Mario but Our Princess is in Another Castle," would be well-served by being high up on any given list of the best Mountain Goats tracks.  The former is certainly one of the most desolate songs ever recorded, with whirrs and clicks fading out and in under Darnielle's gorgeous piano and King's delicately frank vocals.  Moon Colony Bloodbath is a similarly bleak affair, but Babylon Springs isn't.  In fact, it contains some of Darnielle's most joyfully poppy material in "Alibi," a perfect summer cruising song complete with handclaps.]
—
What all of this boils down to is that those lo-fi albums were building to something, and to me it seems unfair when people discount the destination.  The characters in Darnielle's discography, whether they were going to Georgia or Scotland or Kansas, were always headed eventually to Jerusalem or San Bernardino or the Lakeside View apartments.   Or, maybe most of all, to that swampy beach in Corolla, seaweed coloring the water green and beckoning with its undulations, the muddy ground untouched by footprints, where that unnamed character – it could be any of them, it could be me or you – marches into the water in a transformative daze and becomes something else.