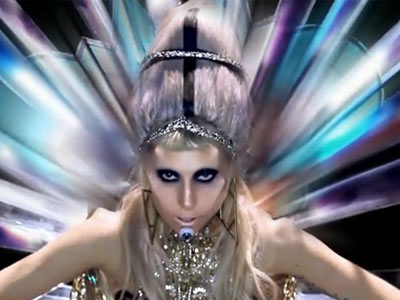 Those who knew of Lady GaGa before she got big with The Fame were certainly witness to a musician and songwriter with much potential. Sure her debut single Just Dance may have benefitted from the guest appearance of Akon, but by the time the single Poker Face was released, there were no doubts that Lady GaGa was going to become one of the biggest names in the pop world. One hit wonder she definitely is not.
The Fame Monster was a rather fitting sequel. Not surprising given that it was originally planned as additional content on a re-release of The Fame. Yet despite two very solid releases, the barometer is signalling some rough weather ahead with the release of the forthcoming album Born This Way.
So the big question to ask is why the worry? Yes the face and body attachments she has been wearing lately are weird, but GaGa has never really been one to build her fame on looking attractive, and this isn't exactly the first video we have seen in which her appearance has been rather bizarre.  Yes you would actually have to be one of her most loyal monsters to actually like the music video for Born This Way. Perhaps from a creative standpoint it is great that she has abandoned the generic approach of many other pop music videos. But from a commercial standpoint, it is hard to imagine it attracting more fans than it scares away. Even using a rather unscientific YouTube anaylsis, while her music videos for Telephone, Just Dance and Bad Romance have a like ratio of 87%, 93% and 82% respectively; Born This Way has a somewhat lower 74% ratio.
In this post-MTV world though, we can still enjoy our music without video. Unfortunately her two lead singles for Born This Way are not what we expect of GaGa. Other big name female pop artists such as Ke$ha and Britney Spears sound closer to GaGa during The Fame than GaGa is now. But even if this isn't a cash in on the sound of GaGa's previous work, it is unwise to neglect her songwriting talent (along with that of RedOne). Judas offers slivers of hope. Even if the chorus comes off a bit dull, the verses prove far more interesting, and rather catchy in parts. Sure the two lead singles sound like they're more suited to an Off-Broadway production, but at least they don't rehash past ideas. In the long run it is probably unwise to doubt someone as talented as GaGa, but the early signs say that her creative juices aren't quite flowing in the right direction at the moment.
We're now very close to the leak of Born This Way, and its full release on May the 23rd. But its release still deserves a very high level of anticipation and excitement, as well as a note of concern. It doesn't look like this will be her Beautiful Dark Twisted Fantasy. But whether you like the album or not, it will be one of the biggest and most interesting releases of 2011.