Yesterday on the blog, we previewed "High School Art Class," the first track off Pretty Lights' newest EP entitled, Spilling Over Every Side.  Today Derek Vincent Smith, the mastermind of Pretty Lights, talks about his touring, latest and future works, and the experience of playing a show with DJ Shadow.
Ryan Flatley: I just downloaded your second EP, which is fantastic by the way, and I just wanted to know if Spilling Over Every Side and your other two EPs are linked in any way or are they separate entities?
Derek Vincent Smith: Well really what I'm trying to do is try to make three separate bodies of music that can come together as a whole. And I suppose what would unify them as a whole is the fact that (it's) the music I wanted to create in 2010, and it's kind of where I'm at in 2010. I'm really trying to use each EP as a way to push each style I'm trying to explore at that time. The second EP is different than the first, and trying a different approach on the third. I suppose I want the trilogy to be a glimpse into the ever-change, morphing vision of myself.
RF: Do you plan on doing that on a consistent basis, as in 2011 release music sporadically?
DVS: No, I want to make it different all the time, this year I want to do the three EPs. Next year I already have planned to do something completely different. I'm thinking of a chunk of time next year to go into the studio with all analog 1970s equipment and work with a lot of old school musicians that I've sampled before on the records from the '70s, and actually create a record completely from scratch not using a single sample off vinyl records but rather creating the sound that have the same have the same distinct same sound quality of the records I search for, but rather working with musicians directly and the vintage gear. I want to continually change it up and I think that's what so fresh about doing it in an independent model like this, where I don't have a record label telling me that I need one single or I need two singles on my record and blah blah blah and that all that shit. I can do whatever I want as far as releasing models and different things, you know? I can release, in 2012, a track per week all year long. I could do that. There's so many potential ways to do that.
RF: I notice that you're donation based, which is cool for the fans, do you see that the fans been generous without getting into too many financial details?
DVS: There are enough donations to keep the website afloat, and that's really what I wanted to achieve is creating a self-sufficient model. There isn't really a lot of income off donations, there's more of money that comes back to running the business and the website afloat. As time goes on, as fans and people who download it, I've seen the donations coming in more frequently as of late, and I think that's maybe because someone downloaded the last two records and want to support it on the third one or something. But it's not about putting the donation up there to guilt people into giving me money. I'm fine with people not donating at all, that's why I put the music up there because I want to give it away. Another thing that has come from it is the word spreads because of the model and the music and I end up selling music as well in other portals like .WAV files and FLAC files, so I do sell the music in other file-types for the people who need that.
RF: I see that you have Michal Menert as your first artist under your record label, Pretty Lights Music. How has the interest been and how has Michal been under the label?
DVS: It's been phenomenal; it was sort of like I really wanted to do this and with the first artist was sort of like an experiment like exploring what was possible. And I wanted to see that if the people that were coming to my site and the traffic of the music I was producing would be open to another artist if I were to put my name behind it and release it, and I love Michal's music and he's a great friend of mine and it was crazy to watch. He got 10,000 downloads in two weeks, and he went from complete obscurity to a nationally touring artist in a matter of weeks. He's got a booking agent and supporting me on tour and doing his own headlining shows and it's been pretty successful because like in the traditional sense like what I had to do was build it completely from the ground up and he just needs to hit the ground running, you know?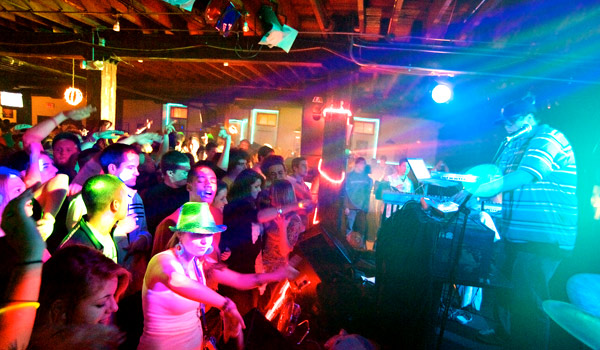 RF: Speaking of touring, how has your 2010 been so far?
DVS: It's been action packed (laughs), not a lot of downtime. It's been cool man, I feel like my career's still young and I'm still learning about touring and how to work my schedule and how to adapt to the busyness of it all. Hopefully it will all culminate with my fall tour, we have big things planned for the six week long tour which we are set to announce this afternoon.
RF: Very nice. I also saw that you acquired a new drummer, Adam, how has he caught onto your performances?
DVS: We are definitely getting into the swing of things where he is learning the music and learning how we work together on stage and communicate, but he's just so fresh man, his style is unbelievable. He really compliments the tracks, he is able to create beats that don't just mimic what I am working with on programming end, but actually complimenting them in different ways. He has a great appreciation for the style and the music that I produce because he's actually a producer himself. We just clicked, and I'm really excited to go on a long run with this drummer because in the shows that we've already done and the practice sessions and rehearsals and just the hang out time it's been a really good thing.
RF: I've seen you toured a lot of venues and festivals this year. Have any festivals stood out this year or in past years like Bonnaroo?
DVS: Yeah I loved Bonnaroo, that happened in the summer of '09, I think my favorite festival, the performance, not only the performance, but the experience of being at the festival, but I loved Coachella, and I don't want to say that I didn't like other festivals, as I've been to a lot of really cool festivals this year, but definitely one of my favorites. I also played Glastonbury in England and that was a really dope festival and it's just amazing that it can be that big and still be that organized and a good experience.
RF: Yeah you definitely don't see that in the United States. I see you'll be playing the Electric Zoo Festival: how does that compare to a festival that caters to all genres, rather than a few specific, focused genres like Electric Zoo?
DVS: I'm really excited to play the Electric Zoo because of that, because it's more of a focused festival as far as what kind of musicians are there, there's obviously hip-hop, dubstep, electro, techno, drum-and-bass, and all that shit, but it's all in that dance music and electronic music and party rock, but that's one reason I'm really excited about Electric Zoo because I think that the fans as a whole are going to be that much more ready to get hyped and that's what feeds me, backing me up on stage, and the energy of the crowd and that's what makes the show, what makes it memorable.
RF: What can unsuspecting passer-bys expect from your show?
DVS: Well they can expect a hell of a light and laser show and hopefully a new kind of music that they can appreciate and not heard before. What's fresh, or what's different about my music I feel like is that kids right now are getting into it and can rock a dance floor and at the time same time my grandparents can listen to it over a bottle of wine (laughs). So depending on who they are, they will probably get different things out of it, but I'm really striving to push the production of the show. The integration of the lights and the music, the synchronization of all that shit and how they work together intricately is a big jump to accomplish especially when you're touring every weekend all over the country whether you fly with it, ground ship it, or outsource it. It can definitely be cumbersome to get your stuff where you need to go. That's why I really love going on tour because I have everything I need for my show with me right there in my truck with my bus. But I feel like unsuspecting people will just see it together in a fresh and original performance, and that's what I hope to produce hopefully.
RF: I read previous that DJ Shadow's Endtroducing was a very influential to you. What was it like supporting DJ Shadow in Dublin, Ireland?
DVS: (Laughs) Well, that's a funny question, because it was different, like I run into a lot of different artists being on tour and playing festivals but playing with DJ Shadow, I was definitely more star struck than I've ever been because he's such an icon. I took one of the posters down and actually was too embarrassed to go ask him for his autograph so I sent my stage manager to go in there and then he was like 'oh Derek, come in here, it's totally cool!' and it was so embarrassing to go there and be like 'oh yeah I sent my boy in here to get your autograph' so it was funny man. But he's an awesome dude and he appreciates what I'm producing. It was cool, definitely a little star struck though.
RF: When can we expect the third EP to drop and what will the title be?
DVS: Well I don't have the title yet, I have working titles, you've probably noticed that my titles have a sort of continuity, they all rhyme, they are all seven syllables, and they all have the same sort of meter. Taking Up Your Precious Time, Filling Up The City Skies, Passing By Behind Your Eyes, Making Up A Changing Mind, it's all kind of like lyrics to a song that I'm slowly writing one album at a time, it's not really, but it can kind of can be looked at that way. So I definitely have a bunch of working titles for the next EP and for all my albums after that, that I wrote down. As far as when the next EP can be expected, before my fall tour, I haven't announced a specific release date, but my aim is to put it out before the fall tour, which happens in late October.
RF: Lastly, I know how awesome those elderly sunglasses are: what provoked you to pop out the lenses and make that your official promo look?
DVS: (laughs), yeah that was just the style I was feeling for a while, I think was on a pretty old press shot, now I'm rocking these old school hip-hop vintage sunglasses, but you know I think that my homies and I we just started rocking those glasses because we thought that it was fresh back in the day and I just kept doing it on stage, it wasn't like I was trying to create this look (laughs).