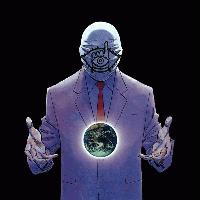 User
Soundoffs 24
Album Ratings 2259
Objectivity 69%
Last Active 03-25-20 9:04 pm
Joined 11-13-18
Forum Posts
4
Review Comments 2,505
L'arc~en~Ciel, Ranked

Quite possibly one of the biggest, best and most consistent bands to come out of the Japanese rock scene, L'arc~en~Ciel has been releasing albums since the early 90's to critical and commercial acclaim. Led by their enigmatic frontman Hyde, L'arc's style and sound is rooted in alternative rock, but through the ensuing years they've adapted to include more pop-rock elements, creating a fresh and fun sound all their own. Now, this is my own ranking, so don't exactly take it for gospel; do the best thing you can do on your own and check them out yourself!
12
L'arc-en-Ciel


heavenly





An early effort from L'arc, this one felt like it hit all the right notes, but it didn't try to be anything more; like it was good enough, but it wasn't GOOD, you know? It's almost a musical equivalent to being either hot or cold with no middle ground. "Vivid Colors" is a good track, well balanced and all, and then comes "And She Said", which is decent but slightly bland. "Garasu Dama" really hits you in the feels in the right way, feeling definitely like the classic L'arc~en~ciel everyone knows and enjoys, and then the beat goes on, hot then cold, hot then cold... a tone and flow problem that L'arc would go on to solve with later efforts, but here it sticks out like a sore thumb and kind of ruins an experience I had high hopes for. Tolerable overall.

11
L'arc-en-Ciel


Ark





The first album of theirs I've encountered where I don't feel engaged at all, this one just feels like L'arc is just going through the motions, so to speak; that's not to say this is terrible, no, but compared to their 2 album run before this it feels like a step down in quality. Pretty much the first half of this album feels like elder L'arc, and things are good with tracks from "Forbidden Lover" through "Cradle" being the highlights, but then they include an interlude track that doesn't fit at all, and that throws the rest of the album off the flow it had going for it, despite their best intentions. Worth it for a listen or two, or even cherry pick some of the songs, but ultimately forgettable.

10
L'arc-en-Ciel


True





Starting to lean in on the gloss and sheen of the production while still pulling out a fairly solid album, "True" sees L'arc shoot for the commercial stars and actually hit some of them. Probably the slickest sounding L'arc album to (then) date and a step further in the direction they went with "Heavenly", "True" finds L'arc indulging a little bit in experimentation as they attempt to craft an album that pleases everyone; tracks such as "Fourth Avenue Cafe" and "Lies and Truth" bear out this sound and direction as they have the biggest, "poppiest" sound L'arc has had in a song so far, and yet there's also tracks like "Good Morning Hide", "Flower" and "Caress of Venus" that cater more to the sound of their previous two albums. In a lesser band, the balance would be too much to handle, and yet L'arc juuust manage to pull it off in the end. Not bad by any stretch, but not their absolute best.

9
L'arc-en-Ciel


Kiss





A fairly decent and solid outing from L'arc, feeling like the band decided to rest on their laurels a bit and put out a commercially "safe" album; don't be alarmed by that word though - while "safe" may carry unconscious negative connotations, L'arc's version of "safe" is still better than most other bands by far. The album's first five tracks are all solid material, with the true standouts being "My Heart Draws A Dream" and "Sunadokei", while the second half of the album is more than happy to let things float gracefully to an end, with tracks like "Daybreak's Bell", "Umibe" and "Black Rose" sealing the album quite effectively. Not their best, but still quite lovely.

8
L'arc-en-Ciel


Awake





Opening with one of the first songs I ever heard from L'arc, "Awake" presents itself as a strong latter effort from the band; following the opener the listener is treated to a beautifully insistent track in "Jojoushi", with those downward glissandos in the chorus being a aurally delicious touch; the run from "New World" through "Killing Me" is sublimely fantastic, and then "As One" comes in, all aggressive as L'arc~en~ciel can muster and as subtle as a brick through glass, and the flow is thrown for a loop. Things get back on track with the next song, "My Dear", a largely electronic affair that I didn't think would work but actually really does, and the remaining tracks are a mix of good (Hoshizora, twinkle, twinkle) and decent (Existence, Jiyuu Eno Shoutai). A largely enjoyable outing here.

7
L'arc-en-Ciel


Ray





You know, compared to all but their first two albums this felt stripped down - not "raw" sounding, mind - and felt like a continuation of the vision they had on their previous album, "Heart". If that indeed is true, and as such, then this was a well-rounded, enjoyable excursion from L'arc. Tracks such as "It's the End", "Sell My Soul" and "Ibara no Namida" really bear this continuation of vision out, sounding simplistic and yet emotively insistent, while the tracks like "HONEY", "snow drop" and "Kasou" allow the band the opportunity to flex their more commercial muscles without losing any credibility amongst their fandom. This album was definitely another step back in the right musical direction for them, and would provide a secondary foundation through which the band continued to build off of.

6
L'arc-en-Ciel


Butterfly





Ah, L'arc's latest album, c. 2012. Despite 20 years in the music industry, L'arc's album "Butterfly" shows the band at the height of their powers, utilizing all their accumulated talent and smarts through the intervening years to put out probably their best album since "Smile". While their sound here has shifted ever so closer to the pop rock side of the spectrum, L'arc still add in enough alternative sounds and styles to keep everything fresh, with the best examples being "Bye Bye", "Bless" and "Wild Flower", and on the more commercial, poppy side of things you have "X X X", "Good Luck My Way" (natch), and my personal favorite song from the band, "Shine". Even though it's been 8 years since the release of this album, it still sounds fresh and holds up really well today, and is yet another feather in the cap of L'arc~en~Ciel.

5
L'arc-en-Ciel


Heart





Very much an enjoyable (and welcome) return to form for L'arc~en~ciel, "Heart" sees the band reining in their more extravagant impulses they explored in their previous two albums while mixing the poppier elements from those two albums with their earlier sounds to create a bridge between these two eras and satisfy any fans. Right away one can tell the "classic" sounds of elder L'arc in the opener "Loreley", which brings an understated sense of grace to the whole proceedings, and then the next 3 tracks allow the band to play with the poppier sounds they enjoyed in earlier efforts before capping that album with a nice mix between the old and new facets of the band. Tracks such as the aforementioned "Loreley", "Niji" and "fate" et al are the standouts here, but honestly there isn't really a bad track to be found. Definitely a nice little change of pace for the band and a graceful realignment.

4
L'arc-en-Ciel


Real





What a return to form! L'arc absolutely demolish any and all expectations they may have had with this album and show why they were (and still are) one of the best groups in the J-rock scene with this particular effort. Everything works so well in concert with one another that you would have to reach veeerrrry hard to find anything wrong with this album, it's that immaculately put together; the run from the opener "get out from the shell" through "finale" is just perfect, with extra points going to "Bravery" and "finale", and while the second half isn't a guaranteed knockout like the first half, there's still more than enough good songs in this half that it's easy to forgive, with the best examples being "Time Slips" and "A Silent Letter." Once again, L'arc correct their album trajectory and pull out a winner here; it doesn't get any better than that.

3
L'arc-en-Ciel


DUNE





Oh my goodness, L'arc's "Dune" has to be one of the best debuts I've ever heard, bar none. Containing very much what would come to be associated as L'arc's signature sound, this still had that grit in the production and in Hyde's signature honey croon, which had yet to fully develop, and yet that run from "Flood of Tears" all the way to the closer "Ushinawareta Nagame" is achingly beautiful and shows off everything that L'arc would come to be defined for. Incredibly stunning in all the right facets, "Dune" is a wonderfully complete introduction to the band that is L'arc~En~Ciel.

2
L'arc-en-Ciel


Tierra





As if things couldn't get any better than their debut, L'arc top themselves with their next album, "Tierra". Showcasing a gloss and upgrade in their production and sound, "Tierra" doubles down on everything "Dune" got right, and combined with a marked improvement in Hyde's vocals produce a stunning winner of an album. To say X track(s) were standouts would be a disservice to the other songs on here, as there are really no weak links with everything flowing smoothly and assuredly, and yet I'd be remiss not to mention "Blame", "Blurry Eyes" and "Kaze No Yukue" et al as gems in an album full of them. If you want to get to know L'arc~En~Ciel, this would definitely be the place to start.

1
L'arc-en-Ciel


Smile





All right, all right.... everyone who has or even had a passing interest in J-rock knows or knew the song "Ready Steady Go", don't even try to deny it. Opening in an aurally intriguing fashion that's almost guaranteed to hook you into the album with "Kuchizuke", L'arc go for the throat with the next two songs, the aforementioned "RSG" and "Lover Boy", and then the album rides that high for the rest of its time. "Time Goes On" has an old-school touch to it that makes it irresistible to my ears, "Coming Closer" is a standout here, so emotionally insistent and touching; "Eien", "Hitomi no Jyuunin" (sublime!!!), "Spirit Dreams Reside"... there is no weak link on this album. Hell, they even made "Revelation" work, which is a bit of a heavier track than what one's used to from the band. Absolutely essential.