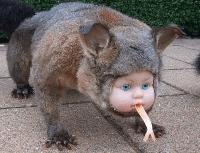 User
Reviews 5
Approval 100%
Soundoffs 50
News Articles 5
Band Edits + Tags 36
Album Edits 69
Album Ratings 930
Objectivity 89%
Last Active 12-05-20 9:13 pm
Joined 12-18-16
Forum Posts
2
Review Comments 1,212
Is she into me?

Into her I am, but the true question might lie elsewhere: does she share my appreciation? Irrefutable clues and hints plastered all over my fucking daily life, to you I leave da final verdict.
1
converge


Bloodmoon: I





I broke into her home last month, the window was open. I headed for the kitchen, opened the fridge and started eating her pistachio ice cream, ending up swallowing a third of a pint of it. Her boyfriend got suspicious after hearing my saliva noises, then he found me and he was very mad. Her girlfriend joined us shortly after, my mouth covered in frozen pistachio cream. "Let's sue this fucker" said her BF, but she begged him to let me go. She wasn't forced to do this, and yet here we are. Does she like me?

2
plebeian grandstand


Rien ne suffit





Of course it wasn't the only clue, I'm not so foolish lmao. I had to spend my weekend in prison because of this, and when I got out she called me on skype and asked me why I did it. I made some more saliva noises and she said she wants to get along with me, and she begged me not to do any more weird ass creepy stuff. She could have cut me out of her life, and yet, she did not.

3
Julius Eastman


Unjust Malaise





So yeah, why am I writing this... the moral of the story is that I just got fined for unauthorized parking. I'm pissed, I even had a personal parking space nearby but it was taken for whatever reason. This really ruined my evening, cheer me up sputnik.