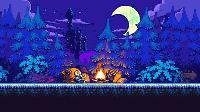 User
Reviews 54
Approval 96%
Soundoffs 124
News Articles 4
Band Edits + Tags 6
Album Edits 42
Album Ratings 1101
Objectivity 68%
Last Active 04-16-16 7:24 pm
Joined 03-25-09
Forum Posts
43
Review Comments 23,441
Gyro's 2011 (so Far)

I've seen people listing their favorite albums recently and I figured I'd throw in my favorites and see if they spark any interest. It's been an incredible year for music so far and we're not even 1/3rd through 2011. Anyways, hope you enjoy the list, please recommend anything that you think I should get.
6
Eisley


The Valley





Eisley spare no time in getting to the point and drawing their listeners in with The Valley, an album that opens in an immediately infectious fashion with Stacy's blissful vocals on the title track. The lack of mainstream success for Eisley has always baffled me, and not because of my fanboy love for them, but rather because of how insanely catchy and accessible their songs are. Take "Smarter" for example: a pop-rock jaunt that invites comparisons to artists like Paramore. Even the emotionally fraught numbers here are presented in a catchy as hell pop fashion ("Watch It Die," "Sad"). "Ambulance", arguably Eisley's best song to date, closes the album on such a gloom note that it seems almost inviting given the pop sheen of almost every other track. The album feels like it's been leading up to this release of despondence and results in their most emotionally conscious song to date.

5
Deerhoof


Deerhoof vs. Evil





If I had to pick a single word to define Deerhoof's Deerhoof vs. Evil i would choose 'quirky'. Of course, another word that comes to mind and at first is 'innocent,' which inherently makes this album sound endearing. This notion is obvious once the listener gets a taste of Satomi Matsuzaki's cutesy voice. Tracks like "Super Duper Rescue Head!" are absolutely adorable - seriously, who isn't smiling when Satomi delivers these lines: 'Me to the rescue, me to the rescue / Hello, Hello, you lucky so-and-so'. Satomi's voice is so fun to listen to in fact, that I would say it disguises the complexity of a lot of the tracks, but that's a great thing really, as none of them come off as sickeningly ambiguous. What's most fascinating is how they can make engaging songs out of simplistic lyrical content ("Hey I Can") and employ artsy noise-rock without it coming off as bloated and nonsensical ("The Merry Barracks"). Don't overlook this one, folks, there are so many reasons to love Deerhoof vs. Evil.

4
Demdike Stare


Tryptych





What an ambitious voyage! The broad compass of Tryptych makes it difficult to write on and in the beginning perhaps a daunting task to listen to in its entirety, but make no mistake, this is one of the finest records of early 2011 for a myriad of reasons. Classically leading things off is "Forest Of Evil" (Dusk) and its corresponding (Dawn) - both of which delve into this brooding, paranoid sound that ventures on and moves into different patterns throughout the course of 24 minutes (and these are just 2 of 23 songs). Demdike Stare indulge in dark surrealism for 2 hours and 40 minutes without coming off as tiresomely overlong because of how varied and surprisingly earthly it all sounds. Those who think it's overwrought owe it to themselves to afford Tryptych the patience necessary for it to fully sink in.

3
James Blake


James Blake





I didn't truly appreciate James Blake's left-field entry album until I stopped looking for something that wasn't there. Blake's utilization of unoccupied space is simple enough in theory, defining objects and providing a backdrop for them, but executed to brilliant effect. It doesn't present itself in an emotionally affecting way, as it seems cold and detached at times, -- a comment that a lot of users agreed with -- but then we have to remember that his music is a cerebral mix of electronica that's not trying to yield an emotional catharsis. Once I moved past my original gripe the album opened up to me and I found myself enjoying the mystique veiling Blake's implemented negative space, such as the gaps between breaths in 'Lindesfarne I'.

2
Tim Hecker


Ravedeath, 1972





Ravedeath, 1972 absolutely floored me upon first listen, and since then I've only come to adore it more with subsequent listens. To those not allowing themselves to get lost in it it's easily dismissible as ambient nonsense, but listen carefully to the static white noise and dissonance and you'll hear something much more organic; something hauntingly beautiful that's difficult to achieve in a genre where so many meander off and bore. It's an album that invites imagery and thought through the concept of destroying something beautiful; a notion that clearly grabbed Hecker. Some of the finest ambient songs ever recorded are here, especially the three part finale "In The Air" which ends in an emotionally devastating way.

1
CunninLynguists


Oneirology





I always feel a little unjustified in slapping a 'classic' label on an album I just listened to, but then it's as I say: "If you love it, so be it." Not having heard any of CunninLynguists' albums prior to Oneirology, I can't comment on how well this stands up to the trio's other efforts, what I can say, however, is that this is a work of art conceptually, musically, and lyrically. The album is loosely based around the surrealistic nature of dreams and the power of our subconscious (a theme that I've become obsessed with recently). The music captures this perfectly, pushing the boundaries of contemporary hip-hop with its dream-like aesthetic and clouded atmosphere. Certain sections border on musical surrealism, such as the quirky left-field outro to 'Darkness,' while others work as multifaceted infectious pop tracks ('Dreams'). In short, Oneirology is a gorgeous hip-hop album that plays the gamut of emotion and works as an easily accessible masterpiece whose songs should appeal to almost anyone who hears them. "It wasn't heaven that I was seeking but a haven I sought; a canvas of the mind painted with my thoughts."