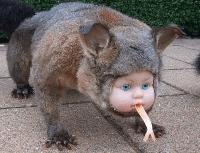 User
Reviews 1
Approval 100%
Soundoffs 30
Album Ratings 526
Objectivity 88%
Last Active 01-06-17 10:34 am
Joined 12-18-16
Forum Posts
0
Review Comments 84
Albums for grieving

I noticed that a recent grief made me change my taste for music immediately. Before it, I had decided to listen to QotSA, which I always ignored, but I postponed it and I switched to something more intimate, realizing the huge power that music carries. This list includes some records that I'm currently listening to, in no particular order. Feel free to recommend more albums of this sort!
1
Mount Eerie


A Crow Looked At Me





Some people play music just because. I am one of them, I play the keyboard in a prog rock band and it feels great to make music just for the sake of it, but there's something about folk music, some sort of urgency, that makes it truly special. This album is about death, and from the title of the very first track it never makes it a mystery. Words flow like a river, guitars try to keep up with them, and every song hits you so hard as if Phil Elverum were sitting next to you powerlessly. You can almost see how empty Phil's house feels after his lover passed away.

2
Sun Kil Moon


Benji





I feel very conflicted about Mark Kozelek. One one hand, his songwriting is solid and the lyrics sound like confessions, but on the other hand everything makes me believe that he's actually an arrogant prick. I tend to concentrate on the first aspect, since I also listen to Emperor, and Kozelek's douchebaggery doesn't put him on the same league as an homophobic murderer... What's more, we both don't like The War on Drugs. Somebody dies in almost every song of this record, but strangely enough there's something warm about it, maybe the fact that for every person who dies there are others who keep living and we can rely on.

3
Afterhours


Folfiri o Folfox





Afterhours is an Italian band which is primarly known for their grungy indie rock in the 90s (especially their album "hai paura del buio?", Italian for "are you afraid of the dark?"). As time went by, they became progressively more experimental, and this album in particular is very noisy. It covers a number of topics, but the core concept is loosely based on the loss of a father to cancer, and finding the strength to go on. In the last song, whose title means "If I were the judge", singer Manuel Agnelli explicitly says that he doesn't want to run away from the pain, he wants to suffer "all the way through" to be finally able to accept what happened.

4
Sufjan Stevens


Carrie and Lowell





The loss of a loved one can feel particularly painful in case there were unresolved issues. Sufjan Steven's mother had a kind of bipolar disorder that hindered their relationship, and this makes the song "fourth of July", which takes place in a hospital and is about the last conversation between him and his mother, even more harrowing. The way the song ends, with Stevens repeatedly whispering "we're all gonna die" is oddly soothing... After all, nothing is eternal, and people die every day, it's a natural step, it has always been like this.

5
Nick Cave and The Bad Seeds


Skeleton Tree





I never listened to Nick Cave before this album, but I remember being fascinated by the image of a "skeleton tree", a dead, grey tree, like the Hippocrates Tree that died a couple of years ago, or the great Deku tree in Zelda Ocarina of Time to be more trivial. I don't have children, I'm actually pretty far from having them at the moment, but I can only imagine what it means to lose a son because of an accident, and the way Nick Cave sings "nothing really matters" in the song "I need you" gives me troubles every time.