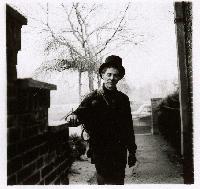 User
Reviews 30
Approval 100%
Soundoffs 29
News Articles 16
Band Edits + Tags 24
Album Edits 104
Album Ratings 575
Objectivity 84%
Last Active 07-29-14 3:23 pm
Joined 10-26-10
Forum Posts
0
Review Comments 1,362
My new EP

If you have about 20 minutes to spare, please consider listening to my new EP. I would certainly appreciate any and all feedback. DungeonBoy was kind enough to post a review of it here on Sputnik, so you might check that to see if this music would appeal to you.
1
Eloign


Old Yarns



http://eloign.bandcamp.com/

This project started about 10 years ago and I only recently had the chance to start properly recording this music. It's mostly acoustic. Guitar, banjo, piano, flute and percussion all make an appearance. I used electric guitar for the occasional lead and to create the ambient layers that tie the tracks together.