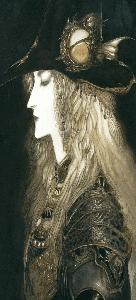 Emeritus
Reviews 28
Approval 98%
Soundoffs 21
News Articles 11
Band Edits + Tags 12
Album Edits 315
Album Ratings 814
Objectivity 67%
Last Active 08-11-17 10:49 pm
Joined 09-16-08
Forum Posts
43
Review Comments 16,202
Angel's Guide To Cooking Like A Pro Pt. 1: Techniques

This is my attempt to bestow a portion of my wealth of knowledge on a useful life skill with the populace of Sputnik. Hope you get some use out of it.
1
Plasma Pool


I





-Pan-searing- Start out by getting your protein out of the fridge and letting it get up to about room temperature. If it's too cold, it's going to release moisture and essentially steam rather than sear and lock in the moisture as the pan tries to bring its temperature up. Get your saute pan and put it on medium to medium-high heat depending on your stove. Let the pan heat up a bit to open the pores and then coat it with a thin, even layer of canola or vegetable oil. DO NOT use extra virgin olive oil for pan-searing or sauteing. Its smoke point is to low, which means it breaks down at a lower heat than other oils. Once the oil is hot, apply kosher salt and white pepper to both sides of the product (Black pepper can tend to look like burnt specks.), and place your meat down in the pan on whichever side you intend to have facing up on the plate.

2
Kammerflimmer Kollektief


Absencen





Once it's down, don't play with it. It's not your penis. The product should loosen up in the pan on its own when it gets that nice crust and is ready to be turned over. Gently flip with tongs and repeat on the other side. Once you get your lovely golden brown color on each side, transfer to a baking sheet with a rack and finish cooking it in the oven (if it needs it) at about 450 degrees. Recommended items: seafood, skin-on poultry, steak (yes, steak)

3
Jenn Grant


Orchestra for the Moon





-Grilling- Now you can use gas, electric, or charcoal, but the principle here is essentially the same across the board. Once your grill is nice and hot, give it a once-over with the brush if it needs it, then take a folded rag dipped lightly in oil and rub the plates of the grill. Next you can get your food down. If your meat's been in a marinade, get off as much excess oil as possible to prevent flare-ups so that the food won't char in spots. If not, be sure and season it right before you throw it on.

4
Mekong Delta


Mekong Delta





With vegetables, I will recommend starting them in aluminum foil with a bit of water (or stock or broth if you have it) and butter so they steam for a bit. Most veggies won't get soft enough on the grill alone. Know your grill: pay attention to the hot and cold spots and adjust accordingly so everything can be as evenly cooked as possible. Don't be consumed with getting perfect grill marks and shit like that. Most stuff you won't be able to if you intend to fully cook it on the grill. The main thing is that you want the color and that rich, smoky flavor. Just keep flipping everything, and keep that lid down until everything is right where you want it. Recommended items: just about anything

5
the pillows


Happy Bivouac





-Sous Vide- Conventionally, this method of cooking requires two very expensive pieces of equipment: a vacuum packaging machine and an immersion circulator (water bath type gizmo that circulates the water while keeping it at a constant temperature). However, the ghetto version of this actually works pretty damn well. Simply place your meat into a Ziploc bag and fill with marinade until it covers the product. Get as much air out as you can and then close. Now I've actually used a blowtorch to seal off the bag where the marinade stops to further replicate the actual process, but it?s certainly not necessary. Now that all your meat is bagged up, get a big pot of water on the stove and heat it to just under simmering.

6
Sixtoo


Duration





Throw all the bags in the pot and just let ?em go for 10-15 minutes. Give everything a feel to check doneness (you're probably going to be shooting for about medium-well here), and throw it back in need be. If not, just carefully empty the bags into another container and remove the proteins to pat dry of any excess oil. The end result should be an incredibly moist and flavorful product that requires minimal effort on your part. Pretty nice huh? Seriously, fish tastes so good cooked this way, panties will definitely come off. Recommended items: steakier fish like salmon and swordfish

7
Lungorthin


Prophecy of Eternal Winter





-Sauteing- I'm going to explain this cooking method as it pertains to vegetables. Cut your veggies as even and uniformly as possible to ensure even cooking and to imply that you some idea as to what you're doing. Now a lot of vegetables are too damn hard to cook completely in a saute pan (carrots, asparagus, green beans, etc.). With these, once they're cut, you can just drop them into boiling water and cook them just under done. Strain them and rinse with cold water to stop the cooking process. Now you're ready for the actual saute part. Get your saute pan on the stove and get it heated on medium-high. As far as choice of oils, I myself like to saute in butter. Many people will tell you that you can't, or at least shouldn't saute with butter as the milk solids burn. Which they do. In a restaurant environment, they use clarified butter (as in evaporating the water and skimming the milk solids off the top). I find this to be impractical and altogether unnecessary for a home environment.

8
Wonderland Falling Yesterday


Enchanted Landscape Escape





You can use whole butter; you're just going to have to be quick about it. Get it in there and spread it around as fast as possible. Now you can actually brown the butter a little bit to give things a somewhat nuttier flavor. This good for stuff that you're actually going to put nuts in (green beans almandine) but is entirely up to your discretion. Once everything's in the pan (not overcrowded I hope), use that wrist action I know you've been working on to give everything a good flip. If you're too much of a pussy or a klutz to do this, just stick to tongs. Don't worry about constantly flipping the pan. Just do it enough to evenly cook everything. If you take it off the heat too much, things aren't going to cook properly. I like to add seasoning towards the end. Salt is hydroscopic, which means that it draws out moisture. Too much moisture in a saute pan leads to steaming rather than sauteing. Recommended items: vegetables

9
Skullflower


Obsidian Shaking Codex





-Oven Roasting- This is pretty basic. Again, vegetables are pretty much the only thing I do this with, so I will explain from that perspective. Get them all uniformly cut and transfer to a big enough bowl that you can toss them in without making a big mess. Add just enough oil to lightly coat everything. You CAN use olive oil here; in fact, I'd even recommend it. Toss the vegetables in the bowl to get them all evenly coated in the oil. Now add some kosher salt, fresh ground black pepper, and dried herbs if you'd like. Again, give everything a good toss to promote even coating. Now you can transfer everything to a baking sheet. Make sure everything is spread out fairly evenly. With fingerling potatoes, I like to put them cut side down so they get a nice crust. Pop the pan in the oven and leave everything to bake at 350 degrees. Just check on it periodically and take it out when everything's cooked properly. You should have nice golden brown veggies a little crispy on the outside and soft but not mushy on the inside. Recommended items: root vegetables, fingerling potatoes

10
Nucleus Torn


Nihil





-Making a Pan Sauce- Not only is this easy to do, it will also help get all the shit off the bottom of your pan without you busting your ass over the sink. Once you're done pan-searing your meat or sauteing your vegetables, pour a little wine in the pan (red if for red meat, white for poultry or seafood) while it's still good and hot and let it deglaze the bottom of the pan and get all those delicious bits of flavor locked away to loosen up and come join the party. Offer up a little help with a wooden spoon or spatula if need be. Then let the wine reduce over medium-low until a good portion of the bite from the alcohol is gone and then add a little bit of stock or broth (beef for red meat, chicken for poultry, seafood for seafood). Let it reduce some more and then take it off the heat. Finish by swirling in some whole butter to get it a touch creamy and add some body. Serve with protein and enjoy.