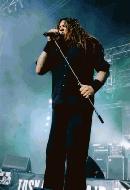 User
Reviews 7
Approval 65%
Soundoffs 39
News Articles 5
Band Edits + Tags 6
Album Edits 5
Album Ratings 761
Objectivity 71%
Last Active 12-16-07 5:47 am
Joined 05-12-06
Forum Posts
1
Review Comments 105
Metalcore Bands That Will Stand The Test Of Time And Actually Be Around In 5 Years

Metalcore/hardcore is dying rapidly, and i think that only a few key bands will stick around past the next five years.
1
As I Lay Dying

In my opinion, the kings of modern metalcore. They get better with every release, and still have a large crowd in every city they play in. They also aren't breakdown driven, like 98% of the other core bands out there. I expect even greater things to come from AILD.
2
Unearth

This band shows maturity, especially in their latest release, The March. They stick out in the metalcore crowd, looking more like straight up metalheads than metalcore musicians (the metalcore/hardcore look will die soon enough... Tight pants, gauges, tank tops that sport your favorite core bands, and wearing sports jerseys at hardcore shows just to name a few trends.) Unearth also have learned to stray from the breakdown driven music of almost all of their metalcore peers.
3
Killswitch Engage

Yes, their music has taken a bit of a dive since their inception, but I believe that their crowd will keep Killswitch afloat. They still sell out huge venues, whether or not Howard Jones is performing or not (I recently saw them with Phil Labonte on vocals.) Sure, they might continue to release mediocre albums, but this band still has a lot of steam left.
4
Parkway Drive

Some may disagree, but Parkway Drive seem to do almost everything right (at least at the moment.) They are writing music that they want to write, even if some say that they have become repetitive and bland. I think lyrically and musically they are maturing, and will continue to improve their sound over the years.
5
August Burns Red

Being as young as these guys are and improving upon every record, this band still has a lot more to offer in the coming years. They actually have what Unearth and Killswitch don't have: Youth. As they get older, their music will continue to mature. Their flawless live shows are a major plus as well.
6
The Devil Wears Prada

Despite all the crap this band gets, they are at the top of the metalcore scene (popularity-wise and they are also musically improving upon each record.) Some may think that they screwed themselves releasing With Roots Above so early in their career, but that's what people said about AILD with regards to An Ocean Between us... Even if Prada ends up being shitty, I can see them as the band that refuses to die when they clearly should. Only time will tell with this band, because their next move is very hard to predict.