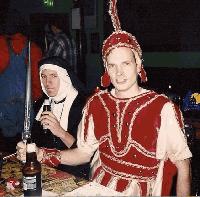 User
Reviews 1
Approval 100%
Soundoffs 90
News Articles 12
Band Edits + Tags 135
Album Edits 43
Album Ratings 1216
Objectivity 58%
Last Active 11-26-18 6:06 am
Joined 01-02-16
Forum Posts
0
Review Comments 4,007
Some digs

Ya know
1
Foxing


Nearer My God





Can't believe I put this off for so long, goes so hard.

2
Death Cab for Cutie


We Have the Facts and We're Voting Yes





Absolutely underrated. Straight emo masterpiece. Give this a listen if you haven't and if you have, give it another cause it's great.

3
Stars of the Lid


And Their Refinement Of The Decline





It is well documented that this is my go to sick album and I had a high of 103.5 F (about 40 C) fever yesterday. I also thought I had tinnitus cause my ears were ringing for like a half hour. All good now

4
Fog Lake


Captain





Was in my feels the other night and I saw this in my recommended on YouTube and the album cover spoke to me, so I gave it a listen. Very chill lo-fi stuff. If you're into that stuff, pretty good shit. talk goes hard.

5
FIDLAR


FIDLAR





I've been listening to a lot of FIDLAR in general lately, but I've been listening to the same three songs in the same order before I play some vidya. Too is underrated.