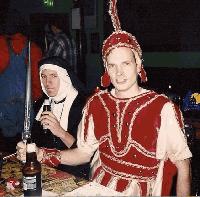 User
Reviews 1
Approval 100%
Soundoffs 90
News Articles 12
Band Edits + Tags 135
Album Edits 43
Album Ratings 1210
Objectivity 58%
Last Active 11-26-18 6:06 am
Joined 01-02-16
Forum Posts
0
Review Comments 4,004
R.I.P. Luke

I don't have an Instagram, Snapchat, Twitter, or Facebook, so I don't really know where to talk about this. This morning, after nearly 14 years, my childhood companion, Luke, passed away. My parents got him for my 5th birthday and he's been in my life ever since then. He was struggling a lot lately and we knew that he didn't have long left, so I've been gradually accepting it. He held on and fought for as long as he could and it couldn't have been a better day. We didn't find him after school, we didn't find him downstairs this morning, it wasn't during the middle of the night. He came up to us on a quiet Saturday morning, looked at my mom as if to say "I'm sorry, but I can't do it anymore," and he collapsed to the ground. We got him to the vet as soon as we could, they did an ultrasound, and we were told he had cancer. We got him to the vet a few months before that and was in perfect health, but bloodwork doesn't account for cancer. There was nothing we could do and we had to put him down. Every pet owner says this, but he was genuinely the smartest and most caring dog I ever met. We could talk to him like another person and he would understand. He'll be forever missed and remembered by all who knew him.
1
Eyedea and Abilities


By the Throat





The opening track has taken on a lot more meaning now.