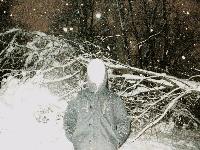 User
Reviews 13
Approval 88%
Soundoffs 23
Album Ratings 706
Objectivity 74%
Last Active 05-12-11 2:38 am
Joined 12-19-09
Forum Posts
13
Review Comments 1,655
Brutebeard's Top 10 Albums Of 2010
10
Deathspell Omega


Paracletus





There is something of ancient myth involved in these guys' music. It could be because of studying Satanism from a philosophical point of view. Whether they are under a magical spell or they are just musically brilliant, the song structures they come up with are intricately unorthodox. Straying far from the path of mediocre trodden familiarity, Deathspell incorporates more atonal methods to craft a dark and dissonant sound. Expertise is flaunted both in the stringed section and with the blasting of the skins. The raspy vocals could be compared to a disgruntled, withering elder hacking up his ash-laden lung tissue. "Wings of Predation" should make one frightened.

9
Bongripper


Satan Worshipping Doom



Let's get through with the formalities quickly, shall we? As over-the-top as the names are, it is humorous in that it's instrumental. Whoever decided that tones were associated with light or darkness is an eisegesis-drunk phony anyhow. It's the general feeling you get from something that resounds with connotation. Let's proceed to the mood of this crushing album. It is heavy, heavy enough to demolish a house but still allows framework to stand tall. This album has enough structure to keep the listener interested. Tempo is a large percentage of what makes or breaks doom metal. One of the highlights of this "baby-doomer" album is that it rolls at a steamroller's pace but picks up the drag when there needs to be a change in traffic (or tempo).
How good could doom metal with no vocals be? Innovative and severe. Listen to all of it...in a row.
8
My Epic


Yet





Oh the beauty of this album! Such poetic finesse and musical composure is shown. Passion is a trait evident only in some musical endeavors. This is one of them. The flexible, progressive rock style fits hand in hand with the varying levels of enthusiasm delivered vocally - from the gentle pleas, to the harmonious crooning, to the convicting yells. Unusually honest and outspoken, spirituality is the shining light of this album revealing struggles and crying for hope. There is a peculiar joy flaunted and wraps itself in the uplifting, mysterious chords and scales. Bass and drums don't hold back but instead share the instrumental weight. Christianity hardly ever seemed so inviting and relational. A couple good ones are "Author", "Pour", and "Ashes".

7
Beach House


Teen Dream





This album strikes a note deep within me - one of those ones that make me feel all happy and teary-eyed, but mostly the latter emotion. Dream pop at this year?s finest, Beach House depicts a hazy atmosphere that makes the listener feel like floating. This dreamy duo makes a relaxing sound of lollygagging guitar and keyboard melodies, softly coinciding with soulful female singing. I would tell someone to drift off to "Norway", "Lover Of Mine", or "Take Care".

6
Defeated Sanity


Chapters of Repugnance





If thou believeth that thou art a spawn of the metal breed - believeth you me, this album hath made thee to resemble a fairy. Basically, these guys slay this one out of the park. While the drummer goes to battle with his "clanging sword" bell cymbal and terrorizes the rest of his kit, the riffs are being spewed out rapidly - pinching harmonics as well as all of the nerves in your entire body. Vocally speaking, the growls reach the very bowels of Hades. When these brutes aren't racing through their frantic patterns, they are slamming it up with sheer disgust. Yes, breakdowns are grossly executed here. Summing it up - this is a headbangers delight of the year. The best tracks are...well all metal sounds the same so it doesn't matter. No, "Consumed By Repugnance" is a hearty one.

5
Deerhunter


Halcyon Digest





Not much to say about this album...except that it contains super awesome, up-front and honest jingles. Like a friend pointed out to me - it's the details. Notice the subtleties that make every song so personal. From every reverb inducing high, to every humble drum ensemble this album rocks if it has time to nestle in your brainwaves. Recommendations: "Helicopter", "Basement Scene", and how about "He Would Have Laughed".

4
Clinging To The Trees Of A Forest Fire


Songs Of Ill Hope And Desperation





Well, if the titles alone don't make you quiver, let your ears curdle with blood after a few seconds of listening to these guys. Here lies a fascinating hybrid of heart-racing grind and spine-twisting doom. And oh do they make it work. Not for fans of anything catchy or melodious. Just get this album and do damage. Listen to just about any track.

3
Baths


Cerulean





If you are or intend on being hip, obtain this album. It is surprisingly refreshing and loads of fun. Respectable enough, it is a one-man project, who designs scenes of nostalgia via sound clips of kids, waves of synth, fresh beats, relaxing piano strides, and the occasional sing-song. Instead of a soundtrack to a movie, this is sort of like a movie-track played to music. A few cool tracks are "You're My Excuse to Travel", "Apologetic Shoulderblades", and "Lovely Bloodflow" (which has a rad music video).

2
Janelle Monae


The ArchAndroid (Suites II and III of IV)





Maybe it's her cute vintage mannerisms, maybe it's her strong black-woman confidence, but I'll go on a whim and say it's a mixture of those and much more that allow Janelle to sweep up hearts from all around with stunning charisma. She combines a futuristic type of pop with the classy vibes of soul. It's a highly impressive album from a relatively new-comer, and she deserves the fame of Gaga. I would suggest hearing "Cold War" or "Tightrope" since those are the hits.

1
Sufjan Stevens


The Age Of Adz





This is such an extravagant bunch of modern symphonic and electronic compositions. Sufjan has a knack for brilliant lyric & songwriting, this time turning the music up quantum notches to create a soundscape of heavenliness. So then, Sufjan has his head above the clouds to attain my number one 2010 AOTY award. Listen to any song on the album!