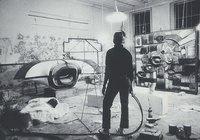 User

Reviews 16
Approval 97%

Soundoffs 107
News Articles 6
Band Edits + Tags 245
Album Edits 209

Album Ratings 1973
Objectivity 72%

Last Active 01-09-23 1:15 am
Joined 04-20-15

Review Comments 23,390


Boney's 2023 Music Resolutions

Bit late with this but I figured it'd be fun to post some of my plans for listening this year as I am making some changes.
1
Nicole Dollanganger


Married in Mount Airy



1. Listen to Fewer New Releases

I went hard on new releases in 2022 (I checked over 160 new releases, which is probably the most I've ever done, even though I listened to quite a bit fewer albums overall than in many past years), mostly because a ton of artists I like dropped stuff, but also because I just really went in on checking out hyped stuff. However, it ended up feeling like too much, as I hardly had time for older releases. So, this year I plan to limit my new release listening by focusing on releases by established artists I like and by checking only 1-2 new releases per week (for the most part; some weeks I may check none, some I may do a couple more).
2
Agalloch


Ashes Against the Grain



2. Check More Old Releases!

The corollary to 1 is that I plan to listen to more old releases. My goal is to check at least one non-ambient (see 3) non-2023 album per week.
3
Tim Hecker


Haunt Me, Haunt Me Do It Again



3. Listen to More "Ambient" Music

This is something I began in 2022. One of my extramusical goals is to read more, and I have found recently that listening to genres like drone, ambient, and minimalism works really well for me while reading, much better than listening to "regular" music, as I used to do while reading. Using these genres for that purpose has helped me grow a greater appreciation for them. So I plan to continue to prioritize these genres more in my listening. I want to try to do at least one of these every 1-2 weeks; this is somewhat separate from goals 1 and 2. I may count an ambient/etc. release toward 1 or 2 in a given week or I may not.
4
MJ Lenderman


Boat Songs



4. Write More!

I started doing this in 2022 as well; I wrote several reviews when I hadn't written any for years. I'd like to aim for at least one review a month this year, and I may also write more short soundoff reviews as well. (I'm also slowly but surely writing blurbs for my 2022 album list which will drop eventually!!)
5
Alcest


Kodama



5. Listen to More Old Favorites

This is lower priority, but I want to appreciate music I already know well more this year! Typically I listen to something I check out frequently for a couple weeks before it falls out of rotation and I rarely go back to it. I'd like to keep at least one artist or album that I already know well in rotation most of the time, something I feel less pressured to focus on "processing" or analyzing and can just enjoy.