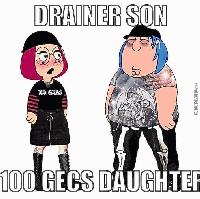 Staff
Reviews 141
Soundoffs 241
News Articles 21
Band Edits + Tags 100
Album Edits 77
Album Ratings 2826
Objectivity 77%
Last Active 01-24-22 5:02 pm
Joined 06-25-10
Forum Posts
1,779
Review Comments 58,361
Year of Video Games: Month 11
1
Tyler, the Creator


Call Me If You Get Lost



Donut Country (switch) - 7/10

Really short puzzle game where you control a hole in the ground that gets bigger the more stuff you sink into it. Very Katamari like. It has a lot of story scenes, too many in my opinion, but it's a fun game and it's like three hours long and is usually on sale for a couple bucks.
2
dltzk


Frailty



The Room 2 (PC) - 8/10

The first sequel to the puzzle box/escape room game The Room. The puzzles here are just as good as the first game and I like that they upped the horror elements. This is an awesome series if you like puzzle games where you click on something 48 times, give up, then come back and click on it again and realize you were missing the single pixel you actually had to click.
3
underscores


fishmonger



Gunfire Reborn (PC) - 10/10

I've been playing this game since its first week in early access and oh boy is it great. Gunfire is a FPS/roguelike that's very similar to Borderlands except there's almost no story and it's four procedurally generated levels that you play over and over again. It's the only looter shooter I enjoy and it's super fun in 4 player co-op. The mechanics and buffs are super complicated and it's all written in Engrish so it takes so time to get used to. But yeah, you can play as a cat or a dog and it's very very fun, and also my most played game on Steam.
4
Little Simz


Sometimes I Might Be Introvert



Firewatch (PC) - 7.5/10

Oh boy, a walking simulator! In this game you wander around a national park and talk to a lady on your walkie talkie. The story is nice and the semi open/Metroidvania type progression reminds me a lot of A Short Hike, just not nearly as good gameplay wise. This game is all about the story and the characters. Not gonna spoil it but it's kind of a downer and the reaction to the ending is mixed. I really like it though, good game.