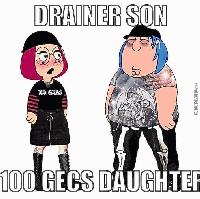 Staff
Reviews 141
Soundoffs 239
News Articles 21
Band Edits + Tags 99
Album Edits 74
Album Ratings 2736
Objectivity 77%
Last Active 06-18-21 3:34 am
Joined 06-25-10
Forum Posts
1,755
Review Comments 57,924
Year of Video Games: Month 5

One game a week for a year.
1
ECCO2K


E



A Hat in Time - 9.5/10 (PC)
The little indie that could. This game is the cutest thing I've ever played and the gameplay is nuts, it's a lot like Mario Sunshine in a lot of ways, and similar to that near classic it suffers from the fact that it's unfinished. This game has like 40 hourglasses, which are like stars from Mario, and those games have 120. You can't really fault the game because it's a low budget indie. My main issue with the short length is that the fourth world in the game is not nearly as good as the first three. As a whole though this is still one of the best platformers of the 2010s, and it's a shame it came out around the same time as the Mario Odyssey hype train because I think this game is better. I could see a bigger budget sequel easily being a perfect game.
2
Bladee


Icedancer



Breath of The Wild - 9.5/10 (switch)
I played most of this November of last year and then took a 6+ month break from it. I loved every second of my playthrough, but it's hard for me to play 40+ hour games without a sizeable break. This game's awesome, I love the sparse storytelling, the combat, how creative you can be with anything. The main thing that holds this back from being a 10 for me is that like 85% of the shrines (which function as mini dungeons) are just fucking utter garbage. At least most of them are really short, but that's not supposed to be a good thing. Also if you play the game normally and free the four divine beasts you're punished in that Ganon has his health halved and it makes the fight a joke. Great game, second or third best zelda.
3
Bladee


333



Resident Evil Village - 9/10 (PS4)
Boy was I ready to slap a 10 on this sucker, that is until the story jumped the shark. I get it, I do, every RE game except 7 has a really stupid story, even 7 gets pretty dumb toward the end, but I was hoping they would build on the foundation of 7 and make a good story from start to finish. Oh well. The gameplay is great, although there's some really boneheaded design choices, like how the knife now has a cooldown after every 2 swipes, and all the shotguns have a long cooldown after every shot, to the point that speedrunners figured out that it's faster to reload a shotgun after every shot than wait out the cooldown. Why do this in an action game when in 7 these weren't an issue? Why do you establish that Heisenberg has Magneto powers just to make you fight him in a stupid tank where he hardly even uses his powers because he turns into a FUCKING MECH. Why do you do this to me Capcom. Great game. Favorite line of dialogue is def "I'm the best!"
4
Bladee


The Fool



Donkey Kong Country 2 - 9/10 (switch SNES emulator)
This game does everything the first one does but better. More animal friends, more secrets, more varied gameplay, and goddamn Dixie Kong is the most fun Kong to play. The main hangup is there's some pretty cruel spikes in difficulty, like the boss battle with the parrot vs the bee, and motherfucking SLIME CLIMB. No doubt one of the best SNES games.
5
Parting


Unmake Me



Ico - 9.5/10 (PS3 remaster)
What a month, damn. Ico is a work of art. It's the game that inspired the creator of Dark Souls to get into games. I was super interested in this game when it came out, I played the demo at some no defunct music store and was hooked. Saw all the marketing for it and fell in love. I did not have a PS2 at the time though, and wouldn't get one for a few years. For whatever reason I just never picked this up when I did finally get a PS2. Well, I finally got around to playing it, and yeah, it's incredible. It's a puzzle platformer where the whole game is an escort mission which doesn't seem too appealing on paper, but everything about this game just supports the story and the atmosphere in the perfect way. This game has no HUD and no in game instructions or text of any kind other than subtitles for the very sparse dialogue. Calling the combat basic would be an insult to the word basic.
6
Vince Staples


Big Fish Theory





It's a prime example of game design by subtraction, distilling common gameplay elements down until only what's necessary to tell the story is left. It's a short game, and it's not exactly fun, and it's hard to explain exactly why it's so good. The story and the emotion it evokes is everything, it's pretty much impossible to explain the impact without actually playing it. So give it a shot if you have a PS2/PS3 or an emulator.