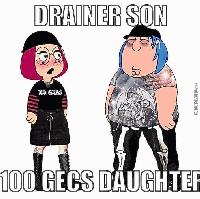 Staff
Reviews 141
Soundoffs 237
News Articles 21
Band Edits + Tags 99
Album Edits 74
Album Ratings 2717
Objectivity 77%
Last Active 04-13-21 4:35 pm
Joined 06-25-10
Forum Posts
1,749
Review Comments 57,760
Year of Video Games: Month Three

One game per week for the whole year, let's go.
1
Lil Ugly Mane


Mista Thug Isolation



Super Castlevania IV (steam version) - 6/10

I'm gonna be upfront and admit that I abused save states to finish this game. I don't enjoy the difficulty of these games, in fact, I think it's complete bullshit. Replaying classic Castlevania has made me realize that these games are not action games, they're precision platformers. 95% of the time I die in this game it's not from running out of health from fighting tough enemies, it's from getting hit while jumping and falling into a pit. This is not fun to me. If you took out all the bullshit Crash Bandicoot level platforming this would be a very good game.
2
Lil Peep


HELLBOY



Super Mario World (switch SNES emulator) - 7.5/10

Prepare the hate train: I don't love this game. I didn't grow up with this one, I played like half of it at my cousin's house, but I was always more partial to Super Mario Bros. 3. I appreciate this game, but it just doesn't do it for me the way that all the other main Mario games do. There's just too much of an emphasis on secrets for me. I'm very much into that with the 3D games, but the 2D Mario games I just want to run through the levels and have fun. I don't like having to search for all the secret exits, and I especially fucking hate the Boo House levels. Fuck those levels so hard. My other major issue with this game is that Yoshi is so fun to play with that it makes the parts where you don't have Yoshi considerably worse. Classic game, just not for me.
3
RMR


DRUG DEALING IS A LOST ART



Fire Emblem: The Binding Blade (GBA emulator/fan made english patch) - 6.5/10

Fuck this game so hard lol. This is a pretty negative month. Fire Emblem 6 is the first game made without series creator Shouzou Kaga and it is hampered by growing pains and poor design choices. My biggest gripe with this game is ambush spawns, basically when enemies spawn on enemy phase and are able to move the same turn. It's this bullshit artificial difficulty where the game becomes more about replaying the levels and memorizing the ambush spawns. I don't like the idea that you're not supposed to be able to beat the level on your first try. Ambush spawns ruin the tactical aspect of the game. Also weapons are weirdly inaccurate in this game, to the point that it's more like XCOM than Fire Emblem. And most of the roster of characters suck hard, you get like three armored knights in a row lmao.
4
Lil B


Pink Flame





This game introduced everything that makes Fire Emblem 7 and 8 classics, but yeah this one is a rough attempt. This game has never been released in the west and is only playable on an emulator with a fan made English patch.

5
Big L


Lifestylez ov da Poor & Dangerous



Resident Evil: Code Veronica (ps2/emulator) - 7.5/10

I played Claire's campaign and like an hour of Chris' campaign on the PS2 disc version before starting over on emulator. If you've recently tried to play a ps1/ps2 game on a modern TV you know my pain. It's impossible to get the brightness high enough to the point that there are several rooms in this game where I couldn't see at all. I missed so many items because of this to the point that my save file was kind of fucked, hence why I started over on emulator. Wow, being able to see the game makes such a big difference, I would definitely recommend not playing this on PS2 unless you have a CRT.
6
Weird Al Yankovic


Bad Hair Day





As far as the game goes this is one of the weaker classic RE games. It's like an awkward transition between the classic games and the more action oriented RE4. Instead of fixed camera it has this weird camera that moves with you, it's hard to explain, but it's way worse than fixed camera. My main gripe with this game is how you need to leave supplies and weapons in the item box at the end of Claire's campaign for Chris to use, but the game doesn't tell you this and I did not do this and ended up with a close to impossible Chris campaign. The story and cutscenes are really funny, it definitely turned off the survival horror fans, but I kind of like how bad it is. This is a good game, but I would only recommend it for diehard RE fans.