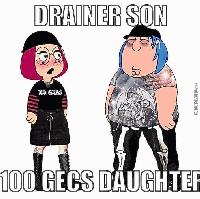 Staff
Reviews 141
Soundoffs 237
News Articles 21
Band Edits + Tags 99
Album Edits 74
Album Ratings 2717
Objectivity 77%
Last Active 04-19-21 5:52 am
Joined 06-25-10
Forum Posts
1,749
Review Comments 57,765
Year of Video Games: Month 1

I'm trying to complete one video game every week for the whole year because it adds structure to my life and I'm unemployed and I have a massive fucking backlog of games so here we go. Rules are the game has to be one I haven't finished before, but playing a game I've started at some point but never finished is OK. Here's what I played in January.
1
Akira Yamaoka


Silent Hill 2



Goblin Sword - 7/10

Goblin Sword really surprised me. It was like a dollar on the switch store so I was expecting shovelware, but the artstyle looked cool and it had good reviews so I rolled the dice on it. It's a 2D level based action platformer where the main fun in the game is finding all of the secrets. When I first started playing it I was just going through the levels like normal and getting a secret here and there and it wasn't very fun, but then I went back and started trying to 100% all the levels and that stimulates my lizard brain. It's a two button NES type throwback so if you're into that thing I would definitely recommend Goblin Sword. It's a lot longer than I expected it to be, like 7-8 hours, which is a couple hours too long but I still recommend it. Just don't go into it expecting something as deep as Shovel Knight.
2
Yasunori Mitsuda


Chrono Trigger: Original Soundtrack



Black Mesa - 8.5/10

Black Mesa is the fan made remake of Half-Life in the Half-Life 2 engine and it's finally out of beta. Crowbar Collective have been working on this game for over a decade and it shows. It's surprisingly polished, looks just as good as Half-Life 2 and I didn't experience any bugs. If you're expecting Half-Life with a new coat of paint well, that's what it is. It's a classic game made better in my opinion. I didn't play Half-Life until recently and I played a ton of Orange Box back in the day so I have a lot more nostalgia for that era. My main gripe is the Xen section is way too fucking long. Xen sucks in the original and it still sucks here. I don't understand the logic of making the worst part of a game five times longer, but hey, this is still a great game.
3
Nobuo Uematsu


Final Fantasy IX: Original Soundtrack



Hue - 7.5/10

Hue is a puzzle platformer where you use colors from a color wheel to make objects disappear and traverse around and yeah it's one of those kinda Oscar-baity kinda indie games with the sad story told through voiceover and the schmaltzy music and the artstyle and tone cribbed from Limbo, but it's really fun. I really like the puzzles in this game, manipulating colors is a really satisfying gameplay loop. This one is pretty short too, five hours long, doesn't overstay its welcome. Very good game.
4
Koji Kondo


Super Mario Galaxy OST



Fallout: New Vegas - 10/10

So I've been playing this off and on for about two years, I only played through the last DLC and the endgame this year cuz that's all I had left. This is the kind of game where I'm constantly starting a new game and sinking like 20 hours into a new file when I haven't finished my main file. I just love this game, especially the journey from the beginning. I've already started another new file recently cuz I started Fallout 4 and that game sucks major fucking ass and I needed to wash the taste of ass out of my mouth with a good game. My major gripe is the obvious one, the fucking bugs. I can't even get this game to run sometimes with the constant crashing and gamebreaking glitches. Mods are a must, I can't even imagine playing this on console. I could write pages about this game but y'all already know what's up. One of the best games ever.