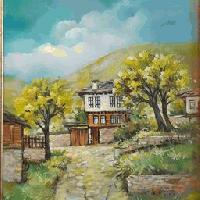 Contributor
Reviews 47
Soundoffs 26
News Articles 7
Band Edits + Tags 17
Album Edits 43
Album Ratings 875
Objectivity 62%
Last Active 10-27-20 11:59 pm
Joined 12-07-18
Forum Posts
14
Review Comments 1,459
Albums You Wish You Heard at Release

I couldn't figure out a good title for this, but what are some albums you wish you heard when they were first released as opposed to finding them years later?
1
Sufjan Stevens


The Age of Adz





I'm incredibly interested to see what the initial reaction to "The Age of Adz" was, because I'm sure the release was unexpected. The transition from his indie folk daring roots to all of the electronic flourishes is, to me, one of the most surprising transformations in modern music. I listened to the album years after the release, already knowing what sound to expect. Hearing it upon release without any idea of what was about to happen would have lead to such an interesting listen, but I think it also would have been fun to see what initial reactions form the music community was.

2
Stephen Sondheim


Into the Woods





(Spoilers for Into the Woods incoming). I remember the first time I saw this show when I was about 11 years old and being completely blown away by the second act and the twist on the "Happy Endings" in fairytales. Musically, I think there are other Sondheim works that I could have picked that are much more interesting, but to be able to react with the theatre community to that twist would have been incredibly fun. With the show becoming more popular and with the movie version, most people at least somewhat anticipate the twist, but going into the cast recording (or show) with no clue would have been very unique. The cast recording would be especially interesting, as you don't necessarily know what the full story is or when intermission comes. There seems to be a clear traditional ending, but suddenly you realize you have to flip the LP and see what comes next.

3
The Beach Boys


Pet Sounds





Maybe low hanging fruit, but the transformation of so many bands of this era (The Beatles being the most obvious other choice) would have been fascinating to react to in real time. I also wonder if people knew at the time that albums that we now see as "Classic" were seen in the same light at the time. Did people know that we'd be listening to and revering Pet Sounds over 50 years later when it was released?