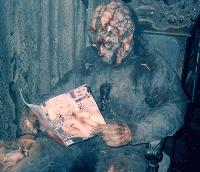 User
Album Ratings 456
Objectivity 80%
Last Active 12-31-18 7:28 pm
Joined 10-10-16
Forum Posts
0
Review Comments 30
Linkin Park tορ

DevaLuation.
1
Linkin Park


Hybrid Theory



Hay debate para todo excepto por cuál es el mejor álbum de LP.


There is debate for everything except for what is the best LP album.
2
Linkin Park


Meteora



Su último gran álbum, Aquí sigue la misma fórmula que su predecesor, Hit the Floor y Nobody's Listening son flojas. Pero es una de las pocas cosas que le puedo criticar a este álbum.

His last great album, Here follows the same formula as his predecessor, Hit the Floor and Nobody's Listening are lazy. But it's one of the few things that I can criticize this album.
3
Linkin Park


Minutes to Midnight



Aquí comienza el declive de la banda, con un sonido más relajado, pero sin terminarme de cerrar, es un cambio muy repentino si lo comparas con el Meteora, podrían haber hecho otro disco como los anteriores.


Here begins the decline of the band, with a more relaxed sound, but without finishing closing, It is a very sudden change if you compare it with the Meteora, They could have made another record like the previous ones.
4
Linkin Park


The Hunting Party



Lo puse en esta posición porque es lo mejor de lo peor, veo que aquí le dieron dedicación pero algo tarde. Las colaboraciones ayudaron al álbum, lo tengo en físico y va rejuntando polvo , no es un disco para escuchar de nuevo.


I put it in this position because it is the best of the worst, I see that here they gave him dedication but a little late. The collaborations helped the album, I have it in physics and it is grouting dust, it is not a record to listen again.
5
Linkin Park


Living Things



El abuso de la Electrónica en su máximo esplendor, In My Remains y I'll Be Gone junto a los Singles son lo mejor del álbum, Castle of Glass y Powerless es lo peor que escucho de esta banda.


The abuse of the Electronics in its maximum splendor, In My Remains and I'll Be Gone next to the Singles are the best of the album, Castle of Glass and Powerless is the worst thing I hear from this band.
6
Linkin Park


A Thousand Suns



Para ser honesto, lo que recuerdo de este álbum es lo aburrido que era, entendí el mensaje que querían transmitir pero la obra salió mal, Blackout e Iridescent son mis favoritos.


To be honest of what I remember of this album is how boring it was, I understood the message they wanted to give but the play went wrong, Blackout and Iridescent my favorites.
7
Linkin Park


One More Light



Es odioso que hayan ido al camino del Pop, lo que estaban haciendo en The Hunting Party era soportable, ni siquiera un buen Pop, es malo y básico, incluso los comienzos de Lady Gaga tienen mejores cosas que aquí.


It is hateful that they had gone to the path of Pop, what they were doing in The Hunting Party was bearable, not even a good Pop, it is bad and basic, even the beginnings of Lady Gaga have better things than here.