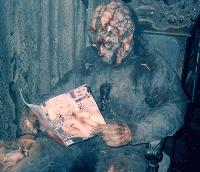 User
Soundoffs 1
Album Ratings 471
Objectivity 81%
Last Active 12-31-18 7:28 pm
Joined 10-10-16
Forum Posts
0
Review Comments 36
Death tορ

Chuck Forever.
1
Death


Symbolic



Su sonido mas completo y estructurado esta aquí, el trabajo de Gene Hoglan es mas que excelente, Riffs memorables, solos en su máxima plenitud, y tiene uno de los finales mas épicos en un disco Progresivo.


Its more complete and structured sound is here, the work of Gene Hoglan is more than excellent, memorable Riffs, alone in its maximum plenitude, and has one of the most epic endings in a Progressive album.
2
Death


Scream Bloody Gore



Possessed empezo el Death Metal pero Death lo termino, este disco define al genero.
Batería constante, Riff jugosos y facil de recordar, y la potente voz de Chuck parece ser sacada del propio Infierno.


Possessed started Death Metal but Death finished it, this album defines the genre.
Constant drums, juicy riffs and easy to remember, and Chuck's powerful voice seems to be taken from Hell itself.
3
Death


Human



Este disco me marco, e hizo que vea mas allá de este genero, esa Batería acercándose en Flattening Of Emotions sigue poniendo los pelos de punta a mas de uno!


This album marked me, and made me see beyond this genre, The Battery approaching in Flattening Of Emotions is still putting the hair on end to more than one!
4
Death


Individual Thought Patterns



Gene Hoglan siendo de vuelta un papel determinante, Cambios de tempos fascinantes, solos mas elaborados y ni hablar de los riffs, La voz de Chuck es lo menos que sobresale en el álbum pero lo compensa con su técnica.


Gene Hoglan being a decisive role again, fascinating tempos changes, more elaborate solos and not to mention the riffs, Chuck's voice is the least that excels in the album but makes up for it with his technique.
5
Death


Spiritual Healing



Aqui ya se veía a que camino quería ir Chuck, mas melodía y menos crudeza, letras mas maduras y sin ningún desperdicio, Valoro el uso de guitarras, los solos no se te despegaran de tu mente!


Here I saw what way I wanted to go Chuck, more melody and less crudeness, more mature lyrics and without any waste, I value the use of guitars, the solos will not take off your mind!
6
Death


The Sound of Perseverance



Escuche que la discográfica apuro a la banda en hacer este disco, mi único problema es la producción, se siente a medio camino, Pero todo lo demás sigue siendo al pie de la letra, Diferencia al Symbolic, Acá jugaron mas con el Death Metal Técnico, a pesar que las canciones sean extensas, no se sienten, Porque es Death, Jamas te aburrirás!
Nos regalan un cover de Judas Priest, dándole el fin a esta banda sin que lo supiéramos hasta la enfermedad de Chuck.


I heard that the label has trouble to the band in making this album, my only problem is the production, it feels halfway, But everything else is still literal, Difference to the Symbolic, Here they played more with the Technical Death Metal , although the songs are extensive, they do not feel, because it's Death, you'll never get bored!
They give us a cover of Judas Priest, giving the end to this band without us knowing it until Chuck's illness.
7
Death


Leprosy



Este disco tiene uno de los comienzos mas heavys del Genero en general, Pero ciertas canciones pasan desapercibidas (Algo raro en Death), si lo comparamos con el Spiritual Healing o Human queda muy por debajo, se noto el cambio de batería y mejor que el de su antecesor, la voz de Chuck mas potente y hasta podría decir madura.


This album has one of the heaviest beginnings of the genre in general, but certain songs go unnoticed (Something weird in Death), if we compare it with the Spiritual Healing or Human is far below, we noticed the change of the battery and better than the from his predecessor, Chuck's voice more powerful and could even say mature.