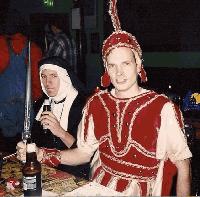 User
Reviews 1
Approval 100%
Soundoffs 90
News Articles 12
Band Edits + Tags 135
Album Edits 43
Album Ratings 1220
Objectivity 58%
Last Active 11-26-18 6:06 am
Joined 01-02-16
Forum Posts
0
Review Comments 4,007
5 Album Music Taste Summary

If you only had 5 albums to encapsulate the entirety of your music taste, what 5 albums would you pick? These don't necessarily have to be your 5 favorite, just the 5 albums that you feel would best get across to your music taste to someone who had no knowledge of your taste.
1
The Red Chord


Fused Together in Revolving Doors





While this album isn't even a 5 for me, it really contains many of my favorite things about metal and does a great job of combining two of my favorite genres, metalcore and death metal.

2
Elliott Smith


Either/Or





No list about my music taste would be complete without this album. I really enjoy a lot of downtempo, acoustic, folky, sad shit like Carissa's Wierd, Sufjan Stevens, Songs: Ohia, and others. I feel this album really represents that style well.

3
Eyedea and Abilities


By the Throat





This album was my major introduction to hip-hop. I had listened to a few albums here and there, but this really piqued my interest in the genre. It had emotional depth that I hadn't heard before and instrumentation that I hadn't heard before either. This album introduced me to artists like Atmosphere, Brother Ali, Aesop Rock, and other similar artists and while I don't listen to them as often as I used to, that style is still an important in the narrative of my music taste.

4
I Hate Myself


10 Songs





One of my very favorite screamo albums that take many of my favorite parts of screamo along with some strong elements of emo as well. Just a really summative album of my taste.

5
Jimmy Eat World


Static Prevails





This last album was a tough choice, but I went with this because I feel like 10 Songs covers some ground with the more traditional side of emo, so if I picked a more traditional emo album (The Power of Failing, for example), the more modern emo would be misrepresented. So I picked a bit of a middle ground. I love this album to death and I feel it represents both sides of the coin of emo pretty well.