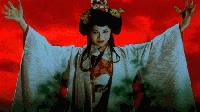 User
Soundoffs 9
News Articles 2
Band Edits + Tags 12
Album Edits 26
Album Ratings 1507
Objectivity 65%
Last Active 01-05-13 12:28 am
Joined 07-10-11
Forum Posts
0
Review Comments 1,224
Just Saw The Black Dahlia Murder, Skeletonwitch, And Fallujah

Fucking awesome show.
4
Wolvhammer


The Obsidian Plains



Wolvhammer opened up the show. They did a decent job, but they mostly just
stood around and brooded on stage.
3
Fallujah


Nomadic



Fallujah followed, and they destroyed it. They played their new EP front to back.
Got to talk with the bassist after the show, he's a really chill dude. Picked up a first
pressing of the vinyl while I was there.
2
Skeletonwitch


Serpents Unleashed



By far the most energetic and visceral band on the roster, their entire set was
phenomenal. Pretty much a continuous circle pit from start to finish.
1
The Black Dahlia Murder


Everblack



What can I say, Trevor is a monster on stage. He wouldn't fucking rest until
everyone in the building was moving. They mostly performed songs from Nocturnal
and Everblack, and every song was on-point.