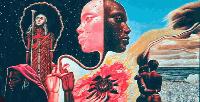 User
Soundoffs 19
Album Ratings 162
Objectivity 65%
Last Active 09-22-12 11:04 pm
Joined 04-19-12
Forum Posts
0
Review Comments 125
Lovegood's Highlights Of His Musical Exploration / Journey

My Top 10 favorite albums of all time. I am going to add two more editions of this, thereby making a list of thirty albums. My favorite song from each work is included, so if you haven't heard the album, you will have a good introduction.
10
Sonic Youth


Daydream Nation





What truly makes Daydream Nation so awesome and as iconic as it has become is just how "raw" it is. The feedback, the drones, Thurston Moore's voice-cracks, the alternate tunings; its imperfections are what make it so unique. An incredibly influential record that is very near and dear to me. - - - - - "Candle"

9
The Beatles


The Beatles





Single-handedly proves The Beatles are ...well The Beatles. A great microcosm of a legendary band. This album should be studied in universities. - - - - - "Happiness is a Warm Gun"

8
Nujabes


Metaphorical Music





AND/OR [b]Modal Soul[/b]; R.I.P. Jun Seba - - - - - "Next View"

7
Neutral Milk Hotel


In the Aeroplane Over the Sea





Believe me, I've tried not loving this album. Not feeling the raw emotion of Jeff Mangum's voice, not getting lost in the music and Jeff's fantasy world, not singing along to every lyric, not screaming along with King of Carrot Flowers Pt 2&3, stomping my feet to Holland, 1945, or being on the verge of tears during Two Headed-Boy Part 2. I've tried doing these things, but I can't, it's just that good. The music itself is so simple, but the way it's delivered makes it so incredibly unique. If you haven't listened to this, you cannot consider yourself a true lover of music - - - - - "Holland, 1945"

6
Kayo Dot


Choirs of the Eye





Perfectly described by its title, Choirs of the Eye is an incredibly visual piece of work. With atypical song structures and odd chord voicings, Toby Driver creates an avant-garde masterpiece. My favorite part about this album is that the first few times you listen to it, you have no idea why it works so well. Hell, you don't even know if you really like it or not. But then, once one truly dissects this album, truly gets lost in it, and truly [i]sees[/i] the songs unfolding, it finally clicks. - - - - - "The Manifold Curiosity"

5
Frank Zappa


Hot Rats





A self-described "movie for your ears." I concur - - - - - "Son of Mr. Green Genes"

4
Radiohead


Kid A





Everything In Its Right Place. A prediction of the present isolated and distanced generation and the future dystopian society that is inevitably to come of it. Both an exploration of Yorke's chaotic future world and of his own chaotic psyche. The greatest "concept" album of all time. - - - - - "Morning Bell"

3
Slint


Spiderland





Every time I ever cried from fear / Was just a mistake that I made / Wash yourself in your tears / And build your church / On the strength of your faith - - - - - The Grandfather of Post-Rock. The best way to praise this album is to simply listen to it. So go and do that. Now. - - - - - "Washer"

2
Sufjan Stevens


The Age of Adz





[i]I want to be well, I want to be well, I want to be well, I want to be well, I want to be well, I want to be well, I want to be well, I want to be well, I want to be well, I want to be well, I want to be well, I want to be well, I want to be well, I want to be well, I want to be well, I want to be well, I want to be well, I want to be well, I want to be well, I want to be well, I want to be well, I want to be well, I'm not fucking around[/i]. These songs are not just painted as brightly as the work of Royal Robertson. They are also just as insane as the 'self-proclaimed prophet' himself. But this album isn't about Robertson; it's about its creator. Struggling with suicidal thoughts and paranoia, Sufjan decides to express his emotions the best way there is: art. The Age of Adz itself is a mental breakdown with its schizophrenic rhythms and instrumentation. But what makes this album so great is the fact that it manages to do everything and still work. And by everything I mean [i]everything[/i]. Take the 25 minute epic, Impossible Soul, which is in itself the essence of The Age of Adz You can just see the man screaming and tearing his soul out and putting it into the music; because this album isn't just apocalyptic, it?s [i]self[i]-apocalyptic. A modern classic. - - - - - "I Want To Be Well"

1
Brian Eno


Another Green World





The best album of all time. Eno's soundscapes (see "The Big Ship") paint incredibly vivid pictures. It's as if these songs are audible dreams, but unlike a wonderful dream, that you can only enjoy once, one can listen to this album again and again, appreciating the scenes more and more. Every song is great and is worth a listen. Incredibly ahead of its time and incredibly engaging, Another Green World, along with the rest of Eno's discography, deserves a listen from just about everybody. - - - - - "Becalmed"