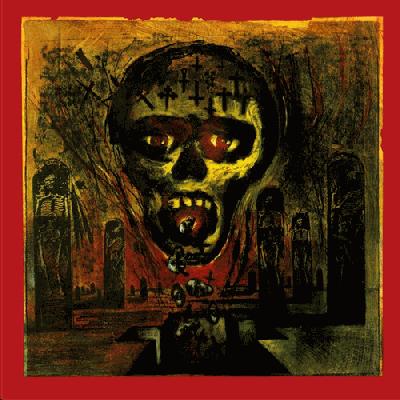 Slayer

Seasons in the Abyss

Release Date: 1990 | Tracklist

Vocals/Bass: Tom Araya
Guitar: Kerry King
Guitar: Jeff Hanneman
Drums: Dave Lombardo

Slayer is one of the first bands that really got me into heavy metal, I think it was the extreme speed they had. Slayer combines fast riffs, fast drumming ,violent lyrics, and barely heard bass. The music is usually somehow talking about death, hell, or pain, but on this album they are singing about politics and religious ideas with a few songs dealing with death. They may be mostly speed metal, but the band does slow down a little here although it is still pretty fast. The "singing" on this record is very different from most metal as Tom Araya sounds like he is preaching rather than growling his way through the songs.

The guitar work on this album by Kerry King and Jeff Hanneman is done very well with fast but not too complicated riffs and many solos which are usually just a mash of a bunch of notes together, although many sound very good. The drumming by Dave Lombardo is just as vicious as ever.

The production on this album is very tight; everything is much clearer now and the guitars don't sound as muddy as on Show No Mercy. The drums though sound a little cleaner than normal, but this doesn't detract from the music at all.

Many of the tracks here are very strong, such as War Ensemble with it's fantastic riffs and great timing, or Spirit in Black which starts out like a Judas Priest song then ends up going extremely fast. A few of the tracks sound like each other at first so listening to this too much may make you grow tired of it.

Season in the Abyss is a great album with the exception of two or three filler tracks. Either this or Reign in Blood should be the first Slayer album you buy; both are excellent , but try and get Reign in Blood first.