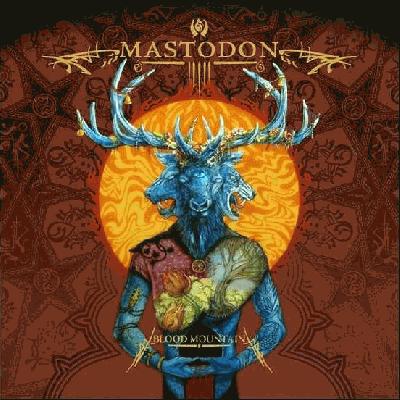 Release Date: 2006 | Tracklist

The new Mastodon album is out and in full force. I will try to take into account the many possibilities I see for a listener of this album.

For the Mastodon listener that LOVED Remission and HATED Leviathan: You will probably hate this album. The definately do not go back to their thrashier, dirtier days, and if anything, they will probably alienate you more with this album than Leviathan. I'm not saying not to listen, but if you didn't like Leviathan, you will probably really, really dislike this.

For the Mastodon listener that LIKED Remission and LOVED Leviathan: This is me. This album really, really shows the true genius of this band. I love this album. I try not to use hyperbole, but I can really not name another metal band that shows the dexterity, genius, and committment to quality that Mastodon does. If you listened to Leviathan and couldn't wait for the next one, you will not be disappointed.

For the first time Mastodon listener: Welcome to the party! I would recommend the following tracks from previous releases to give some context to this album:

From Remission: March of the Fire Ants, Crusher Destroyer, Workhorse, MotherPuncher

From Leviathan: Blood and Thunder, Seabeast, Megalodon, Naked Burn, Hearts Alive


So does Mastodon deliver" Abso-freakin-lutely! They have done nothing but progress in their musical stylings and this album shows a clear understanding that "major label" doesn't have to equal "watered down." If anything, Mastodon used their new access to million dollar equipment to make even weirder, heavier, brutal music. What can you say about a band that mixes stoner with grunge with thrash with prog rock and has a jazzy drummer, and makes it all sound like it belongs in the same song" They are damn good. Track by track review follows:

The Wolf is Loose: I have to admit, this song is a grower, but by the third time you listen to it, you will love the transition from frantic thrash to bludgeoning sludge and back.

Crystal Skull: Starts out a little strange with the tribal drums, but then kicks into high gear with some great riffage. The guest vocalist adds exactly what the song needs, and I'm sure after multiple listenings you will be screaming SKKUULLLLLLL along with him while doing the air guitar.

Sleeping Giant: The dark horse contender for best song on the album. Beautiful, powerful, emotional, but at the same time brutal and unrelenting. Its the song I will start introducing people to if they ask me why I like Mastodon.

Capillarian Crest: Here is where you get the feeling that Mastodon might be hanging out with Mars Volta a little much, but the guitar work on this song is downright mindboggling, and when you realize that Brann (the drummer) actually grooves underneath it, you might as well grab some toilet paper, because their is going to be some sort of mess in your pants after hearing this song.

Circle of the Cysquatch: I really like the juxtaposition of this song. It is a great transition song in between the classic that is Capillarian Crest and the downright weirdness of Bladecatcher. I really like the vocals and the opening guitar riff.

Bladecatcher: Weird. I didn't believe it at first, so I had to go back and listen to it again. Mastodon reaches almost inaccesible listening here. I must admit, if I have to skip a track, its usually this one. Not their best instrumental. But sufficiently weird to be on this album.

Colony of Birchmen: Josh Homme alert! Yeah, before you listen to this song, go back to some old Queens of the Stone Age, ala Avon, Regular John, anything off the self-titled and then come back to this. This is the metal incarnation of early Queens of the Stone Age, and it is glorious. Homme's vocals add to the mix very well.

Hunters of the Sky: This song and the next song are the closest that Mastodon get to approaching anything less than amazing. A good song, but not a great one, and not really that memorable either. The opening riff is pretty sweet, but its pretty short.

Hand of Stone: A little better than the last song, but still not in the same league as Sleeping Giant or Capillarian Crest. The vocals do sound the most vicious on this song, however.

This Mortal Soil: Mastodon gets back to throwing genius right in our awestruck faces with this song. Really shows their expansion into more melodic areas of metal, with more than satisfying results. You say you've always wanted a Mastodon song with an intro that sort of sounds like Pink Floyd" Here you go, sir.

Siberian Divide: Perhaps the PERFECT mix of prog and metal. I creamed my pants the first time I heard it. And yes, that IS the lead singer of the Mars Volta wailing in the background. Equally brutal and strange, this song is genius because it is so disorienting. Many people will literally not have a clue what to think. Awesome.

Pendulous Skin: Mastodon continue the tradition started on their last album, ending with a mainly acoustic pseudo-ballad. Very beautiful opening acoustics, but overall only an average song.

So here you have a metal band that has released an album with 12 songs, 6 of which are amazing, 4 of which are great, and 2 that are good, and every song is different. I will take those results every time.

Why are you still reading this" Go out and get this album!