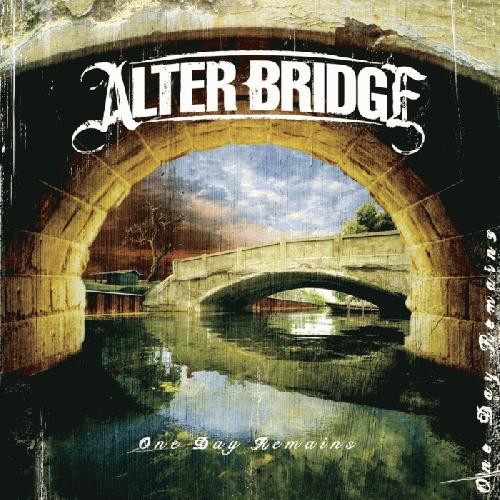 Release Date: 2004 | Tracklist

One Day Remains is the first album released by alter bridge, which consists of 3 members from the now disbanded Creed and a new vocalist,Myles Kennedy. After the break up of creed, the lead guitarist of alter bridge Mark Tremonti wanted to start exploring music in a new direction and his musical aims were the same as those of Scott phillips, the former creed number. So they called up their former bassist brian marshall and myles kennedy, who is in my opinion, an amazing vocalist equal or better in singing than scott stapp.And so came the new album one day remains came about.

One day remains is definitely a step in the right musical direction for all of the band members. I felt that the songs in this album were much more consistent compared to the songs that the members made when they were in creed. The band also favours a hard rocking alternative approach to their songs rather than a predominantly metal one.

Track 1- Find the Real- an amazing song which starts out lightly with an amazing melody played by tremonti and then goes out full burst into a rock anthem with soaring guitars from tremonti. great work by the drummer and the bassist to complement the lead guitar and singing.I will give this a 8.5/10

Track 2-One day remains- Although title tracks are always supposed to be impressive i didnt really find this one to be very melodious or interesting.
6/10

Track 3-Open your eyes- In 2004 when i didnt know anything about this band at all and saw this video on mtv and heard the music, the first thing that came to my mind was "creed"" This song is extremely reminiscent of creed, with amazing verses and chorus to finish it off. Although a lot of people diss mark tremonti for showboating too much, i truly feel that he is one of the most amazing guitarists out there at the moment. I mean, who else in the world could have come with the amazing melodies and tune for songs like "my sacrifice" , "one last breath" and "open your eyes""" The solo at the end of open your eyes truly sums things up to signal the return of tremonti. amazing.
10/10

Track 4- Burn it down- an great song with a slightly more moody feel to it. The tone of the song itself tells you that the message of the song is about just breaking down a relationship and carrying on. 8/10

Track 5-Metalingus- Possibly my favourite song off the whole album. Starts off with some verses from mr myles while tremonti is ready to rumble on his lead guitar. Breaks off into a very catchy and amazing chorus and although i think this is probably one of the more heavier songs off the album, it is so melodious and great that it will be stuck in your head for days. 9.5/10

Track 6-Broken wings- Another absolutely fantastic song. What can i say" As the album gets going songs get better and better just amazing. Another anthemic song with a great chorus( no wonder they released it as a single). The best part is that lyrically also tremonti and myles make a great pair who can write fantastic stuff. I love the vocals of kennedy on this one, he has an amazing range and brings the same grit and hardness to the vocals that scott stapp used to bring.

Track 7-In loving memory- This is a song that tremonti wrote for his late mother. It is a touching and emotional song and i feel that myles does a great job trying to emulate the same emotions and feelings of tremonti. Kennedy definitely seems like a very humble and cooperative singer,unlike scott and still has a soaring voice. amazing song also. 9/10

Track 8-down to my last- this is a great song that is like an ending paragraph to a masterpiece essay. While there a few mellow songs in the middle, this brings the listener back with a bang and again myles show his amazing vocal range. 9/10

Track 9-watch your words- i didnt really like this one because it seemed too heavy and not really that melodic. 6/10

Track 10-shed my skin- another unforgettable song with pounding guitar from tremonti. 9/10

Track 11- the end is here- disappointing ending i felt. Not very impressive song and gave a eery and unnerving feel to the end of the album . Seemed really heavy and depressing to me. 5/10.

However overall i really felt that this was definitely one of the most amazing hard rock records made since the dawn of the new century. It really showed that none of the former creed members had lost their touch and they really seem to be getting better all the time. For all those alternative and hard rock lovers out there who also liked creed, please go get this album because it is simply amazing. Not only do they have and ideal replacement for scott stapp, i really felt tremonti showed so much more skill and totally unleashed himself in this album . I am really looking forward to their next works already.