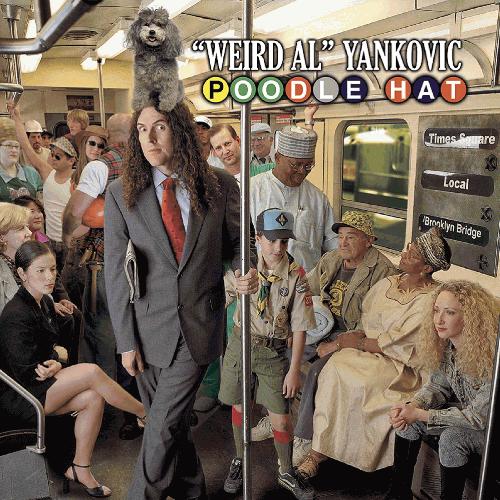 Release Date: 2003 | Tracklist

"Weird Al" Yankovic's eleventh album, "Poodle Hat" flew a little under the radar when it was released in early 2003. Despite it's unimpressive sales, it still managed to win Al a Grammy for best comedy album a few months later.

In the early eighties and early nineties, Al often wrote hilarious parodies of popular songs that made fun of current pop culture and other worthless topics. Songs like "Eat It" (a parody of Michael Jackson's "Beat It") and "Ricky" (a parody of "Mickey" by Toni Basil and a tribute to I Love Lucy) will be remembered as some of Al's most memorable song parodies.

Although most of these song parodies are well written, it is Al's original material which truly shines, and shows what Weird Al is really capable of. Many of these songs are satirical comedies which poke fun at current events and the people involved with them. For example, Al wrote a Stevie-Ray Vaughan style blues song called "Buckingham Blues" for his debut album, which spoke about how hard it must have been to grow up under British Royalty in the late 1970's.

But it seems time has taken a toll on Al's ability to write good parody songs. It is unclear whether Weird Al is losing touch with popular culture, or if today's popular music is just so unbelievably bad that Al can't work with the source material that he is presented with. A quick look at the songs parodied on this album (Backstreet Boys, Nelly, Avril Lavigne) leads me to believe that it is popular culture which is contributing to Al's downfall.

Like most of Al's previous released, this album follows a simple format. About half of the album is composed of song parodies that poke fun at pop culture, and the other half is composed of original material written by the polka king himself. Let's get with the review then, shall we"

The first song, Couch Potato, is a take of Eminem's "Lose Yourself" from the 8 Mile Soundtrack. Enimen denied Al the privilege to create a video for this song, which is not surprising. Unlike many of Al's previous parodies, he fails to pick up on the lyrics of the original song, and instead just picks television shows at random. The jokes are uninspiring and almost insult the listeners intelligence.

Following Couch Potato is one of the highlights of the album. Hardware Store is an original by Al, and quite a good one at that. The song shows how estatic Al is about the opening of a new hardware store in his neighborhood. A lot of the music in this song is created by the sounds of various home improvement tools, such as hammers banging on nails. Al also gives a basic run down all the items in the store in an amazing session of speed singing.

The next song, Trash Day is a parody of "Hot In Here" by Nelly, and the results are less than stellar. Although it's not necessarily a terrible song, the songwriting is mediocre and juvenile compared to Al's previous parodies. A catchy song nonetheless.

Party At The Leper Colony is another original by Al, but it's not one of his better songs. Although the lyrics are cleverly written to a shuffle jazz tune, you can't help but feel that this is just a disappointing style parody of a bad jazz band.

Track 5, Angry White Boy Polka is the "polka song" of the album, where Al sings the lyrics of many different songs to an up-tempo polka song rythmn. The songs covered include:

"Last Resort" by Papa Roach
"Chop Suey" by System of a Down
"Get Free" by The Vines
"Hate to Say I Told You So" by The Hives
"I Fell in Love with a Girl" by The White Stripes
"Last Nite" by The Strokes
"Down with the Sickness" by Disturbed
"Renegades of Funk" by Rage Against the Machine
"My Way" by Limp Bizkit
"Outside" by Staind
"Bawitaba" by Kid Rock
"Youth of the Nation" by P.O.D.
"The Real Slim Shady" by Eminem

Unfortunately, Al misses the point of many of these songs altogether. While some of these artists could be considered "angry white boys," bands like The Hives and The Strokes are far from angry. He also fails to note that many of these artists are polar opposites from each other, and a common theme among the songs covered is absent.

Wanna B Ur Lovr is another catchy style-parody song (this time in the style of Beck's "Peaches And Cream") on the album, and is composed of nothing but terrible pick-up lines.

The next track, A Complicated Song, a parody of Avril Lavign's "Complicated" is yet another tragedy of a song on the album. It's unfortunate that Al's parodies have become so juvenile that they need to resort to choruses such as "Why did you have to make me so constipated"" to get cheap laughes from the audience.

Fortunately, the last couple of the tracks are the saving grace of the album (with one exception), are all superbly written, and are a fine examples of Al's artistic abilities. Why Does This Always Happen To Me" is a piano ballad in the style of a Ben Folds song, who actually performs some of the piano segments. Great vocal harmonies and lyrics prove this to be one of the best tracks on the album.

Weird Al has a tendency to humorously summarize a popular movie in the style of another artist's song on many of his albums. In Ode To A Superhero, a style cover of "Piano Man" by Billy Joel, Al manages to poke fun at the Spider-Man movie and stay relatively faithful to the Billy Joel original at the same time.

In Bob, a style parody of Bob Dylan's "Subterranean Homesick Blues", Al used nothing but palindromes (sentences that are spelled backwards the same ways they are forwards) for the lyrics. A cleverly written song, but really not much more than that.

The next song, eBay, a cover of the Backstreet Boys hit "I Want It That Way" brings the album's stellar finale to a crashing halt. The song drones on about worthless objects found on eBay, and is not unlike eBay's own advertising campaign several years earlier.

The final song on the album, Genius In France, is a multi-part style parody of artists such as Frank Zappa (Frank's son Dweezil actually plays one of the guitar solos) and They Might Be Giants. Although this song has some very irritating moments, it showcases the instrumental skill of Al and his band and their artistic sense. Certainly a great way to end the album.

If you're not a fan of Weird Al's material, this album probably isn't going to change your mind, and if you're not familiar with his material, this isn't a good place to start. But for those of you who are already fans of Weird Al, this is yet another satisfying album with a few standout songs that eventually make it worth the purchase.