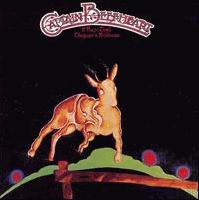 Release Date: 1974 | Tracklist

Bluejeans & Moonbeams is the second and last album of Captain Beefheart's "Tragic Band" era. This is when Captain Beefheart (real name: Don Vliet) tried his hand at commercial, accessible music, and had to recruit hired gun musicians, because most of his ordinary collaborators like guitarist Bill Harkleroad and drummer John French had deserted him. Captain Beefheart would later come to disown this period of work as "horrible and vulgar," encouraging fans to return the albums to the store for a refund.

Since Captain Beefheart had limited knowledge of musical theory, and communicated to his band through whistling, odd metaphors like "play a strawberry," or tapes of piano improvisations, a "musical interpreter" was needed in the absence of French or Harkleroad. Keyboardist Michael Smotherman filled this role. He said that throughout the record, Beefheart seemed demoralized, and just seemed to be going through the motions. As a result, Bluejeans & Moonbeams is a phoned-in, lazy Beefheart record, but it does manage to be marginally better its predecessor, Unconditionally Guaranteed.

This is mainly because Bluejeans & Moonbeams contains one of Captain Beefheart's best songs: "Observatory Crest." This song employs a soulful electric piano riff, pretty guitar harmonies, and refreshingly relatable (by Captain Beefheart's standards) lyrics about a night out with a lover; but for enough of a surreal twist, the couple in the song encounters UFOs. "Further Than We've Gone" is another OK song that delves into similar musical and lyrical territory, whilst containing a very emotive vocal performance. In fact, these two songs are the last time we see the genuinely romantic, affectionate side of Captain Beefheart, which first reared its head on 1967's Safe As Milk with songs like "Call On Me" and "I'm Glad." Later love songs were wildly goofy or sarcastic in nature (e.g. "Candle Mambo," "Making Love To A Vampire With A Monkey On My Knee").

The remaining decent songs on Bluejeans And Moonbeams are "Party Of Special Things To Do" (covered by The White Stripes), "Same Old Blues" (a cover of J.J. Cale, who was a pivotal influence on Eric Clapton and Dire Straits), and arguably "Rock 'n' Roll's Evil Doll," though this song gets cloyingly repetitive. "Pompadour Swamp" and Twist Ah Luck" are generic blues borefests reeking of the former album, while "Captain's Holiday" and the title track, "Bluejeans & Moonbeams," are downright pathetic. "Captain's Holiday" sounds like a poor attempt at fusing Zappa-esque instrumentals with a pseudo-Jamaican beat, and contains backing singers crooning "Ooh, captain, captain." The personnel for this song is not known, and not even the harmonica is Beefheart's. Closing the album, "Bluejeans & Moonbeams" was the first time Beefheart ever dabbled in synthesizers, and the words "corny" and "dated" come to mind.

Despite Kate Bush bizarrely eulogizing this album, one can't help but feel embarrassed for its creators. The better moments (chiefly "Observatory Crest") are just not enough to save it from overall mediocrity.