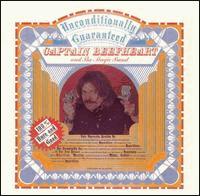 Release Date: 1974 | Tracklist

Just several years after the wildly eccentric albums Trout Mask Replica and Lick My Decals Off, Baby, Captain Beefheart (real name: Don Vliet) made an album that was shockingly and infamously conventional. The Captain clutching dollar bills on the cover of Unconditionally Guaranteed offers a not-so-subtle clue as to what happened. See, being an avant-garde musician doesn't exactly pay the bills, and while Vliet hoarded most of his band's earnings for himself, his bandmates lived in literal poverty, relying on food stamps, and donations from family members. They were also tired of being mentally and physically abused by Vliet, who developed a paranoid schizophrenic like condition as a result of heavy LSD use. The idea was that if Captain Beefheart made a more commercial record, it would hopefully generate enough money to elevate The Magic Band's standard of living. A record producer, Andy DiMartino, also seduced Beefheart with promises of wealth and stardom. But DiMartino's production on Unconditionally Guaranteed sadly isn't even that good - flat, lifeless, and dull with anemic guitars, and an overly loud kick drum.

There are four songs on Unconditionally Guaranteed which could be considered OK, though they're done a disservice by the production. "Upon The My-O-My" has a cinematic and suspenseful feel, with a nice bassline, and flute playing evocative of Jethro Tull. "Full Moon, Hot Sun" has guitar and vocal melodies which are tuneful, though quite generic. "This Is The Day" has somewhat of a gospel feel, with use of the electric piano and organ, and was unlike anything Beefheart had ever done before. Finally, "Peaches" stays true to Beefheart's delta blues roots, particularly with use of the slide guitar, and could have fit in on his (better) preceding album, Clear Spot, though the horn arrangement is overdone. On the rest of the album, Beefheart doesn't even seem like he's trying. "New Electric Ride," "Magic Be," and "Happy Love Song" are wholly forgettable. The titles of "Sugar Bowl" and "Lazy Music" pretty much speak for themselves, while "I Got Love On My Mind" features one of the most phoned-in lyrics in history:

"I've got love on my mind
And I can't make up my mind
Who to love."

The irony of this stale album is that it didn't even produce the financial windfall expected. Fans hated it, and Captain Beefheart's entire band left him. A new ensemble of musicians had to be created quickly for an upcoming tour which had been booked. These new musicians were not bad other than saxophonist Del Simmons, who frequently overplayed. "The Tragic Band" as it was dubbed by fans was comprised of average rock/blues players who simply weren't equipped for Beefheart's idiosyncratic style. Although stalwarts John French and Art Tripp would later reconvene with Beefheart, Unconditionally Guaranteed cut him off from three of his most valuable collaborators, Alex "St. Clair" Snouffer, Bill Harkleroad ("Zoot Horn Rollo"), and Mark Boston ("The Mascara Snake") for good. By 1975, Beefheart was a broken man, living in a trailer, and it was going to be up to his on-again off-again friend/rival Frank Zappa to save his career.