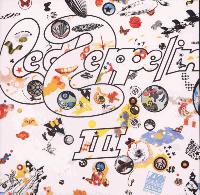 Release Date: 1970 | Tracklist

I'm new here and Zep III hasn't been reviewed yet so I figured WTF" I'll give it a shot.

The Band:
Robert Plant-Vocals/Harmonica
Jimmy Page-Guitars
John Paul Jones-Bass/Keyboards
John Bohnam-Percussion

First off, THis is a great Zep album. It's IMHO a perfect lead-on to IV. I'll just review it song by song to stay away from giant paragraphs that you're destine to complian about...

1: Immigrant Song(2:25): Catchy little 2 and a half minute song. Catchy riff, catchy voacls, and a good rythym section by Jones and Bonham. Good song. 4/5

2. Friends(3:54): I like the intro to this one, and Page does his part here, but it's nothing you haven't heard before. 3/5

3: Celebration Day(3:29): Another cool intro, but a better song that friends, with cool vocals and everyone just does their part, especially at the end where it fades out. 4.5/5

4: Since I've Been Loving You(7:23): CLASSIC song! To me, the guitar playing sounds like something Santana would write, but that's just me. Great song. 5/5

5: Out on the Tiles(4:06): I LOVE this song. It's extremely catchy, and, it's just plain awesome. One of (if not) the best on the album. 6/5

6: Gallows Pole(4:56): More Zep acoustics here, and it's not bad. Good lyrics, and Plant does a good job here. Drumming comes in a little after the two minute mark, and the song gets better afterward. 3.5/5

7: Tangerine(3:10): Another cool acoustic song, and another "quickie". and i like this one. It fits the album, and it sounds soothing. Great chourus riff too. 3.75/5

8: That's The Way(5:37): Longest song on the album after SIBLY, and it's not half bad. Another song w/o drumming for a while (yes, acoustic). It fades out, and the only percussion is maraccas. It's kinda repetive, and i didn't really like this one. 2/5

9: Bron-Y-Aur Stomp (4:16): This is a perfect song to jig to. Yes, jig. Listen to it, and DO A FREAKIN' JIG! 5/5 just for that.

10: Hats Off To (Roy) Harper (3:42): Kind of has a Western feel to it, this one does. Kind of cool singing, and crazy sliding. Cool, but not awesome. 3/5

Overall: Point Total: 39,75/50=79.5/100
My Total: 8/10
-Not as good as IV, but still really good. Some of the stuff is a lot better that Zep I or Zep II, and I like it better than their latter stuff.