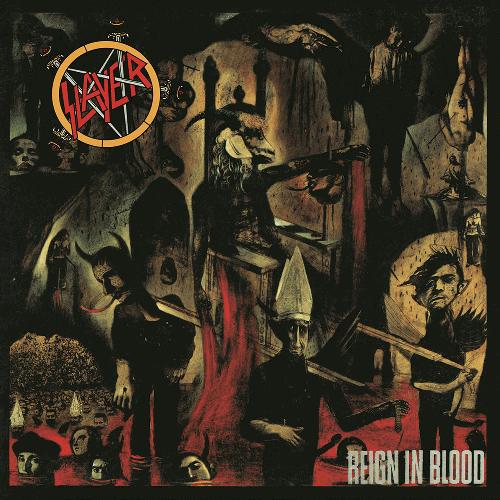 Slayer

Reign in Blood

Release Date: 1986 | Tracklist

Ahhhhhhhhh, Slayer. Undoubtedly, at ANY concert, someone will call for a Slayer song. Why? Because Slayer is undeniably awesome. Maybe not the best musicians in the world but these guys can kick more ass than Pele at a fat camp. I am not a hardcore Slayer fan, I do not feel it necessary to refer to them as SSSLLLLAAAYYYEEERRRRRRRRGGGHHHHHH!!! nor do I take any of their lyrics seriously. I listen to Slayer because my head is baffled by how fast they play and I love it. Slayer put out THE thrash album in 1986, and it was called "Reign in Blood."

Angel of Death - Um...wow this rules...wait it's over???!!! That's kind of how you feel the first time you hear this song. Slayer put everything that is unique about them into one song: Screams, speed, riffs, morbid lyrics, sloppy-ass solos, and double-bass drums. The catch is, only Slayer can do it and sound THIS awesome. A classic metal tune. 5/5

Piece by Piece - News flash: Morbid lyrics about death and dismemberment and such and such are featured on this record. Standard Slayer fare that will destroy you once again. 4/5

Necrophobic - Do NOT try to headbang to this song if...oh...I don't know...Staind is your favorite metal band. This song is ridiculously fast. The drums, the lyrics, the guitars, the bass all blur through your ear drums so fast that before you know it, you have whiplash. 4/5

Altar of Sacrifice - Starts off with a riff that's about as melodic as anything else on the album, which is a twist. Speed and overall craziness are the name of the game once again. Just try not to kill yourself on the way down...did I mention there's more? 4/5

Jesus Saves - Wow...a BREAK from the speed...for about a minute. Slamming introduction with a heavy-ass riff breaks immediately into MORE thrash metal and MORE sloppy-ass solos. 4/5

Criminally Insane - A song about a homicidal maniac...what else is new? Well it didn't start off at a blistering pace which is KIND of good, but by this point you're enjoying headbanging so fast that your neck is actually trying to stop you from paralyzing yourself but you don't give a crap! 4/5

Reborn - Not a memorable track like the ones before it, but hey, it's only two minutes long or so and trust me, it's worth it. 3/5

Epidemic - See above review for previous song. Also, be glad you kept listening. Here's why. 3/5

Postmortem - One of the heaviest metal songs ever written. The opening riff is one you'll never forget and the verse riff is just as good. The best part about this song is that, for me anyway, when the tempo picks up a little bit from the slow pace, then "ends," I really though the song was over. How wrong I was as...that THRASH returns to slap me across the face and then kick me while I'm down. Think THAT song was good? Hmmm??? 5/5

Raining Blood - Thunder and rain...guitar feedback...bumbumbum. Wait what was that? bumbumbum. There again!!! bumbumbum. ***'s getting louder, I feel a crescendo coming on...BUMBUMBUM! I'll admit that this is the first Slayer song I ever heard and boy it made ME a fan. I guarantee you any kid who's around in 2006 who's just getting into the metal scene...play this song for him/her. The reaction on that face will be priceless. There are people out there for whom this song was their life-changing moment, when it all became clear. Now for me, it just made me have to change my shorts. Either way, this song has affected me for life and I will never ever get sick of hearing it. 5 outta freaking 5

As I wrote this, I remembered Guitar World Magazine did an entire issue on "Master of Puppets" this year, celebrating its 20th anniversary. Indeed it is an album to be celebrated as it is one of the best metal albums of all time if not THE best. Where's "Reign in Blood's" magazine??? Come on, the best thrash metal album of all time and it can't get a birthday party? Slayer's never been about the publicity though, they couldn't give two ***s what Guitar World thinks of them. THEIR way of celebrating the album's 20th birthday is going out on tour AND releasing a new album! If you don't have "Reign in Blood," you're probably new to the metal scene. Otherwise, you're in denial about its greatness. Shame on you.