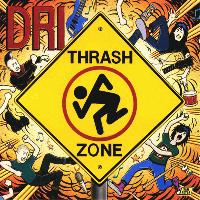 Release Date: 1989 | Tracklist

This album came out in 1989. It is considered D.R.I.'s best work by many critics. It is a good album for those who want a heavy-hitting dose of punk influenced thrash metal. Personally it is one of my favorite cds, so lets get to the review, shall we"

1. Thrashard - this is a cool song. chugging guitar riff, coupled with one of the coolest breakdowns ive ever heard, and the coolest line in a song "There are no laws...IN THE PIT!" i give it 10/10

2. Beneath The Wheel - Slower song, more focused on being heavy. fast breakdown in between, and a very cool solo. the guitarist (Spike Cassidy) and bassist (John Menor) trade off solos throughout the song. it does get a little repetitive towards the end. but still its 8/10

3. Enemy Within - the beginning to this song is strangely rythmned. it sounds very off tempo. but as the song progresses, an awesome sounding breakdown with a sick progression makes up for any wierdness. 7/10

4. Strategy - standard thrash song. one of the worser songs on this cd, but still a good one. 6/10

5. Labeled Uncurable - funny yet serious subject matter throughout this song. its about AIDS and such. very nice instrumental part between verses. 9/10

6. You Say I'm Scum - nice little guitar part in the beginning, with the wah wah pedal. this song makes you want to chant along with it. anthem for long haired rockers everywhere. in between, the vocalist (Kurt Brecht) shouts the title so fast its barely audible. 8/10

7. Gun Control - cool intro, with (as one would expect) gun effects. this is a shout along song, similar to some Oi bands, also with socially aware lyrics. :thumb: very cool, but it tends to be a bit too long, and ends up repeating itself a lot. still, its a 7/10.

8. Kill The Words - ive said it once, and ill say it again. DRI has some of the sweetest sounding guitar riffs you'll ever hear. especially in this intro. rest of the song is great as well. 9/10

9. Drown You Out - it seems the awesomeness of these intros cant be matched! :cool: fast, fast, fast describes this song. as well as great, great, great. 10/10

10. The Trade - song about the music business. the toils and tribulations of a working class band. nice little bass trick in the beginning. however, i rate this one as the worst song on the album. its still not that bad. 5/10

11. Standing In Line - Suicidal Tendancies couldve also came up with this intro riff, and no one wouldve been the wiser. moderate to fast to slow. it works its way to you. by now if you havent skanked at least one during this album you should!!!! 9/10

12. Give A Hoot - good song, but it repeats the lyrics in the same fashion. sort of like putting a song on repeat once. gets the job done though. 6/10

13. Worker Bee - short, fast, and sweet. very sweet. blistering track that will make you want to break stuff. 9/10

14. Abduction - interesting fact, the video for this song was featured on Beavis and Butthead. sweet riffs, and a funny sounding part featuring a chorus of little children. a great way to end an almost perfect album. 8/10

so overall, i cant stress how much this cd kicks ***. :D pick this up if you are a thrash fan. you won't be dissapointed.

4.5 out of 5 stars.