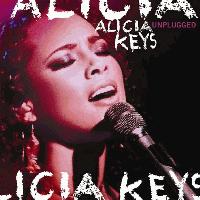 Release Date: 2005 | Tracklist

December 2 2003 Alicia Keys drops her sophomore album "The Diary of Alicia Keys." Musically it is a 180 degree turn from her jazzy R&B Soul debut album "Songs In A Minor" which sold over 10 million copies. Lyrically it exhibits maturity and sophistication without losing the wisdom of "A Woman's Worth" with songs like "When You Really Love Someone."

October 11 2005 marks the revival of MTV's Unplugged with the release of Alicia's Unplugged cd/dvd debut. The segment was filmed July 14th 2005 at the Brooklyn Academy of Music. She's flawless as she performs songs from both her albums. During the duration of the concert, she includes anecdotes of how she came to write and perform the selected songs. For the most part of the show Alicia is stuck behind a 9 ft grand and Rhodes piano which, in theory, should be pretty boring to watch but it isn't. Not the way this sultry singer does it.

If you're anything like me, you'd never buy the same album twice because in no way are you rich but Keys manages to put a new spin on 2 yr old songs. To get things going, Alicia blesses us with an acappella prayer before jumping into "Karma" and sliding ever so gently into a speaker pounding "Heartburn" which gets things moving. (Just one of the few songs that received a new musical arrangement.) The bass line is cool and smooth with a rhythm belonging to itself after falling in line with the bass of the drum and the chord progressions of an easily missable organ due to the numerous rhythms that this song contains. I'm going to go out on a limb here and say that I think we all like to go back to our favorite songs to find something that we had missed the first time around.

Alicia slows down the pace of the show with "A Woman's Worth" before leading us into a new song. "Unbreakable" immediately rings a round 1 bell with the lyric "We can fight like Ike and Tina" but don't duck just yet, it eventually goes on to name some pretty decent relationships throughout the entertainment industry. It doesn't hold much depth for an artist like Alicia, who usually puts meaning behind her poetry, but it is none the less clever and creative while illustrating the strength of a bond between a man and woman. The music is a slightly sped up version of "Intimate Friends" by Eddie Kendricks' an original member of Motown's super group the Temptations. Unbreakable is nothing special but is still a really cool track to chill to on an evening summer day.

In addition to her music she covers two more classic songs not included on Diary Of Alicia Keys or Songs In A Minor. Alicia attacks Brenda Holloway's "Every Little Bit Hurts" as if it is her own. A sweetly sang ballad about being used and neglected. I like to call it a Gospel style Blues because of the standard ¾ time signature frequently heard in old church music. "To you, I'm a toy & you are the boy who has to say when I should play. Yeah, you hurt me, desert me" cries Keys right before playing a dramatic blues riff to represent her breath taking pain. She plays the riff a second time just to let it burn a little longer.

The second cover is The Rolling Stones' "Wild Horses" ft. Adam Levine. Keys starts off with her piano as Adam leads the first verse while he plays the acoustic guitar. Of the four remakes on this album, I would rank this one last not because it's a bad song but because it is a matter of personal taste. Nothing bad to say here because I put it on replay when I work.

"How Come You Don't Call Me" is a Blues song written by Prince that Keys represents very well in her first album. Prince would be proud. She communicates with her audience and her singers while pleading at the top of her lungs, demanding to know why an unknown individual male refuses to call her.

Alicia had already put her spin on "If I Were Your Woman" by Gladys Knight and the Pips when it was released on Diary but there is just something about the rendition on Unplugged that anyone could fall in love with. Its more of a sincere one on one eye to eye type of singing as opposed to the head nodding original rendition.

The knock out punch of the album for me would be "Stolen Moments." A poem from her book Tears for Water. Its about a romance that shouldn't exist but obviously wants to. Alicia lays down two nostalgic solos on the rhodes as the guitarist dreams up a hypnotic foundation for your mind to conceive. Not by any means is the drumming to be ignored period. Its not your average 4 bars and repeat formula. Paul John composes a relatively simple pattern that you can find in any song and eventually unleashes a monster of sequences toward the end utilizing every piece that he can beat on. Alicia and the band are perfectly in sync pausing and playing as they please. She amazingly and quickly makes her way across stage to the piano to transition into her mega hit "Fallen" which also received a musical make over without deviating from the original key and chords.

This album is definitely worth a buy. If not for Stolen Moments or Every Little Bit Hurts then for the "Goodbye/Butterflyz/If I Ain't Got You" medley alone. The transition from Goodbye to Butterflyz is nothing short of beautiful. Nothing and no one is perfect but Unplugged is as close as you can get. Live singing where no instrument over powers the other or the singer. Regardless of what she sings or how it is sung, its always genuine and sincere.