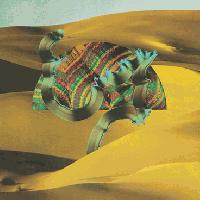 Release Date: 2012 | Tracklist

My drunken review of Django Django

Ok, so I had a couple pints, and I must say it was great. I want to present to you, a classic, unoriginal style of reviewing this album.

1.) Introduction- The crickets you hear at the start remind me of a awesome album by (insert pretentious band here) its followed by a synth that bounces around in your headphones giving a sense of awesome. This sets the mood for the album 4.5 ( *** you assholes)/5.

2.) Hail Bop - Pretty sure the first word of this song is called "Hail" because Django Django is telling you to hail to them as the kings of rock (no not pop, *** you for calling this pop rock). This band creates a sound like no one else in the biz. I can say this cause beta band is forever gone (get over it assholes). The guitar is twangy enough where you wouldn't expect it to match with the synths but it does. This is your first introduction to the sound of this band, and if the overlay of vocals doesn't make you immediately jizz in your pants then you have no soul. This isn't a matter of if you like music, its a matter of not liking something that god created. *** you. 6.5/5 (*** YOU)

3.) Default - Wow! This intro is amazing, this song flows like a ***ing stream down a goddamn river. Place this song in any western trailer and it is instantly a classic. If I got abducted by aliens and they would ask me what song was worth listening to, I would give them this song. pretty sure they would bend over asking for the anal probe because they know nothing of importance after hearing this. 7/5

4.) Firewater - Not bad. It keeps the album flowing in a way where it says, "oh hey, bored by music" *** you, this is how its done." There are filler tracks on albums, and while this doesn't have any standout points, it is still god damn catchy as ***. The end is close to what you hear when you die. 4.5/5

5.) Waveforms - Want a god damn reincarnate of beta band" This is the ***ing song for you. Stop listening to boring old *** and put this on repeat. If you don't get goosebumps from any part of this song then you should probably kill yourself. Its a goddamn masterpiece you bastard. 5/5

6.) Zumm Zumm - Annoying "verse". Seriously they just repeat the same couple words during the whole thing. The chorus fits right in with the rest of the album brilliantly. But do not make this the song for someone first listening to them. Even though its better then anything you could do, asshole. 3/5

7.) Hand of Man - Its been documented that Django Django were like, "Hey guys, let's make a song that slows it down for all the indie cocksuckers". Let it be known that those indie cocksuckers will suck a lot of cock to this song. Imagine a very emo girl crying cause there is no Beck since 2009, they will listen to this song and be instantly wet. 4/5 (Cause, *** emos)

8.) Love's Dart - Another Beta Band tribute. You are probably ready to comment saying "Been there, done that". To that I say *** YOU. Imagine if Simon and Garfunckle were in your bed giving you oral pleasure, and the song in the background is this. You are welcome. 4/5 (ungrateful assholes)

9.) Wor - This is the song where my friends that dismissed this band were like "OH MY GOD, I never knew what my dick was for until I listened to this song." I shook my head in approval and disgust. This is the song where the band is at the top of their game. Ever smoked coke off a strippers ass, while receiving head from the hottest midget ever" Yeah, it's kind of like listening to this song. 10/5

10.) Storm - Groove to the max. Austin powers wishes he had this much ***ing groove. Just amazing. The only wish I had was a bridge to make the girls ruin their pads. 9/5

11.) Life's A Beach - If you don't think this song is good, and haven't heard the bridge, then please go kill yourself. The intro is catchy as ***, and if you aren't reminded of the good old days then you haven't lived for 60 years. This song's bridge is orgasmic. In a sense that the hottest chick in the world is giving you head, while also giving you the best idea of your life. After listening to this *** you will be able to create amazingness. 12/5

12.) Skies over Cairo - *** you, new kasabian, for putting this out of place song on the album. I like the intro, but the rest of the song sounds like an extra off of kasabians 2nd last album, which was a huge let down. If you have whiskey dick and want the chick to leave, just play this song. 1/5

13.) Silver rays - This song might not sound special, but that is because your impatient ass didn't listen to the whole thing. If you haven't listened to the whole thing, then throw your computer out of a building. *** you, you don't deserve to listen to the whole album. You dumb simple human being. 9/5

Total - 75 / 65

YEAH, ITS BETTER THEN EVERYTHING, LISTEN TO IT NOW!