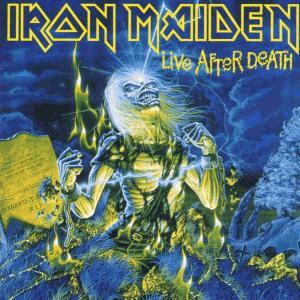 Release Date: 1985 | Tracklist

I propose to complete the previous review. As EdwardTheGreat wrote, he did not listen to the remastered version with the second CD.
I bought the second edition too, because it contains classic titles I like very much: Phantom Of The Opera, Children Of The Damned, 22 Acacia Avenue, Die With Your Boots On and also Wrathchild.
Except for Wrathchild, these songs are brilliant, very rare in live.

Those 5 songs were recorded in Hammersmith whereas the first CD was recorded during the 3 nights in the Long Beach Arena.
The sound is a bit different and peronnaly I prefer it.
The drumming sound is not so louder and the bass drum can be distinctly heard...well much better than the first CD in my opinion.
Well, those are details but as for a drummer fan I always pay attention to them !

Let's start the review:

Wrathchild
Who doesn't know this song """ No need to present it !
I heard many many live versions of Wrathchild and I would say this one is very classic and sounds like the original version well better. Especially regarding the drumming :o)
4/5

Children Of The Damned
I was really glad to listen to this track. I never heard Children Of The Damned live before.
This is a very deep song, dark and sad. Let's immerse yourself into the lyrics and the tune will do the rest.
Listen to the end of the song, focus on the child's last moment when he's burning and let your imagination picture the lyrics and the music's rythms.
The whole song is heightened by Bruce's vocals range. His voice is clear and we can hear that he truly gets into the song.
The mood of sadness and loss is perfectly matched by the guitar solo.
A masterpiece from the "The Number Of The Beast" album.
4.5/5

22, Acacia Avenue
Well, this is the second part of "Charlotte The Harlot" suite.
Another superb song in live ! Sounds very good ! Sometime I regret that the full "Live Atfer Death" has not been
recorded in Hammersmith hall ! I definitly prefer the sound quality and Bruce seems to be in top notch form !
I like his rant between verses: "Speak to me Hammersmith" and the whole crowd screaming at him, you can imagine all
of them, devil fingers pointed at the band :o))
Great song, heavy song, good feeling, perfectly played.
4.5/5

Die with your boots on
I have never been a great fan of this song.
I don't have any feeling I can't really get into it. So I might not be very objective in my critics.
It is not the best song of this cd but it's not bad either.
However I appreciate the heavy side of this song. Nicko's drumming is a bit aggresive and I like that.
Like many maiden songs, this one is more enjoyable when played live than on studio album.
3.5/5

Phantom Of The Opera
This song is the reason why I bought the second edition of Live After Death. I already own the first vesion with one CD.
But when I discover that the second edition contained Phantom Of The Opera, I didn't hesitate a second.
And I have not been disappointed at all.
This is one of Maiden's greatest song, and maybe THE Iron Maiden's greatest song.
This live version is really, really heavy, fast and powerfull.
I saw Maiden gig last summer in Paris, they played it live and it was damn fantastic...but...
...No way !
This version is quiet better.
Musically, it's difficult to describe this song.
I think things become serious during the instrumental part.
It begins softly and slowly builds from a soft and slow guitar solo, you can beat the measure with your foot.
Then it drives us into a heavier rythm and builds and builds again in power and finally explodes with two of the best
Iron Maiden guitar solos. Here you can release all your energy and fly with Iron Maiden :o))
A true masterpiece.

Overall, I would say that this second edition worths it !
These 5 songs are rarely played in live. So if you don't have Live After Death in your collection, do not hesitate a single second.
I don't say that because this is album with which I discovered Maiden, but this surely one of the best Heavy Metal Live album ever.