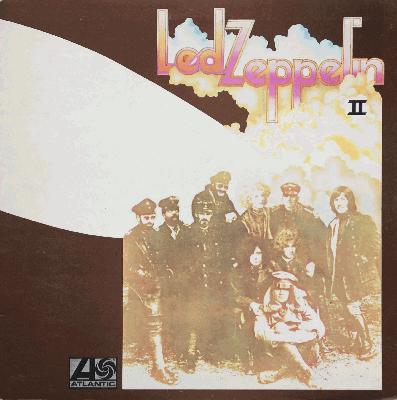 Release Date: 1969 | Tracklist

Interesting question: what's the most important thing to ever happen to rock music"

NOTE: for those of you who think I'm going to say Led Zeppelin, Led Zeppelin II, or Jimmy Page, give me a break. I'm trying to be borderline profound here, not hopelessly obtuse.

Ahem. Interesting question: what's the most important thing to ever happen to rock n' roll" The easy answer is the electric guitar, but I counter that rock came about as a result of the solidbody axe, not the other way around. My answer is not a piece of equipment, nor is it one of the traditional heroes of rock music (Presley, Berry, Diddley, Dylan, Clapton, Page, Hendrix, et al). Instead, my answer to the question is psychedelics. When I say that, I don't mean "psychedelia," which was the hippie subculture psychedelics are associated with, and I don't mean the commonly misconceived definition of the word that means "what Mom and Dad were in high school." No, I mean hallucinogens: acid, mescaline, et cetera. Because, in reality, that's where rock as we know it can be traced back to: probably the two most important guitarists in terms of the way we look at the instrument, Eric Clapton and Jimi Hendrix, experimented with such substances, allowing them to twist a piece of wood with six strings, a few magnets, and an output jack into a musical icon: the electric guitar. Their innovations in turn spawned a whole legion of musicians, including a one James Page, to go and proclaim the good word: rock is born. NOT rock n' roll, which preceded it, but the rock that has eventually evolved into a good portion of what we hear today. Led Zeppelin II is not only one of the finest pieces of "rock as we know it," but its also a perfect example of the dazzling results when you combine acid and guitar.

If you wanted a review of a classic album, however, you should've started here. I apologize; I just like to write. Led Zeppelin forged their sound by taking the old blues standards that they and the rest of the (ironically white) British scene became infatuated with and stretching them out into mind-blowing psychedelic jams. Cream did it first, and Hendrix did it better, but neither managed to capture (on record) the idea as well as Zeppelin. Case in point: "Whole Lotta Love," overrated and overplayed as it may have become, takes Muddy Waters' "You Need Love," reforges it around a signature Page riff, and twists it into maybe the most outrageous cover of a blues song ever documented, complete with theremin and the dog-whistle howls of Robert Plant. Even in the more refined, post-"Stairway" era of Zeppelin, the song remained a live staple. There are two more such examples of acid-trip blues rave-ups: the first, a barely-recognizable cover of Howlin' Wolf's "Killing Floor" in the form of "The Lemon Song," is cutting-edge and stone-cold blues at the same time. And the second, a more straightforward cover of Sonny Boy Williamson's "Bring it On Home," serves not only as a sublime closer to the album but also functioned as a set-closer for Led Zeppelin's live performances.

But fear not: Page, Plant, Jones, and Bonham did in fact write some great tunes on this album. The immortal tag-team of "Heartbreaker" and "Livin' Lovin' Maid" constitute a one-two punch that combines high-energy, down-and-dirty rock with the subtle madness of the rest of the album. If there's one difference between Led Zeppelin I and this album, it's typified in these two songs: whereas the band's debut was largely a series of laments of sexual frustration and other themes typical of the blues, this album takes those same themes and celebrates them Irish wake style. In that sense, this album also provides an example of how "the blues," that sinking almost post-coital feeling of melancholy, got away from blues music. Robert Plant once said in an interview that "the point of music, from the beginning of time, was for people to be happy." On this album, for the first time in a long time, you get that sense.

Led Zeppelin were most definitely not, however, a simple good-time band in the vein of the army of 80s "party rock" bands that made up for a lack of ability with antics and sex drive. Bassist/keyboardist John Paul Jones is perhaps one of the most apt all-around musicians in the history of rock – I can't think of another time when an artist has put on such displays on consecutive songs on two different instruments as the combination of his sparkling organ work on "Thank You" and his breakneck bass runs on "Lemon Song." And as for the other half of the rhythm section, the late, great John Bonham, his legendary drum performance (to call it a solo would be to sell it short) on "Moby Dick" is just that: a great, white, whale of a piece whose intricacies boggle the mind. The individual displays on this album flirt with the border between challenging each other and trying to outrun each other, but whatever it is, it's pure magic.

On the wall in my room, I have four posters: a Who poster, a Pink Floyd poster, a Red Hot Chili Peppers poster, and the Led Zeppelin II album cover. Why not just a generic Zeppelin poster" Because, for me, II represents what they were really about more than any of their other nevertheless genius works. Jimmy Page once said, "I've often thought that in the way the Stones tried to be the sons of Chuck Berry, we tried to be the sons of Howlin' Wolf." On this album you can see that. But beyond their intentions, the album as a whole just makes sense. And for an album so rooted in the spacey-yet-enlightening ethos of the psychedelic movement, I think that's the best way to describe it.