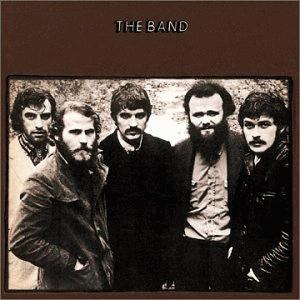 Release Date: 1969 | Tracklist

Music from Big Pink had been a fine, even superior debut; The Band was their masterpiece. Robbie Robertson's songwriting had grown by leaps and bounds. As players, all five musicians had reached a completely new level of ensemble cohesion. The sum was very much greater than the parts, and the parts were as good as any that existed. The album's single, "Up on Cripple Creek," became the Band's first and only Top 30 release. It was one of several songs on the album that had an "old-timey" feel. Other highlights on this masterpiece include "Rag Mama Rag," "The Night They Drove Old Dixie Down," and "King Harvest."
-Rob Bowman


1. Across the Great Divide The first chord of The Band's self titled LP, layed down with piano and a horn section provided by members of the band plus John Simon, acts as a support for Richard Manuels beautiful, pleading vocals. Robbie Robertson fits in some guitar licks between phrases until the opening comes to a climax, and the whole band joins together to begin a rollicking song that keeps on plodding away until the final chord. Manuel's vocals are as good as any, and his added baritone sax part can be heard throughout the song. At the third chorus, the vocals drop out and let the horn section take them to the next verse. Rick Danko's carefree trombone part is highlighted here, and then again at the end of the song with the same melody.

2. Rag Mama Rag The second song on the album opens with a lively violin part, played by Rick Danko and then doubled an octave higher. This time, it's Richard Manuel on the drums, and he leads the way with a plodding 2/4 beat. The vocals, in true southern fashion, are handled by Levon Helm, and his voice suits the song perfectly. John Simon's tuba fills the bass roll well, and he keeps the song moving. Garth Hudson plays piano, and you can always hear him if you listen real carefully, rocking and rollicking away on the ivories. About a minute into the song, the band drops out, save for Levon's vocals, an occasional piano cue, and most importantly, Richard Manuel's seemingly random, disjointed drum "solo". Garth Hudson gets to play a bluesy piano solo that makes way for a the bridge, which features Helm almost yelling his part. The song trickles out at the end with another great Hudson piano solo.

3. The Night they Drove old Dixie Down This track is one of the most famous for the band, and for good reason. Levon Helm puts so much soul into his vocal performance, really selling the lyrics, which deal with the U.S. Confederacy, in the last days of the Civil War. In terms of instrumentation, it's mostly a driving Manuel piano and Robbie Robertson's plinking acoustic guitar. At the second line of the second verse, we hear a haunting line played on the melodica (wind piano, look it up) by Garth Hudson. Richard Manuel contributes a beautiful falsetto harmony in the chorus, with Rick Danko also harmonizing.

4. When You Awake Robertson's guitar and Garth Hudson's Lowry organ open this song with a mysterious, dreamy duet. The vocalist this time is Rick Danko, and he brings his own vocal qualities to the role. He has a beautiful tenor voice, and there is always a hint of longing in it. The chorus is wonderful, featuring all three singers in harmony. The difference in their voices is what makes their harmonies that much more dynamic and vibrant. Levon Helm provides a quirky, subtle percussion part that fits with the tone of the song.

5. Up on Cripple Creek Right from the beginning, this song rocks. Levon Helm's drum performance is one of his best, and his set sounds as good as it ever did. A funky guitar line from Robbie Robertson sets up the song. Levon Helm again sings vocals, this time in a playful manner. The strangest sound on the track is Garth Hudson's clavinette, which is played with a wah wah effect. It almost defies description, but it gets a solo after every chorus. Not only does Hudson play clavinette, he also provides a wailing organ part to every chorus. The song ends with some soulful "ooh"'s by the vocalists.

6. Whispering Pines At live shows, Richard Manuel vocals were always heralded, and he became a main attraction. This vocal performance is definitely one of his best. His voice is filled with longing and a sense of yearning for something he cannot have. Knowing his life story, that could be what drove his awesome vocal performances. In the third verse, Richard echoes Levon Helm's tender lead vocal. This song is one of the prettiest songs the Band ever recorded.

7. Jemima Surrender Just to make sure listeners didn't get too down after the heartfelt Whispering Pines, this next song is as racuous as rocker as there ever was from the Band. The instrumentation is again changed on this song, with Levon Helm stepping out of his drum spot and strapping on a guitar. Richard Manuel takes Helm's place, and provides his stuttering, pounding 2/4 beat to this song once again. Garth Hudson provides some boogie woogie piano fills to the song. The opening riff is infectious, and all three vocalists can be heard, singing and howling throughout. John Simon's baritone horn provides a bass drone at parts, and has a solo. There is a short bridge in which Manuel plays a more flowing double time beat, but at "But can't you see girl, that I'm bound to win", it's as if the entire band hits a brick wall, and they go back to their original half time beat.

8. Rockin' Chair This is a beautiful acoustic songs, headlined by some of the best harmonies the Band ever put together. Richard Manuel and Levon Helm share lead vocals, with Helm playing mandolin, Robertson on acoustic guitar, Danko on bass, and Helm with a great accordian accompaniment. The story is of an old seafarer come back home to "Ol' Virginy" to spend the rest of his days with his old friend "Ragtime Willy". It's a really wonderful song, and it's got a chorus that I can't help but sing along to.

9. Look Out Cleveland Again, a slow, sad song is followed by a real rocker. This song, like Jemima Surrender has an excellent rock guitar riff with some classic rock and roll piano at the beginning. Levon Helm's cymbals explode as he settles into his groove. This song totally rocks. Robbie gets in some really searing guitar licks, and in the last few seconds, Garth Hudson has time to bust out as much solo as he can until the whole band crashes to a halt.

10. Jawbone This is a very strange song, but it's classic Band nonetheless. It begins with a few elegant piano chords, and then Levon Helm and Richard Manuel enter with a bizarre vocal duet. As a listener, you're almost straining, coaxing their voices up to pitch. As for the song, it's oddly times, alternating between 3/4, 4/4, and 6/4. Richard Manuel's howls of "I'm a thief and I dig it!" are great, and there is a real nice Robertson guitar solo as well.

11. The Unfaithful Servant Richard Manuel sets up Rick Danko's truly amazing vocals with just three chords, and then the song has begun. The thing I always love about Band vocalists, whether it be Manuel, Helm, or Danko, is that they're always responding to what's happening in the song, and always trying to push ahead, or sitting on the end of the phrase, dragging behind. In the case of The Unfaithful Servant, the beat is slow and unwavering, while Danko seems to be one step ahead, almost as if he's dragging the band along with him. It's a refreshing change to the perfectly in tune, in time vocals of today. Danko's breathtaking vocals are complimented by Robbie Robertson's mandolin like guitar, and a very nice horn section, comprised of Manuel on baritone, Garth Hudson on soprano, and John Simon on the tuba. The song ends with a great acoustic guitar solo, and then a tutti brass part to close.

12. King Harvest (Has Surely Come) This song is one of my favourite songs of all time, and it's truly brilliant. It begins with some guitar and electric piano action, the latter courtesy of John Simon. Then, out of nowhere, there's a low, whispering vocal by Levon Helm, doubled an octave higher by Richard Manuel. The cymbals are loud and bright, and Hudson's organ grows and grows, and then the whole band settles into an irresistable groove. This all comes courtesy of Helm's awesome drumming, more funk guitar from Robertson, and a sort of "hiccuping" bassline from Danko. Not to mention Manuel's vocals, which are pleading, and defiant at the same time. Hudson's Lowry Organ is prominent in the parts of the song right before the quiet chorus. And each time, Levon's low baritone ominously sets up the next verse. Where the fourth verse is supposed to be, however, there is nothing, until Robbie Robertson comes in with a guitar solo, choked and understated, to end the song.

This is one good album, and if there was ever an album that could possibly follow up Music from Big Pink, this would be it. In this record, there is so much development, musically and lyrically, from the previous record. The five members of the band blend seamlessly, and there is a sense of musical synergy on the album that other bands can only hope to achieve. This album gets a 5/5 rating in my book.