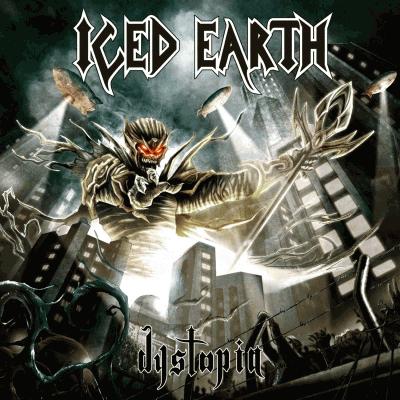 Release Date: 2011 | Tracklist

Iced Earth's newest album, "Dystopia" is the first album to feature Matt Barlow's replacement on vocals. Stu Block hails from Vancouver, British Columbia, Canada where he fronted the band "Into Eternity." I'm going to be honest, when I first heard that Stu was fronting Iced Earth, I was a little skeptical. I wasn't really sure how Iced Earth's dark, gloomy sound was going to fare with Stu's more "angelic" (for lack of a better term) vocal tone. Being a huge fan of Matt Barlow and his work with Iced Earth, I was fairly certain I was not going to enjoy this album one bit (also, since I'm a bit biased); just like I didn't enjoy their previous two albums.

Boy, was I wrong. The first song on the album; Dystopia, is the title track. This song opens up with a fairly powerful intro accompanied by an equally powerful "march-style" drum beat. I feel this song sets up the tone for the rest of the album. The verse riff is classic Iced Earth. But, once Stu starts singing, you feel the "turn" Iced Earth has taken with this album. The bridge is very unique for Iced Earth. Stu's high pitched vocals captivate you and set you up for an astonishing chorus. This is the title track for a reason. Amazing.

The next track,Anthem, starts off fairly slow and gloomy. After a few seconds, commanding guitars kick in and you get that old Iced Earth feel. The lyrics are pretty compelling, as well. It makes you really appreciate the good things that happen in your life. Stu's voice fits so well within this song. It's as if he's been working with Iced Earth for years. The solo then kicks in and you get an 80s glam metal sort of feel. Amazing guitar work.

The next track,Boiling Point, opens up with a quick, heavy intro. This song makes you want to jump into a pit and start thrashing around. Stu's vocals shine yet again on this song, whether it comes to his low-tones for the verse or, his high-pitched tones for the pre-chorus, it's all around astonishing. This track in the second to last in terms of length. However, this is efinitely not a track you would want to skip over.

Anguish of Youth comes next in the succession of tracks. A fairly soft, mild-mannered intro paves the way for Stu to captivate you with his voice. The lyrics to this song are dark and desolate. The chorus kicks in and Stu kills it, again. Schaffer's guitar tone fits so perfectly with his voice. Another amazing track on this wonderful album.

Though I'm skipping a few tracks (this doesn't mean they're not worth a listen), another song to note on this album is entitled End of Innocence. A soft, acoustic intro leads right into Stu's voice. The verses of this song are amazing. You can hear the talent within Stu's voice with every word he utters. An overwhelming passionate feeling entrances you into this song. The chorus kicks in and, there goes Schaffer with his distorted guitar. Works extremely well with this song. In my opinion, this is one of the best songs on the album.

Overall, this is a wonderful collection to Iced Earth's discography. As stated earlier, I was a little disappointed with their last few albums. But, with this, I feel they're back up there like they were with "Something Wicked This Way Comes." Such an enticing, emotional album. Definitely worth a listen. Even if you're not fond of Iced Earth. I recommend the entire album to everyone.