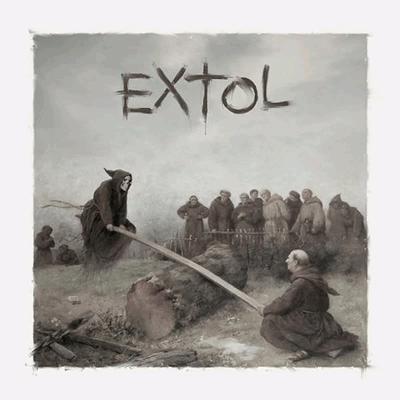 Release Date: 2003 | Tracklist

I feel bad for the closed-minded Extol "fans" who bash this record as being to much of a far-cry from the bands Death/Black metal roots. But even then, Extol took a genre of metal and made it their own. Here we have Extol doing the same thing, just in a different genre, this time Thrash.

And they sure have made it their own on this release, extremely tight and bizarre compositions, odd chords, which lean heavily on jazz (one of my favorite parts about this album), mind-bending technicality and precision, and most of all, pure aggression and attitude. The band is definitely trying to convey their anger towards the misrepresentation of Christianity in the world. Sure, they were heavily influenced by Christian thrash band Believer, and you can tell, but they took what Believer did in odd technicality a step further, a HUGE step further. No other band sounds like Extol, they are their own and they are GREAT at what they do.


Synergy Line-Up

Peter Espevoll - Vocals
Ole Borud - Guitars/Vocals
Christer Espevoll - Guitars
John Robert Mjaland - Bass
David Husvik - Drums

Ole Borud's vocals are top notch on this release, you gotta love his singing voice. His trademark composition style is in full effect, as is fellow guitarist Christer's (you can see what he brought to the table on this record if you check out Absurd2's record). Peter's vocals are an acquired taste, but i love the shrill high screechy/hardcore-esque vox he has going on here. It just shows his amazing vocal range from his deeper style on the earlier albums. John's more subtle bass lines are actually pretty interesting if you pay attention. But the highlight of this disc is easily David's drum playing. This guy is a beast, the way he mixes his machine gun-like double bass and odd time fills and just everything! this guy is nuts.

The disc starts out with Grace For Succession. This song showcases what the album is all about, fast, aggressive, odd timed, great and majestic chorus featuring Ole's trademark singing style. Everthing is here. 5/5

Paradigms is next, featuring Norwegian pop/folk singer Maria Solheim (great artist in her own right), awesome jazz chords saturate the chorus with harmonized melodic singing as well, more off-timed madness and dissonant technical riffs. Another sweet song, one of my faves. 5/5

Psychopath is the third song on the disc, and features odd chords (you gotta love the clean guitar progression they are doing near the beginning), and constant double bass attack. More dissonant riffs are the foundation of the song. My favorite part comes in during the solo portion. Arcturus's Tore Moren begins out with a quick running solo, then Extol's Ole Borud rips out his own solo under a really great jazz-inspired chord progression. Freaking awesome. 5/5

Blood Red Cover is one of the more simpler songs, but still has its hare of odd-timed beats and quirky guitar riffs. The chorus is an easy sing along (or scream-a-long in this case) type anthem in (gasp) 4/4 time. But the best part is the jazzy (can you tell im a fan") bridge section featuring solos/leads from both guitarists. Good song. 4/5.

26 Miles from Marathon has a wierd title but is nevertheless a good track. Really quirky and technical guitar riffs, this one is faster and more thrashy than the last song. The best part is the tremolo-picked bridge section, Dave's double bass attack are in full effect as he barrages in a torrential fury, an ominous atmosphere created by the bass foundation and Peter's eerie screams dominant this section. Very powerful. Also, it has a really kool intro. 4/5

Confessions of Inadequency, my absolute FAVORITE song on the album comes up next. Awesome lead guitar intertwines with the shifting chord progression underneath, dissonant technical riffs abound again for a bit before shifting into one of the most beautiful sections of music ive ever heard. Ole's beautfiul singing voice sings of Christ's sacrifice over beautiful clean jazz progressions, creating an almost heavenly atmosphere. From there the song continues in usual Synergy fashion before ending in a distorted and altered version of the jazz section. Amazing from start to finish. 6/5.

Scrape the Surface is not as good, but is still an amazing and under-appreciated song. The single most odd song on this cd, it's basis lies in incredible dissonance, as both guitarist play odd chords and even sing over dissonant chord progressions. It took me a while to get into the song but after I did, i really loved it. Peter's screaming is really awesome on this one too. He resorts to black metal screams during the chorus which is especially appreciated. Great song, one of my favorite. 5/5 Thrash Synergy is one of my least favorite songs, but its still an awesome song. As the name implies, its more of a straight-foward thrash fest. Really awesome main riff, which is repeated throughout most of the song. Good stuff. 4/5

Aperture is the black sheep of the album. Though its not a bad song by itself, this somber acoustic solo venture by vocalist Peter feels significantly out of place on such a high-intesity album such as this. Some may argue that its a good breather from the craziness, but I think the fact that this song is pretty much the polar opposite of everything on this album is too much of an extreme contrast. It would've fit A LOT better on their newer album, The Blue Print Dives (which i love by the way). 3/5

Emancipation bursts through the seams after the mellow Aperture finishes up closing the body bag (yeah wierd analogy). Mid tempo drums carry the song along for a while while the guitarists play their odd quirky riffs harmonizing in minor 3rds. The chorus is what really stands out, beginning with a great jazzy clean guitar chord progression, and then distorting we, get Peter's clean vocals on this one and they sound great, especially in their odd harmonies. Sweet song with an addicting chorus. 5/5

Nihilism 2002 is the closer to this disc, more of a straight-foward thrash song, this actually reminds me a lot of the song 26 Miles From Marthon on this disc. Just awesome techinical quirky riffs, fast thrash beats, hardcore/thrash screams, ending with a fading solo section featuring Tore Moren from Arcturus yet again. Not the best song in the world, but its still pretty kool. 4/5

So there you have it. if you are looking for a unqiue, high-paced technical thrash fest with positive lyrics and jazz-influences (kind of calls to mind Cynic/Atheist), look no further. Its a shame that this album is overlooked by so many just because of bad rep attributed to being too different from Extol's other works. Don't listen to those people. Do your self a favor and pick this one up today. Listen with an open mind and you will not regret it. I promise.