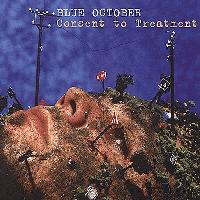 Release Date: 2000 | Tracklist

In 2006, Blue October finally hit it big with their single "Hate Me", off of Foiled, an exceptionally solid alternative rock album. What many casual listeners may not know is that the Houston-based band has three previous albums; one was released independently in 1998 and the other two were released on major labels. All four Blue October albums contain extremely disparate sounds, from the post-grunge soft-spoken beauty of "The 21st", off of The Answers, to the crunching guitar rock of "Somebody", off of History for Sale.

Blue October's sophomore effort, Consent to Treatment, is probably their most uniform album. Released in 2000, it was their major-label debut, and based upon the information I have culled from various interviews, their label Universal demanded an upbeat rock album for the nu-metal crowd. And that is what they got. Despite being an alternative band with a knack for writing slow and heartfelt songs (see "Black Orchid" from The Answers), only one track on Consent to Treatment displays a genuine downbeat quality, and that is the title track from their previous album, "The Answer", albeit rerecorded.

Now, this is not to say that Blue October failed. I am convinced that they could release a spectacular country album, jazz album, or Latin album if they so desired. This is simply to provide a context for the overwhelmingly similar genre throughout this album, and to note that all other Blue October CDs display a wider range of styles. That being said, Consent to Treatment may not be a masterpiece, but it is a damn good album worthy of repeated listens. "HRSA", a highlight and a frequent concert opener, features lead singer Justin Furstenfeld talk/singing about his experience in a mental hospital (the abbreviational title stands for "High Risk Self Abuse"), backed up by the stunning violin work of Ryan Delahoussaye. In fact, the violin is featured more prominently on the older albums than Foiled, and Delahoussaye makes good use of his time, calling to mind Yellowcard without the pop/punk sound.

"James", a bass-driven angry rock song, tells of a betrayal by a close friend over a metal-guitar chorus. "Angel" begins with arpeggiated chords and developes into a bouncy rock song with lyrics like "how do you tell an angel that you don't believe in God"" The album isn't full of depressing subjects, either: "Balance Beam" is a thoughtful love song with a plucky guitar that mesmerizes. "The Answer" attempts a more atmospheric quality ala-Radiohead, but lacks the power of the original version from the previous album. "Conversation Via Radio" takes a clean-guitar alternative route, but becomes boring after repeated listens.

Consent to Treatment may not hit any new highs in rock music, and it may not march across any new ground, but it certainly provides a good alternative to the bland music that dominates much of the airwaves. Furstenfeld's lyrics, always thought-provoking and emotive, are undoubtedly some of the best in the business; I'd even submit that they are some of the best ever. This album is not his best work, but it is a beautiful and rocking piece of art that should not pass unnoticed.

And if you want proof, just listen to the 43-second intro track, a poem called "Retarded Disfigured Clown", written by Mr. Furstenfeld.