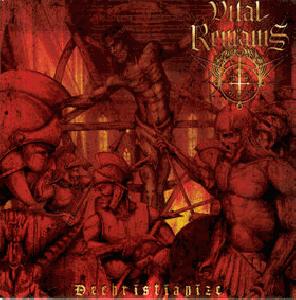 Release Date: 2003 | Tracklist

Part of the allure of death metal is the implication of something obscene, something that disturbs the listener to an enjoyable degree. The amount of blood, gore and satanic imagery in the lyrics and art is unmatched by any other genre of music. Death metal critics might say that bands spend more time watching horror movies than actually writing music, but with some bands, it's perfectly clear how much time and effort was put in to make an album. Vital Remains are one of the few death metal bands who can mix satanic, offensive images with intelligent, talented, and well-thought out music. If you have any doubts, give Dechristianize one spin and you'll be converted, so to speak.

I feel I should spend at least a paragraph on the art for this album. The first thing you notice about Dechristianize is the cover. A quick glance reveals only a vague image of Jesus Christ, but if you look closer, he's actually being crucified on the pentagram. When the paper cover is taken off, a revolting image of satanic sexual rites and offerings is portrayed in red. Open the jewel case and a nice "666" is written around the CD. The whole package is clearly meant to upset and offend the listener. I have to admit that I was a bit shaken when I took off the package. The effort of hiding the album from my parents was well worth the music inside, as you will see.

Dechristianize contains some of the most terrifyingly epic music ever recorded. Although it's as brutal an album as you could ever want, every song balances the weight of the heavy parts with fluid melodicism. While the riffs pound and churn underneath, flowing guitar lines give each track balance and character. The mix of anti-Christian ranting, talented instrumentation and ambitious, grand songwriting make Dechristianize one of death metal's defining albums.

Although most death metal has decent production, I would hope that an album such as this would be well-produced enough to be imperceptible. This isn't the case, sadly. The drums and vocals sound fine, but the rhythm guitar lacks bass. The recording is almost devoid of any bass, simply because the bass guitar itself is inaudible and the guitar tone is bass-free. This doesn't hinder the album at all, but it would have been nice to hear a more balanced frequency range overall.

The guitar playing on Dechristianize is top-notch. Every song has memorable leads and harmonies, and shredding like you've never heard. Unbelievably, all the guitar leads and solos were written and recorded by Dave Suzuki, the band's drummer. The man is obviously a musical genius, as his harmonies fit perfectly over the rhythm guitar's driving rhythms. On the insane "Devoured Elysium", Suzuki shreds like a demon over double tracked vocals and leaping guitar riffs. On "Entwined By Vengeance", he even breaks out the acoustic guitar to let the flamenco fly. Again, even though the guitarist flaunts his stuff, Suzuki never plays for no reason, making sure all his lines accent the music rather than leading it. Rhythm guitarist Tony Lazaro, the main songwriter for the band, does his bit and then some. His riffs are ultra-tight, heavy, and never repetitive.

Although Dave Suzuki does play bass on the album, you wouldn't know there was bass if the lyric book didn't say so. I won't remark on the bass playing, because in all honestly, I can't hear it.

Dave Suzuki also has an obvious talent for drumming. Dechristianize has some of the best death metal drumming I've ever heard in my life. While there's the obligatory blast beat every 15 seconds, Suzuki also has a sense of groove and rhythm I've not heard in much death metal. He has intense double bass speed and co-ordination, and he can sure dish it in terms of blast beat speed. The beginning of "Dechristianize" is a perfect example of his terrifying speed, and yet at the middle section he tones it down with a simplistic beat that doesn't interfere with the guitars. The term "tasteful" is perfectly applied to Suzuki as a drummer.

Glen Benton, famous as the frontman for Deicide, contributes vocals on Dechristianize. Although I was a bit disappointed to read that he didn't write the lyrics (Dave Suzuki did :eek: ), they are as pointed and offensive as anything we've come to expect Benton to sing. Lines like "We spit our venom in the face of Jesus Christ" are frightening enough to keep even the most callused atheist up at night. Benton's vocal delivery is no less inhuman. His sheer low-end is unmatched, and yet you don't get the impression he's using effects or vocal modification. You can practically hear him straining his diaphragm with every line he recites, giving the vocals a "real" quality that is absent in much of death metal. He is also a master of the double-track. He often growls and screams at the same time, delivering a soul-crushing roar that saturates the mind (see "Entwined By Vengeance"). Along with sounding like Satan himself, Benton crafts memorable rhythms that stay in your head, and often adds "groove" to sections in a song.

Songwriting on Dechristianize is relentlessly superb. Each song is its own epic, with several movements and sections. Most songs have spectacular transitions between very brutal sections and lighter, melody-based elements. This makes it even heavier when the songs revert back to the death metal basics. "Infidel" is one of these moments on the album. The entire album, however, seems to be building into the final moment, the sprawling, ten-minute opus that is "Entwined By Vengeance". The song is death metal at its finest. I won't spoil it any further than that.

Vital Remains' Line-up, as of 2003:
Glen Benton: Vocals
Tony Lazaro: Guitars
Dave Suzuki: Drums, Lead Guitars, Bass

Recommended Downloads:
"Dechristianize"
"At War With God"
"Entwined By Vengeance"

Pros:
-Talented musicianship
-Awesome songwriting
-Melody combined with brutality
-Overall consistency

Cons:
-Production seems a bit bass-lacking

As a whole, I feel that Dechristianize is one of the best death metal albums ever conceived, if not the best. The album sticks to traditional death metal riffs and sequences, but manages to push the envelope in terms of songwriting, structure and overall inventiveness. The spectacular musicianship helps put forth a cleanly articulated central focus, and the abrasive yet coherent lyrics darken the mood. This is a clear-cut perfect choice for a death metal fan, someone into heavy music, or even a metal virgin. Just be sure to keep it well hidden.