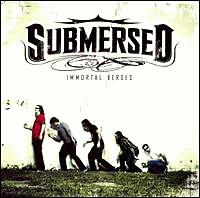 Release Date: 2007 | Tracklist

3 years after their debut album, submersed was still an unrecognized band that had hidden talent. For those of us who were lucky enough to hear their premier performance, we right away noticed two things. First, the guitar work is flashy, impressive, and extremely melodic. Second, the singer has a very unique ability to change from low to high notes like the flip of a switch. This showed promise for something great to come. However, with the departure of Eric Friedman (Lead Guitarist), and oversight from Mark Tremonti, many, including myself, were wondering if this band could still survive.

The album opens with their first single, better think again. The first thing we notice here is that the guitar work is not nearly as complex as it was on the last album. Donald Carpenter can still flat out sing though, and while the guitar is simple it works well with the song. Life without you is the third track and again shows the listener some of the band's musical prowess. However, it ultimately leaves you wondering if it could have been better. Constant thoughts come to mind like, "well maybe if they threw in a different riff here, or switched this part around it might have been better." Alas, what could have been a great song is left in mediocrity.

For the majority of the album, Submersed changes their style from an unpredictable progression pattern found on their first album, to the ever-so-popular heavy chorus soft bridge approach. It gets played out fast and becomes extremely predictable. Several tracks seem to be carbon copies of each other with lyrics slightly changing.
I feel the change is the only time we truly feel the strong vocal power of Carpenter. He varies his tone well, but never reveals the true extent of his range. The song is slow and melodic with backing vocals throughout the majority of the track. It leaves you with the memory of Donald screaming, "It's over now/ over now/ fading out/ burning down."

Wonder gets credited as the filler song, although one could argue 10 of the 12 songs are filler. Overall, The Immortal Verses is not bad per se. It just isn't nearly as good as the In Due Time. Each one of the tracks on this album seems to have had the life sucked from it and what is left is a bland watered down version of what used to be. Better Think again is a good listen, but not much beyond that warrants a second heed.