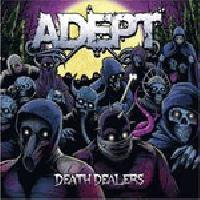 Adept

Death Dealers

Release Date: 2011 | Tracklist

Adept became very popular as they swam through the Swedish metal scene playing what we'd easily recognize as American metal-core. On their debut 'Another Year Of Disaster' they utilized their punk and post-hardcore tendencies to create so much moments of in-your-face energy. It was a confident release with very consistent tracks filled with creative rhythm changes in the lead guitar, uplifting lyrics, and creative transitions in the overall songwriting. The sound might have not been groundbreaking, but it is a fun listen, and showed promise to a band that might have more to offer in times to come. Yet with the sophomore release of Death Dealers we get what seems to be too much of a mediocre effort, and also what might be a sense of identity-crisis for the band.

The opener for 'Death Dealers' showed a highlight on the album: better production value. But we obviously know that better production alone does not an album make. The sound has also been changed since much of the punk tendencies has been taken away for a more 'heavier' sound. The use of energetic transitions has been too oft replaced by the monotonous 'chug chugs'. The breakdowns ironically make the songs drag on instead of giving the energy that is wanted to be achieved by them. It comes out making the songs sound lazy and lacking in effort.

The flow of the album is also muddled. An obvious part of the album that gives this away is between 'No Guts, No Glory' and 'This Could Be Home', where the listener feel like they are experiencing deja vu during the intro of the second song. The riff sounds almost exactly the same as the riffs used in the leads in 'No Guts, No Glory', and comes out as awkward and redundant. The impression this gives makes the similar types of running riffs used in the other songs feel like gimmicks being too repetitively used by the band. And from then on each song feels just like the other: a gimmick. The listener sits only to expect another set of overused riffs and chanted choruses accompanied by more bland breakdowns.

It is also safe to accuse the band on this album of unoriginality. Songs like 'At World's End' and 'Death Dealers' (Note: what's going on with all these dumb movie references") are examples of what one might say without a doubt as something we might've heard already done before. I can even profess that 'At World's End's opener breakdown was taken from a Veils of Maya song, or that 'Death Dealers' and 'From The Depth Of Hell' were generic tweaks of just about anything written by As I Lay Dying. And these comes out as embarrassing when one earnestly wants to take light of the album's aforementioned blunders.

This is not to say the sophomore effort is completely lacking. 'Death Dealers' is ok for a casual listen, and just might warm up to you if you are a hardcore fan of Adept. But if you're looking for anything new from the band you will be disappointed. For now the promise of the band for a release that might precede their debut 'Another Year Of Disaster' will have to be put on hold.