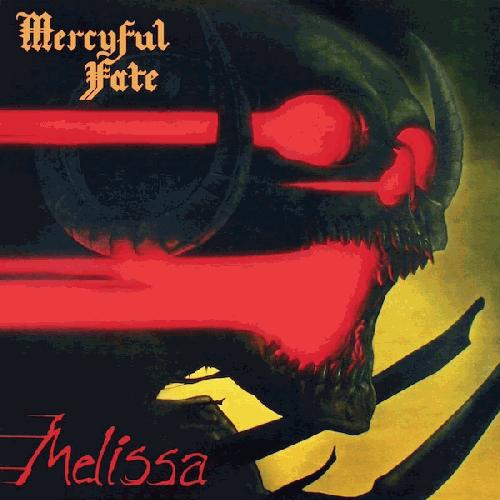 Release Date: 1983 | Tracklist

A BRIEF HISTORY OF MELISSA:
83- fear that number. It was 1983 in fact that this fantasticating album came into existence. The concept of the album for your knowledge happens to be something like this- King's friend gave him a skull. Diamond names it 'Melissa". This human skull had been smashed, bashed, and hammered, literally, but the pieces of the skull were binded back together. "Melissa", the last song on the album is King's hypothesis of the skull's fate. He proposed that it was the skull of a witch. The album was originally going to be called "Into the Coven" like the third song. And "Love Criminals" was going to be the name of "Into the Coven" song. Hank got up many times in the middle of the night to compose new sections of "Satan's Fall" which is the reason it's so ***ing long. It kept on adding on and on, but this song in fact is a powerful force indeed. And if your wondering what happened to the skull, this fan at a concert stole it of the stage. I tell you, he should get his ass beat for even daring to disrespect Mercyful Fate like that. Now! Into the Coven! The best things about this album-

A BRIEF LECTURE OF THE ALBUM:

1.King Diamonds vocals. Just put your goddamn self in a cage with ***in' hyenas with spears, and see how you like it. Thats what listening to King Diamond is like. Getting ***in' raped by everyone at the same ***in' time, surrounded by Satan, in the dark. Just like that time Diamond said, "I got my amazin' ***in' voice from so much ***in' Slipknot bassist flesh I ate. Sorry I killed your bassist, Slipknot, but he was a worthless piece of *** anyways." See?! King Diamond kickin' asses already folks!

2.Just the ***in' technical compostion of this goddamn album. Try to ***in' make up *** like this. Youll get raped in the ass trying. ***in' Disturbed can make sex sounds and go OOHWAHAHAHAHHHH!!!!!! but the cant go nuts like MF. Only Jesus can go nuttier.

3.The ***in' lyrics. "I was born in the cemetery~~~~~~" he will ***in' rape you. You can tell a lot of goddamn thought went into this goddamn mother cunt ass ***in' chode mother cunt ass ***in' goddamn cum dumpster mother cock suckin' album. So ***in' kiss King Diamond's ass. You really owe it to him. He is like the angel of the night and the devil of the day. And ***faced bastards put halloween ghost out on their yard, trying to scare little ***ing bitch ass kids, but all they have to mother ***ing do is take a freeza and put MF on. Yeah put MOTHER ***ING MERCYFUL FATE on. Those little chode ass kids ll' be running to the cemetary begging for ***ing forgiveness.

4.Mike N Hank's guitar work.- It is like a gracefull swan afloat in the sea. Lost at the seas MOTHER ***ING uncharted valley of water, but completely knowing where they are going. YEAHHH! They just groove on with no care in the ***in' world. OH! It takes me back to the storys of old, when the vikings of normandy had forth a child by the name of william the conqueror.- my close descendant.

5.Grabber's bass- he is like the soul. It seems so obscure until you take the soul out- dead vessel of carbon on the ground with no ability to talk, walk,groove, or freeze. This guy's grooves take you to mysterious places.

"Places where the sun don't shine, the babes dont whine. The government don't line. Places lo and behold. To the castles stronghold! Places with faces. Places with great beasts, and the kings have their feasts. And the king has his feast. And king DIAMOND has his feast. Creatures like Golum go back to where they came. Creatures like smaug who has no name. Scream in fright to the bass's delight. Diamond screaming throughout the night. The pope must stay. Going away. To dark places of which none of which who have not been there have heard, but not seen. And in the depths of death I lay waiting for the bassist to say, "Crown my people. Crown my tribe! And listen, my fiend, to the bassist's vibe." And there I have shown you. A crown I have thrown you. Take this review, in it youll delight. And in the darkness never take fright. For you and I have something alike. We live in the metal, glimmering, shimmering, burning, yearning,shining, lining, mouning, grouning, in the blood I say to you my friend, hold on tight to the fright you have. Never lose it try as hard as you can, to the gift of the gods indeed my friend. Fight up for Mordor! And for delight for the metal it gleamed, all throughout the night." - Johnny McCombs A.K.A. Me A.K.A. 420Yeah666yeah69.

BEST TRACKS
All ***in' all of em'!dick.