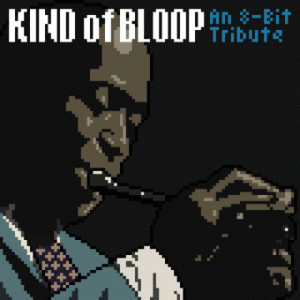 Release Date: 2009 | Tracklist

There are few albums conceived completely out of curiosity; Kind of Bloop is one of them. It began with a man named Andy Baio and the website Kickstarter, where entrepreneurs seek donations to turn their ideas into reality. Baio, wanting to know what "chiptune jazz" would sound like, recruited five well-known 8-bit wizards to rework Miles Davis' modal jazz classic Kind of Blue. And boy, is it Nintendo-y.

Hearing the first few bars of "So What" feels like being shoved into a smokey, pixelated '50s jazz club. Ast0r's rendition, however, is faithful and never strays too far from the original score. In fact, it's fluid. "Freddie Freeloader" begins in much the same way, with washes of white noise hi-hats and squawking pulse waves. Eventually the song becomes energized with feverish soloing, in stark contrast to the easygoing Davis version.

This sort of adventurous experimentation carries into the latter half of Kind of Bloop too. Refusing to rest on his laurels, Shnabubula makes "All Blues" sound completely alien at some points, attacking the listener with flurries of bending, warped notes and constant shifts in rhythm. The elegant ballad "Flamenco Sketches" takes a left turn a few miles in and goes into action platformer mode, sounding like something straight out of Ninja Gaiden or Contra rather than an old black man's trumpet. But, much like the rest of the pieces on Kind of Bloop, it returns to the jazz foundation that it was built on.

That sort of reverence is prevalent throughout every facet of these recordings, from the fundraising to the hours spent programming. Such re-imaginings will probably have most jazz purists defecating themselves in anger, while throwing game nerds and nostalgia hounds into fits of joy. I'll have to side with the nerds for now.