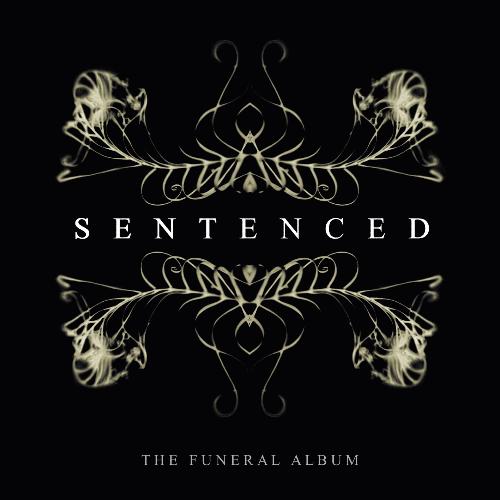 Release Date: 2005 | Tracklist

Here we are, now lay the burden down
We're coming to the end of our road
Sorrowful yet glorious somehow
To be humming this one last ode

In the midst of writing the follow-up to 2002's The Cold White Light, Finland's Sentenced decided that this will be their final album and after a few festivals they would effectively end their tenure. So what began as merely another album effectively became a swan song about halfway through the writing process, and this The Funeral Album was born.

I personally find it ironic that the same band that brought us such ironically upbeat anthems as "Excuse Me While I Kill Myself" and other such works would of course choose to end their career on their own terms, and of course call it "The Funeral Album". Although they started off rooted in death metal, they soon changed paths into a more gloomy styled hard rock, with plenty of dark imagery and whatnot...and yet somehow they managed to provide an oddly upbeat sound to it. Singer Ville Laihiala's voice fits the overall mood perfectly, belting out various suicide and death-obsessed lyrics that really made the band stand out.

But now, Sentenced is no more, and it's a shame to see them go. Thankfully, they decided to give us all an adequate send-off in the 13 song procession of The Funeral Album.

The entire album is best described as a "straight up Sentenced album", as they don't stray at all from the style that made them famous. Songs like the opener "May Today Become the Day" fit in perfectly with the bands gothic hard rockin' library, that still manages to stay upbeat despite lyrics such as "May today become the day as I plunge into the grey" and "But really I...just want a bullet between my eyes/Aim high". In fact, it's easy enough to get caught up in the overall fun, rocking time (and yet, dark at the same time of course) of "Ever-Frost" that you can completely miss out on the very sarcastic lyrics regarding Christianity.

Of course not everything is entirely fast-paced and upbeat. "We Are But Falling Leaves" has a more somber tone that is more reflective of the overall subject matter, the entire hopelessness that "All paths lead to the cemetery". The slower tempo might be indicitive of the fact that this MIGHT have been one of the songs that the band wrote after they decided to call it a lifetime - but with these guys, you never know. They did say the decision definitely affected a number of the tracks (obviously including the downbeat final track "End of the Road"), but a look through the lyrics and a listen to the album reveals an overwhelmingly constant theme of despair and darkness - because afterall, this is Sentenced and it's what they do/did best. Although perhaps it's safe to assume "Consider Us Dead" was one of the songs they wrote after the revelation.

Generally I don't care much about instrumentals, especially when metal bands decide to throw them roughly in the middle of the album (who started that trend anyway and why did they think it was a good idea?), but "Where Waters Fall Frozen" is definitely one of the coolest ones I've ever heard. Although it's less than a minute long, it sure is a ferocious subminute. A throwback to their earlier days, it's a very fast and aggressive melodic death romp that is surely worth an extra listen. But hey, at 58 seconds, you can afford to do that.

Another very notable highlight on the album is "Drain Me", a fast and amusingly upbeat song that can definitely appeal to listeners across any genre. "Lower the Flags" has a bit of a more downtrodden style, but a somewhat inspiring tone due likely to the added piano. And of course, the album should end appropriately, and "End of the Road" does just that, serving as a funeral march of sorts.

The Funeral Album is not an album that really has any noticeable flaws. It's just an all-around solid album that fits in nicely in the Sentenced mold. It may not be a mind-blowing album and isn't as grand as The Cold White Light, but The Funeral Album is definitely a worthy end to Sentenced's career.

May they rest in peace.