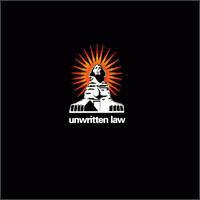 Release Date: 1998 | Tracklist

Unwritten Law has dealt with a lot of things in the recent years, from throwing beds out of hotel windows, arrest warrants, fights, etc. But before that they released their self titled disc (also known as "The Black Album") in 1998. Originally planned for release on Epic records, but Epic decided to drop the band before they even heard the record. Interscope quickly picked them up and the album was born.

Unwritten Law:
Scott Russo - Vocals
Steve Morris - Guitar
Rob Brewer - Guitar (Removed in April 2005)
Pat Kim (PK) - Bass
Wade Youman - Drums (Removed in 2003)

1. Harmonic:
This track has a great intro. It's probably my favorite part of the track. But after that Scott comes in, "Well I'll see you around. I don't wanna stay and drown, the drama got too thick." A perfect opening track that really gives you the feel for the album. 4.5/5

2. Teenage Suicide:
This is one of my favorite UL songs ever. I really love the lyrics in this song, "And I'm running out of time, my mother says I'm fine. A teenage suicide." I really like the breakdown too. One of the standout tracks.5/5

3. Sorry:
This album starts off perfect, but this song drifts away from being as great as the first two. It really just can't stand up to the first tracks. 2.5/5

4. California Sky:
Ahhhhhhhh, now back to perfect songs. Another one of my favorite UL songs. These lyrics are great too, "Imagine, the dreams we has since we were children, are real." This is probably my 2nd favorite song on this album.5/5

5. Cailin:
This song is where UL first got noticed. This a really great song with cheesy but unforgettable lyrics, "When all my love starts running thin, I've got you my own Cailin. Hey little girl oh I love you." 5/5

6. Lonesome:
This track's okay. I don't love it, but I don't hate it. It just doesn't keep up to par. 3/5

7. Coffin Text:
I love this track. I really like the chorus, for me it pretty much makes this song, "The writings on the wall, tell us the story of it all it makes no sense. Show me the key, the coffin text." 4.5/5

8. Holiday:
Not much to say about this one, besides it's probably the worst UL song ever. Don't like the lyrics or the music, it's all just too happy and well the lyrics pretty much say it all, "Life's a holiday" This one's a skip for me. 2/5

9. Underground:
This song has a very cool feel to it. And it really recovers from Holiday. Lyrics are great too, "Won't you come into the other side, a via sattlite, with me my darling." It's one of the heavier songs on the album. Better than Holiday, but not the best. 3.5/5

10. Close Your Eyes:
I really like this song. Very upbeat and fast. Lyrics are a bit repatative, but basically about a kid from South Central L.A., "Well he was, cought up and shot up in a fight." The more you listen to this song, the more you'll like it. 4/5

11. Before I Go:
Wow, this is an absolutely perfect song. It's the softest song on the album and has so much emotion and power. Great lyrics like, "Before I go, I need you to know, I'm still alive in you. Before I go, (It's my time now)" And I love the solo and is the most mature song on the album. This is by far the greatest song on the album. 6/5

12. Genocide:
Another good song on the album. It's a weird switch from the best and most mature song to this. Very poppy but has one of my favorite lines from a UL song "You don't wanna cross the line boy, cuz it will be a genocide and, your genocide." This a good track but won't prepare you for what you are about to hear. 4/5

13. 418
The darkest song UL has ever done. Starts off with heart beats, but then goes into very strange music. You would never know this was UL if someone didn't tell you. The lyrics make it basically California Sky Pt. 2 "Since I was a child, and I looked into the sky. I've looked above the earth, for all answered why.........Dear Father, I'm the chosen one........Father, Father please set me free." The spoken word in this song gives it sort of a Mars Volta feel. Very dark and creepy but a slightly strange way to end the album let alone be on the album, it's completely different from everything else. Before I Go would've been a better ending, but this is still a really good listen. 5/5

I think I'm going give this album a 3.75. I would've changed a few of the songs, but overall it was pretty good.