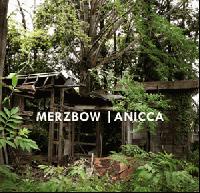 Release Date: 2008 | Tracklist

Anicca begins, and Akita leads the listener into his vast forest of sound via the fluttering of digital wings. As with so many Merzbow releases, the listener is gently ushered in with ambient sounds and digital chatter, before being plunged headfirst into a spiral of twisted feedback and piercing screeches - and Anicca is no exception. Eleven seconds in to the first track, and the surprisingly sparse (yet no less powerful) sounds of homemade-guitars and avant-jazz drumming thrust the listener into a turbulent whirlwind of sound. Throughout the entire first chapter of the album, Akita's drumming accompanies his signature noise style; offering an exhilarating and unique texture to the album.

Then the second chapter begins, and straight away, it becomes evident that this is a different beast altogether. Digital textures are blended seamlessly with blistering feedback that seems to sweep in and out of the mix. Drum kit now to one side, the second part of this album is where more familiar sounds return and Akita really comes into his own. A destructive mixture of laptop-based sound, combined with intense amplifier noise and junk-guitars pad out the sound, increasing the density of the mix and creating wild and engaging soundscapes.

Enter part three. Akita begins by showing the side of his sound perhaps more akin to a power electronics release; as a persistent and hypnotizing digital rhythm pounds away in the background. Repetition is certainly more on the agenda on this track also, as high-frequency blips begin to relentlessly flicker in and out of the mix, and rhythmic bass sounds create a rare and delightfully strong sense of rhythm for the middle section of the piece. Waves of feedback and screeches force their way through the layers of digital tone to further increase the brutally dense sound of the track, and prove to be a refreshing change from the early repetition of the track. Finally, the glitching beeps of Akita's laptop begin to die out as the album fades to silence.

Overall, Anicca is a very worthwhile and refreshing outlook on Merzbow's sound, which will both surprise and delight listeners in equal measure.